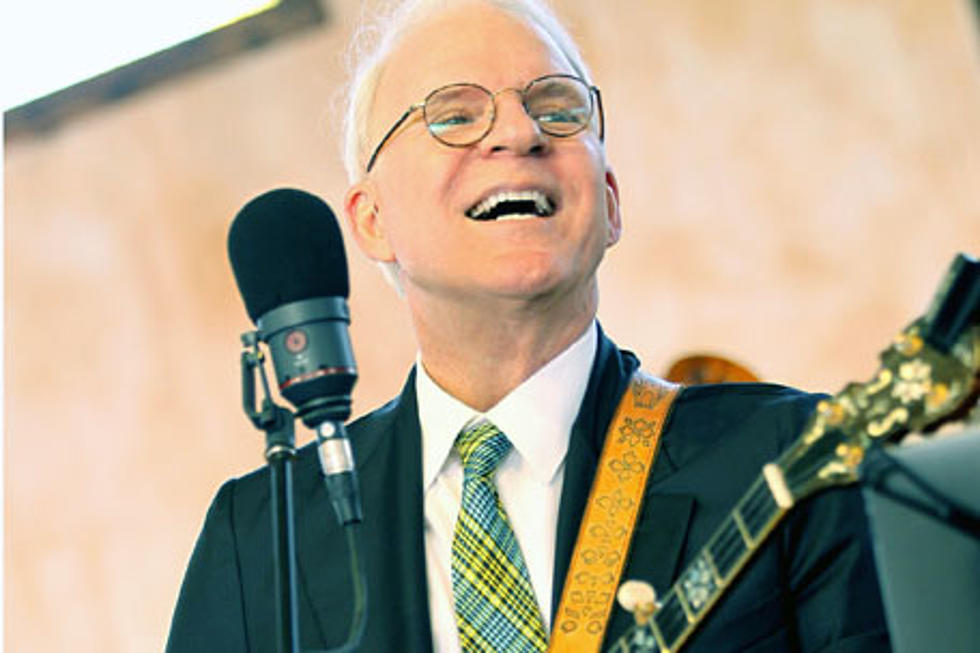 Steve Martin Interview: Steep Canyon Rangers' Frontman Also Provides Comic Relief
Getty Images for Stagecoach
The recent Stagecoach Country Music Festival held just outside Palm Springs in Indio, Calif. brought together, as it always does, a galaxy of country stars for three days in the desert sun. Brad Paisley, Miranda Lambert, Blake Shelton and many other giants of the genre held forth on the main stage. But over on the smaller Mustang and Palomino stages, there were some interesting and eclectic acts to help balance the scales. One of the biggest draws on the Mustang stage was Steve Martin & the Steep Country Rangers. For several years now, the famed comedian, film star and banjo buff has toured and recorded on-and-off with the noted North Carolina-based bluegrass outfit. As the group's set time approached, thousands of fans pushed under the tent and packed the space to a point where it spilled out from all four sides.
True, some may have been there for a glimpse of a famous star in an unexpected venue but most seemed to be there out of a love for bluegrass. While Steve's adroit comedic skills are on full display as "emcee" of the set, which does add a nice layer of entertainment, it seemed to remain all about the music for the enthusiastic crowd. And as we have learned over the years, dating back to some of his earliest stage appearances, Steve Martin does in fact play a mean banjo. The Boot sat down with Steve (as the Rangers looked on) before their performance to talk about this interesting musical marriage.
Can you tell us what the band does for you as a performer, how they affect you as a banjo player?
You mean as they sit here staring at me? [laughs] Well, throughout my whole life, as a performer, I've never played with a band. I've always played alone, so I was never required to stay in rhythm or anything. [laughs] So it was a real different experience for me to start playing with a band. There were so many basic things for me to learn.
For instance, like how to take turns. It sounds so obvious but it's true. Also, to listen to the other musicians to understand where they are going and to allow them the space to go there. Beyond that, I also realized that there is a language, a distinct musical language, in how we respond to each other and react to each other. And I've learned what the power is in a band so when you're putting together a song you can say, "OK, you guys are really good at this, use this element here, or use that element there." All that great chemistry that happens.
Is it sort of like working with a cast in a movie?
Well, not so much -- in that I am not the "director" of this band. It's an ensemble where everyone is sort of like the director. Graham Sharp, in addition to being a great banjo player, is also a great songwriter, so we rely on that. Charles [R. Humphrey III] is an amazing upright bass player, and so on. The musicianship in this band is amazing, so it makes things kind of easy when we play. When you say, "Wow, what a great moment for a fiddle break," it's because Nicky [Sanders], the fiddle player, has this great strength and you can just feel what he can bring or what Woody [Platt] or Michael [Guggino] or any of the other guys will bring.
The band even played a part in reshaping one of your old hits by pushing for you all to cover "King Tut."
Yes, they did, and that was sort of fun.
And you still allow for your comedic personality to exist onstage with these guys.
When we perform together, I'm a comedian, right? So I'll do all the intros and this and that. I like doing that because it's what I do. But it's not what they do. When they work alone, they stick to their own style -- they don't do jokes -- it might be a disaster if they did. [laughs] I mean, they have a real charm, but jokes and things are different for them, so I like being able to bring something that I have some experience with to the shows.
Your presence in the band seems to help bring in bigger crowds, too. Did you ever think you've become a vital force in spreading the word about bluegrass music?
Well, I'm not really taking that much credit, to be honest. This band has been bringing it to the people for a long time, as have many other musicians, and I just like being a part of the whole thing.
Looking back, do you remember when you first got bitten by the bluegrass bug?
I think I was about 16 or 17, living in Orange County, Calif. Bluegrass was big in Orange County. There was a place called the Paradox in Buena Park, there was the Mecca in Tustin. It was big. I'd go see Doug Dillard and the Dillards play a lot. And then there were the Mad Mountain Ramblers that used to play at Disneyland. David Lindley, who went on to form El Rayo X and also played with lots of other people, was a Mad Mountain Rambler. I just loved them.
Watch Steve Martin & Steep Canyon Rangers Perform Live