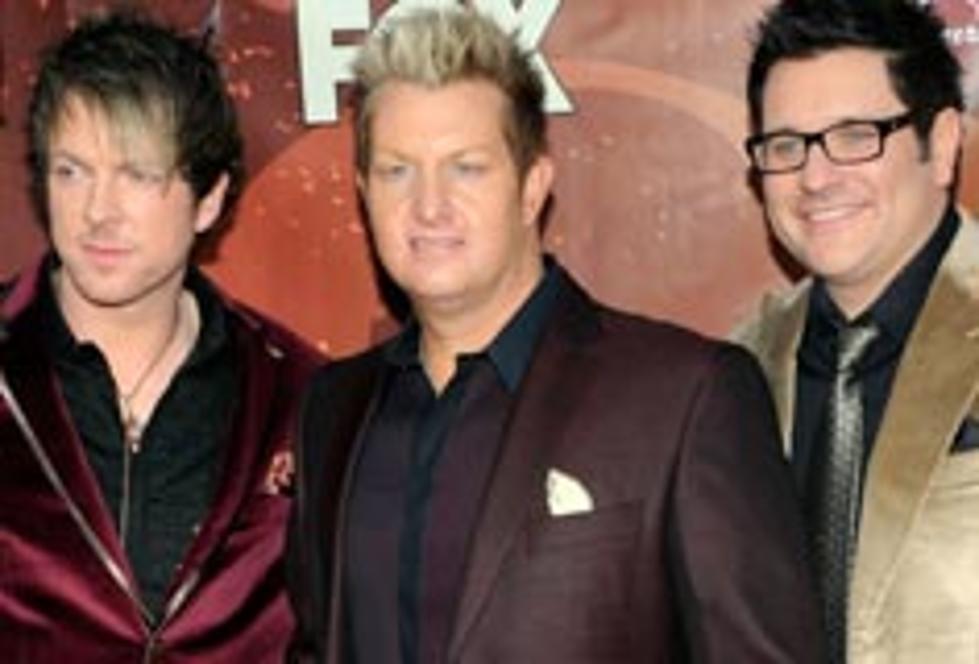 Rascal Flatts Predict Grammy Awards in Next Ten Years
Ethan Miller, Getty Images
Ten years ago, Rascal Flatts celebrated the new millennium as three men in their late 20s who dreamed of being country music superstars. Their first single, 'Prayin' for Daylight,' was climbing the charts, they were busy working on their debut album and getting ready to hit the road as the opening act for Jo Dee Messina on her Burn tour. No one could have predicted -- least of all the three band members Gary LeVox, Jay DeMarcus and Joe Don Rooney -- what their first decade would bring. Now, as 2010 winds down, they have sold more than 20 million albums, watched 11 singles go to No. 1, won dozens of awards and earned their own star on the Hollywood Walk of Fame. But they aren't resting on their laurels yet.
"I can't believe 10 years went by so fast," Gary LeVox tells The Boot. "It's been a great first ten years. We've been so blessed beyond measure. We're so thrilled for the next ten. We've got a lot of work to do. We never get complacent about where we're at. As a kid, when you dream about doing this your entire life, you finally achieve the record deal part of it, you get to live your dream. You get to live a fairy tale every day.
The guys have rarely taken time to relax since their career kicked off, which is why Gary says they still can't fully comprehend their success. "When you hear numbers, you have time to reflect and go, 'Wow, really?' But to sit and go over our entire career, I don't think so. We've got so much to do and we're having so much fun."
Always looking ahead, Gary says he hopes the next ten years will see a few more awards added to their already-packed trophy case. "I hope we're talking about how we've won a few Grammys, we've won Entertainer of the Year a few times," Gary says. "We're still touring and being with our fans, we're still doing what we love, and Jay's not in a wheelchair yet! [laughs]"
The guys are spending the holidays off the road before heading back on January 14 for the 2011 leg of their Nothing Like This tour, and making plans for a new summer tour as well. See their full tour schedule here.
Watch Rascal Flatts perform their latest single, 'I Won't Let Go,' live in our studio below.
%VIRTUAL-globalVideoEmbed-{"videoIds":"517721463","width":"476","height":"357"}%