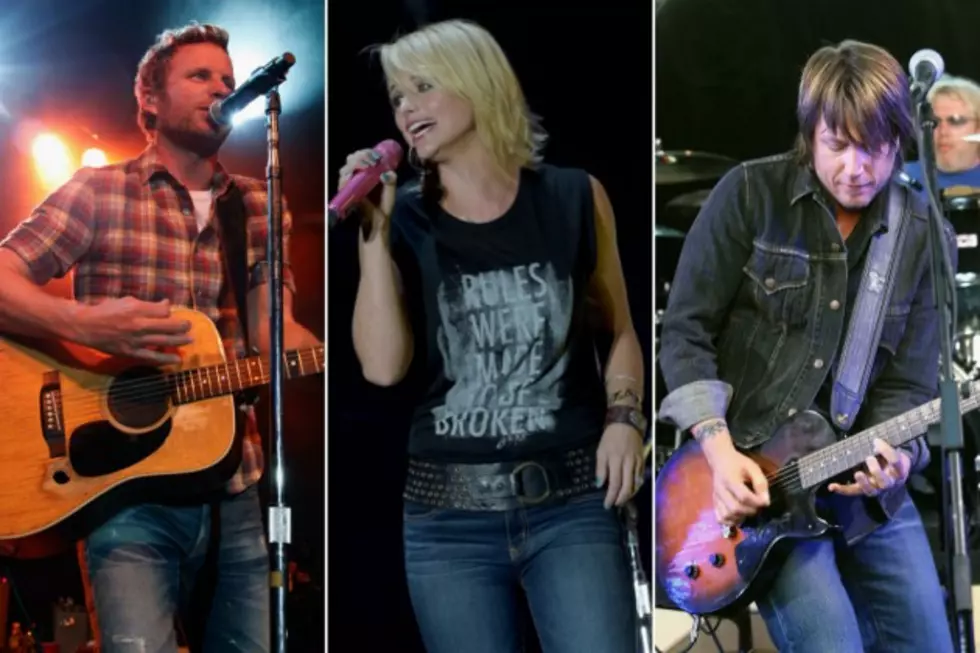 Dierks Bentley, Keith Urban and Miranda Lambert Win Early 2014 CMA Awards
Donald Bowers / Rick Diamond / Paul McConnell, Getty Images
The 2014 CMA Awards kick off at 8PM ET tonight (Nov. 5), but Dierks Bentley, Keith Urban and Miranda Lambert are already winners. The country stars were announced as the winners of Music Video of the Year and Musical Event of the Year, respectively, during 'Good Morning America.'
Bentley picked up his award for the funny-bone-tickling 'Drunk on a Plane' music video. The song hit No. 1 earlier this year, and the video was borne from a partnership with the website Funny or Die.
"Whether I have the band with me on stage or it's just me and my guitar, the fans love this song, and they catch on to the choruses immediately," Bentley says. "It's a fun song, but when you really listen, there's also an underlying lonesomeness, which is what makes it different that a lot of the other uptempo songs I've put out."
Urban and Lambert won for their duet 'We Were Us.' Lambert was also nominated for the award for 'Somethin' Bad,' her collaboration with Carrie Underwood.
"When I heard 'We Were Us,' it was instant," Urban says. "I had two thoughts. The first [was] "This is that song' and the second – 'Man, I sure hope she says yes!'"
Bentley, Lambert and Urban are all nominated for multiple awards tonight, including seven more possible wins for Lambert.