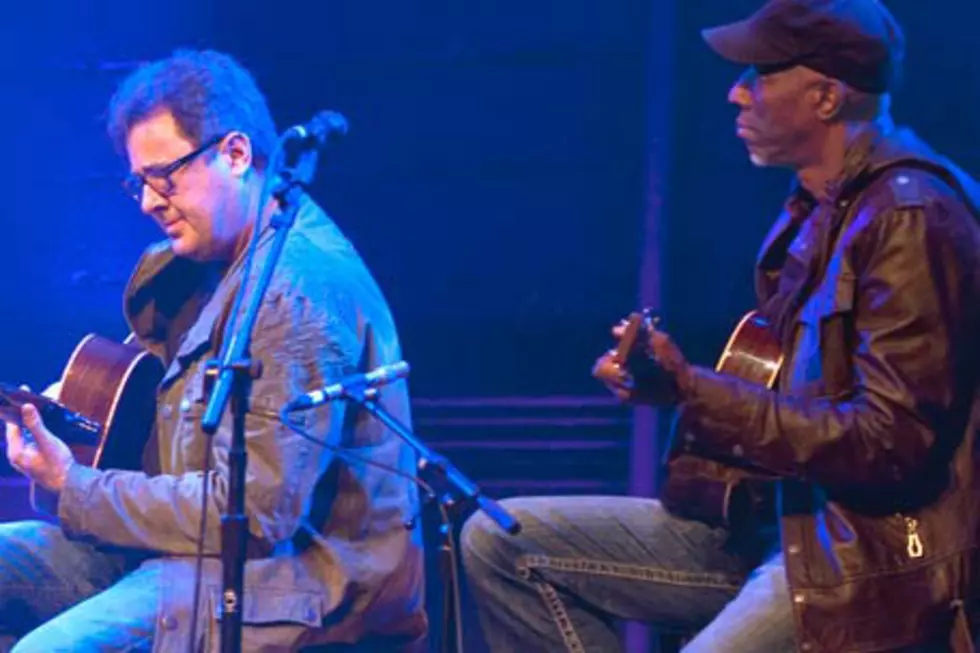 Vince Gill, Keb Mo Help Launch 'Music Voyager' Travel Series
Tennessee Dept of Tourist Development
Special, awe-inspiring moments frequently happen in Nashville because of the diversity of the creative people who grace the city's streets. On Wednesday night (Feb. 16), one such experience occurred on the stage of the Franklin Theatre just south of Music City, as Vince Gill, Keb Mo and songwriter Guy Clark performed.
The occasion was the premiere of 'Music Voyager: Tennessee,' an international music and travel series which takes viewers to various destinations around the world. Invited guests had the opportunity to see how this segment of the four-series depicts the Nashville music community.
Vince and Keb Mo, a recent Nashville transplant, were on hand to sing a few tunes after the 30-minute preview. The Country Music Hall of Famer performed 'The Old Lucky Diamond Hotel' from his latest CD, 'Guitar Slinger.' He mentioned that someone had complimented him by saying that the song sounded like something he might have co-written with friend Guy Clark. Vince then introduced Guy, who was in the audience and is a part of the television show's 'The Round' segment. Keb Mo and Vince exchanged a few other tunes, chatting back and forth as mutual friends, songwriters and musicians.
Vince sang a song he wrote about his wife, Amy Grant, just after he met her. He said that he wanted to write a song about her smile, which took about three lines. "The rest we had to make up," he joked before breaking in to 'Whenever You Come Around.' Keb Mo responded with his tune 'The Action,' which he joked was a last-minute addition to the night's set-list, as his wife would want to know why he didn't sing a song for her after Vince sang one for Amy!
The evening probably would have ended there, except for Vince, who looked into the audience and said, "Guy, you feel like coming up and singing one?" When he got the affirmative from the songwriter, he turned back to the audience and said, "I met Guy in Los Angeles when I opened for him, and we've been friends ever since." Keb Mo acknowledged that he too, knew Guy, although, "I met him a little further away than that, in Europe, a few years ago."
Guy borrowed a guitar and a microphone and strummed a few notes, breaking into 'Old Friends,' which was met with applause of recognition from the audience. Vince and Keb Mo played along, offering harmonies on the chorus. They received a standing ovation when the performance was over from an audience that appreciated the moment, understanding that they had just witnessed something special between friends with a diversity of influences who came together to perform because of their mutual love of music.
'Music Voyager: Tennessee' will have four segments from Tennessee, including 'Nashville and the Round,' which was also shot in Nashville featuring an in-the-round performance with Guy Clark, Elizabeth Cook, Buddy Miller and Darrell Scott. Two other segments were produced in East Tennessee and Memphis, following Interstate 40 from east to west along what has become known as the Music Highway.
Host Jacob Edgar said he had a great time in Tennessee, recalling driving a race car in Bristol and being in Memphis for Elvis week among his favorite segments. He also said the Grand Ole Opry was not like 'Hee Haw' as he expected, and the amount of talent they had to choose from for the Tennessee visit was amazing.
Jamie Johnson of the Grascals is featured on the Nashville segment, performing 'I Am Strong' with Ansley McLaurin, the young girl who inspired the tune. He said the song has had an amazing journey and he was proud to sing it on this show with Ansley.
"This show gives a panoramic view of the music across the state of Tennessee," says Susan Whitaker, with the Tennessee Department of Tourism & Development. "It's message is that Tennessee is the place to come to if you love music."
There will be a worldwide television audience of 170 million homes for 'Music Voyager: Tennessee.' It will air as in-flight television programing for 13 airlines and will be available in-room at several luxury and resort hotels throughout the world.
Watch Vince Perform Live in Our Studio


if(typeof AOLVP_cfg==='undefined')AOLVP_cfg=[];AOLVP_cfg.push({id:'AOLVP_us_1239065730001','codever':0.1,'autoload':false,'autoplay':false,'playerid':'61371447001','videoid':'1239065730001','publisherid':1612833736,'playertype':'pageload','width':476,'height':357,'videotitle':'Test','bgcolor':''});