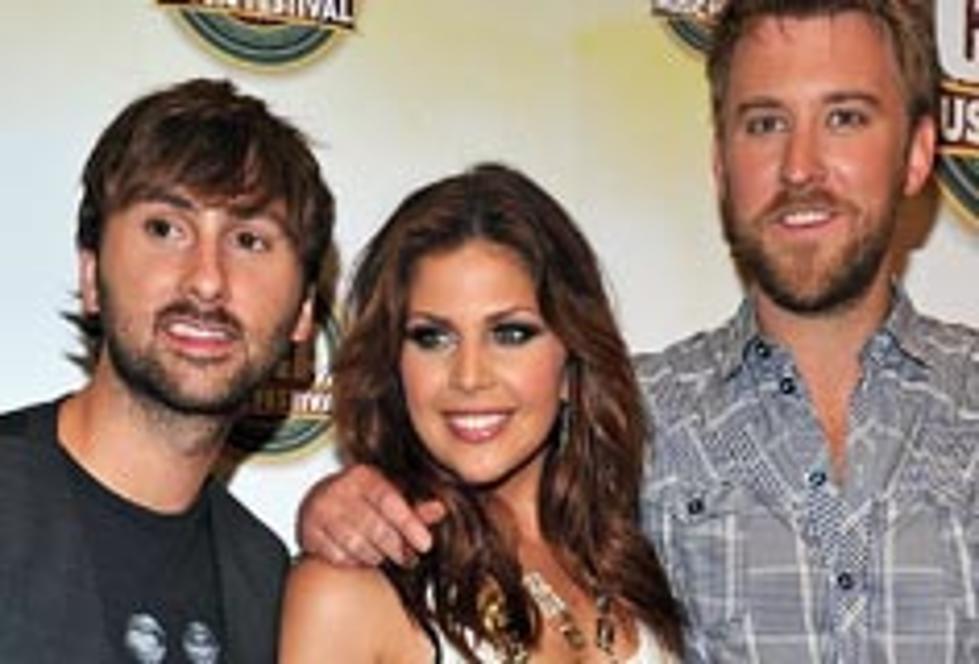 Lady Antebellum Surrounded by 'Love' at No. 1 Party
Frederick Breedon, Getty Images
When 'Our Kind of Love' climbed to the top of the charts for Lady Antebellum, it gave them their third No. 1 single in a row. The second week at No. 1 for the trio's hit was just icing on the cake and cause for extra celebration Tuesday at the Hard Rock Cafe in downtown Nashville. With the two week run, Lady Antebellum spent more time at No. 1 in the last year than any other country artist .
Lady A's Dave Haywood, Hillary Scott and Charles Kelley were surrounded by friends and family as they were showered with numerous words of congratulations and presented with varying tokens of appreciation from publishers, performing rights organizations and their record label throughout the festivities. One of the surprises of the event was the announcement that the album 'Need You Now' has now been certified triple platinum (sales of more than three million) by the Recording Industry Association of America, just eight months after its release.
"This was the first song we wrote with Busbee, and it was the first song we knew for sure was going on our second album," Hillary told the crowd.
"This is not the only song we've written with him," said Charles, who called their new songwriting pal "so incredibly talented." "I'm sure there will be several more Busbee songs on our next album."
Busbee thanked God for his talent and his parents for making him take piano lessons. "Nashville has the largest collection of musical talent in the world," he said. "I don't live here, but I was embraced when I first came here to pitch my songs and write with other writers."
Dave echoed Busbee's sentiments from Lady Antebellum. "It truly feels like family to us here," he said. "The support that we have received has truly been overwhelming."
One of the most heartfelt stories of the day came from Tim Fink of SESAC, who told about asking Lady Antebellum to come and play for the company's summit in Nashville in 2007, before they had their first hit. "They were so excited to come and do that for us, and they did an excellent job," Tim said. "I am proud to say that nothing has changed with the members of this group. They are the same great people today as they were then."
Hillary's publishing company, EMI, had a special presentation for the singer and her bandmates. Hillary supports a ministry that has been helping rebuild Haiti, and EMI made a substantial donation to the ministry. "I was not expecting that," the singer said as she wiped away tears. "We feel so loved and taken care of by this community. We feel humbled and blessed that we are able to do this."
Hillary went on to say that the trio had planned to perform 'Our Kind of Love' and the new single, 'Hello World,' during the party. "But we were out on wet streets until 2:00 AM shooting our new video and we all have kind of husky voices today," she admitted.
Hillary's parents, Linda Davis and Lang Scott, were also on hand for the event. "This is so exciting," Linda told The Boot before the festivities got underway. "Every time it happens, I think, 'How could we be so blessed?'."
if(typeof AOLVP_cfg==='undefined')AOLVP_cfg=[];AOLVP_cfg.push({id:'AOLVP_us_260863851001','codever':0.1,'autoload':false,'autoplay':false,'playerid':'61371447001','videoid':'260863851001','publisherid':1612833736,'playertype':'pageload','width':476,'height':357,'videotitle':'Test','bgcolor':''});