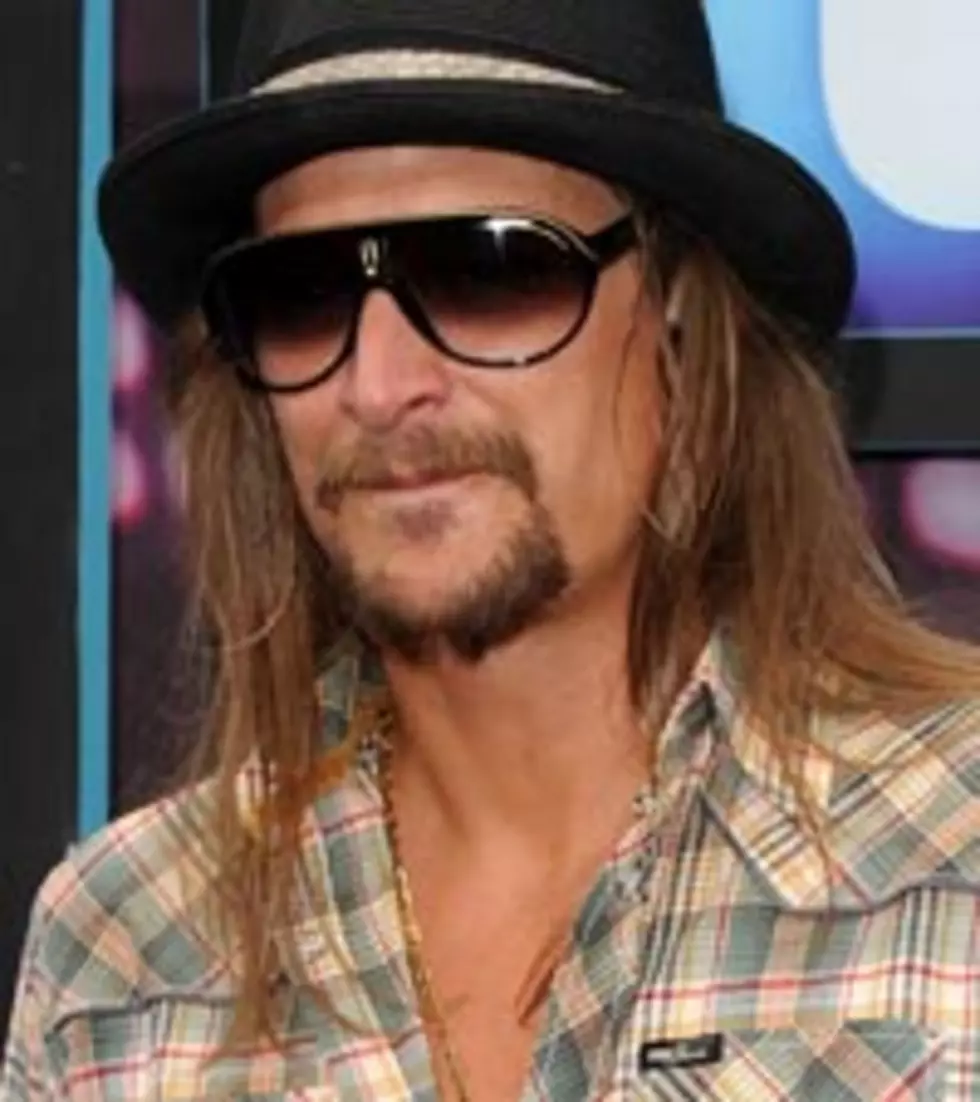 Kid Rock Unleashes Anger Toward Ticket Scalpers
Jason Merritt, Getty Images
Kid Rock is mad and he doesn't care who knows it. The Detroit-bred country-rocker's harsh words for the people inciting his fury -- scalpers who increase concert ticket prices -- show he's ready for a fight.
"I am a musician. I did not attend college and barely made it out of high school," Kid writes on his website. "I try my hardest to keep my ticket prices low. THIS I HAVE CONTROL OF!! I cannot control nor do I understand how the f--- the scalpers and all the secondary websites and bulls--- get them. IF I COULD CONFRONT EACH AND EVERY ONE OF THEM FACE TO FACE I WOULD AND IT WOULD NOT WORK OUT TOO WELL FOR THEM, I GUARANTEE ALL OF YOU."
The outspoken singer-songwriter says his emotions run deep on the subject because it is the one aspect of his career that's completely out of his hands. "I feel like someone is beating up a close friend or family member while I'm chained to a chair," he continues. "I try to understand it, I try to ask my managers and people in the business I know to help me understand it, but it seems they don't either. The only way I know right now to stop it is to not buy from these people or wait till the last minute when they're scared they can't sell them and have to sell them cheap."
Kid Rock, who will spend most of the first three months of 2011 on the road, admits he needs help in conquering the problem that plagues many artists. "If you're really p---ed about it, research it and try to find out why it's going on and let me know," he implores to his fans. "A lot of us are trying to figure out a better way, trust me. The last thing I want is some bottom-of-the-barrel lazy f--- who won't get a real job ripping off my fans to get rich. And no, this post was not consulted with my mangers or publicist. They would probably say not to post it, but that's not how I do things. This is right from my computer to yours. I hope it helps to understand at least how I feel about people trying to get tickets in my fan club or any other way that turns out to be a let down, THAT IS NOT MY INTENTION OR WHY I GOT INTO MUSIC AT ALL."
Ultimately, the 39-year old promises he will diligently seek solutions for his loyal followers. "I try to think of better ways to do things all the time, especially for the fans, but my main focus is always my son and then writing good songs. Without those two things, nothing is happening," he concludes." I will keep my mind spinning trying to figure out a better way to get good tickets to my true fans. It brings to mind a new song on the new CD, 'The Least That I Can Do is Care.' Unfortunately, that's not gonna be enough in this case. Trust me, I'm on top of this and doing what I can. Thanks."
This is not the only anger-fueled statement by the multi-platinum selling singer. He recently lashed out at Steven Tyler for accepting a seat at the judges table on 'American Idol,' as well as expressed his disgust over poorly-behaved impersonators.