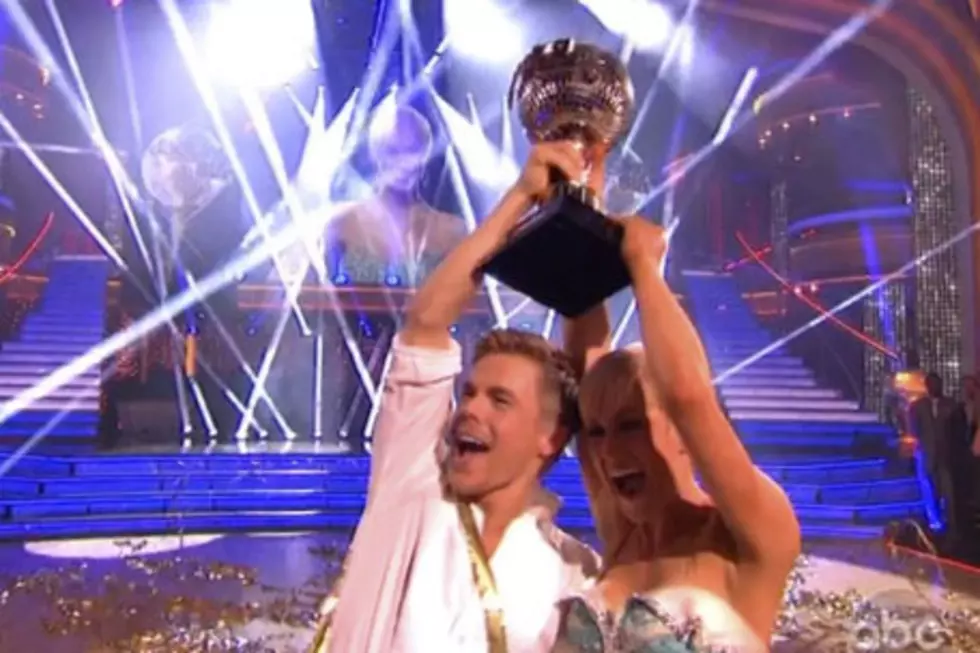 Kellie Pickler Named 'Dancing With the Stars' Champion
YouTube
YouTube
Kellie Pickler was the last to know she'd won Season 16 of 'Dancing With the Stars.'
Host Tom Bergeron announced her as the winner, and partner Derek Hough began to celebrate with the live audience. Pickler didn't hear him, however. After a few brief moments of confusion she was brought in on the secret and began an emotional celebration.
The country singer may have wrapped up the competition on Monday night with a beautiful freestyle dance. Fans picked the routine for Tuesday's encore dance, so Hough and Pickler had a chance to perform the vulnerable and extremely difficult choreography one more time.
The remaining three contestants (excluding Alexandra Raisman, who was eliminated early in the season finale) then received their music for the "instant dance." Each pairing -- Pickler and Hough, Zendaya and Val Chmerkovskiy and Jacoby Jones and Karina Smirnoff -- had a chance to rehearse some moves earlier during rehearsals, but they didn't learn what music they'd dance to until halfway through the two-hour broadcast. It didn't matter. All three couples received praise and scores of 30 from the judges, meaning the scores were unchanged heading into the final announcement.
Jones and Smirnoff learned they'd finished third with approximately 20 minutes remaining in the episode, setting the stage for the season's two favorites. Bergeron held the tension with a long pause midway through his announcement before finally shouting Pickler's name. "This is amazing" she said in a brief interview as the credits began to roll.
"Grandpa Ken, we got you the trophy buddy," Hough said, giving a shoutout to Ken Morton, the man who raised Pickler in Albermarle, N.C. The remainder of the episode was filled out with dances from former contestants, clip packages showing highlights and lowlights from Season 16 and performances by artists like Wynonna Judd and Pitbull.