Kellie Pickler, 'Dancing With the Stars': Week 5 Foxtrot Highlights Hollywood Glamour
Adam Taylor, ABC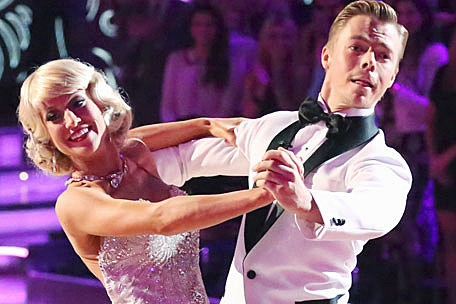 Adam Taylor, ABC
Despite a grueling and stressful rehearsal week, Kellie Pickler and her "Dancing With the Stars" pro dance partner Derek Hough displayed the glamour and grace of a couple straight out of an old Hollywood musical on Monday night (April 15) when they performed the foxtrot to "It Had to Be You."
Kellie, donning a short, bobbed wig and glitzy evening gown, and Derek, wearing a black-and-white tux, looked picture perfect on the dance floor, and received an overall score of 27 out of 30 from the judges.
"I kept telling her during the week, besides going 'arrrrgh', that she should imagine a character while she's dancing," says Derek, who was frustrated by teaching the very technical foxtrot. "When she put her costume on, I was like, 'You must feel that, right?'"
"Who's Kellie Pickler?" laughed the country singer, as she pretended to get into character on the press line. "No, it does change everything. In rehearsals you're in sweats and your big, ugly clothes, saggy and whatever, like, your comfy airplane clothes. You go from that to custom-made, couture, beautiful outfits. The wardrobe team here is unbelievable and they make everything by hand from scratch. It's hard to not feel good -- they take great care of us."
While chatting with reporters, Kellie, who has been dressed in some seriously skimpy outfits each week, kept playing with the lengthy gown and joked, "This is the most clothes they've given me all season!"
A highlight of Kellie's time on "DWTS" came last week when she had the opportunity to dance to hubby Kyle Jacobs' live performance of their wedding song, "Say I Do."
"It was amazing to have him here," she says. "I think it was very special for all of us to be able to do that together. For him to be able to sing our wedding song -- and he wrote it -- it was just perfect."
When told she seemed to glow while he sang, Kellie gushed, "Well he's my husband, I should be happy! He's stuck with me forever so I hope he's excited when he talks about me, too. He's so supportive and there's never been a moment where he's ever doubted me for a second. He's always, 'You can do this,' or, 'I know you're going to be great.' That's the way I think your spouse should be. He's my best friend so he's definitely supportive and it seems like nothing really surprises him. It doesn't matter if I go out there and fall flat on my face. He's gonna go, 'That was awesome!'"
Judging by her stellar "Dancing" performances so far, there's little chance of that happening. Catch Kellie and Derek on tonight's (April 16) "DWTS" results show, which will also feature the Band Perry performing "Better Dig Two," airing at 9:00 PM on ABC.
Watch Kellie Pickler & Derek Hough on 'Dancing With the Stars'
Download Kellie Pickler Songs