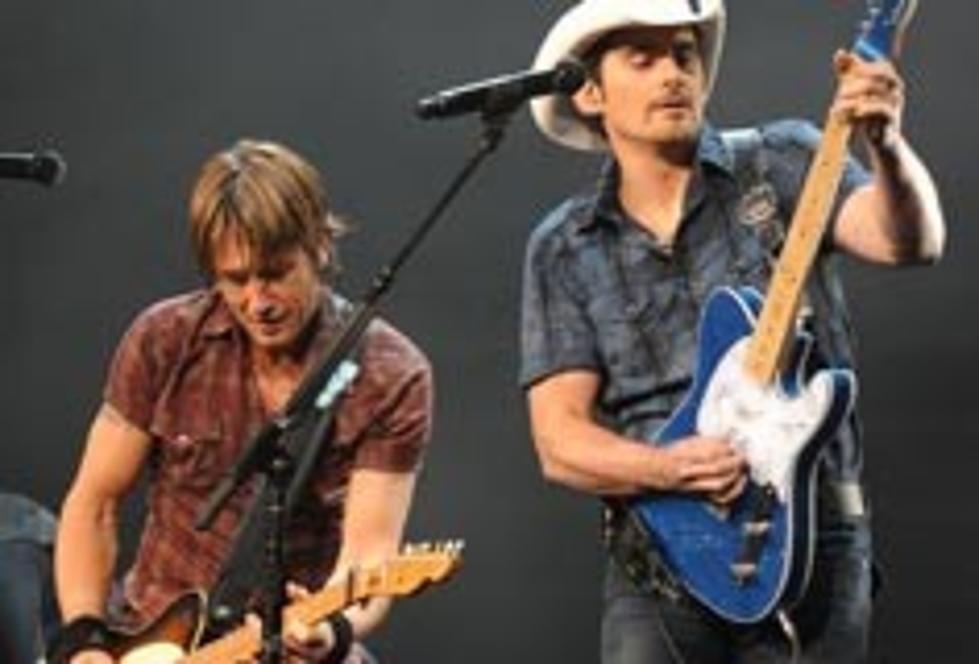 Keith Urban, Brad Paisley + More Donate Flood-Damaged Guitars
Rick Diamond, Getty Images
Keith Urban, Brad Paisley, Vince Gill and many other Nashville-based musicians have donated damaged instruments to be auctioned off online for flood-relief efforts. Those guitars were victims of the May flood in Music City, as they were stored in a downtown facility along with many other musical instruments, stage gear and memorabilia -- all drowned by the devastating storms. Proceeds from the auction will benefit the MusiCares Nashville Flood Relief Fund and Nashville Musicians Association Flood Relief Fund for those musicians who were uninsured, along with Middle Tennessee fire and rescue departments.
The organization NASH20 was formed shortly after the flood by George Gruhn of Gruhn Guitars, steel guitarist Bruce Bouton and luthier Joe Glaser, according to GAC. The auction kicks off today (Tuesday, October 12) at NASH20's website, with an official launch party taking place at the Hard Rock Cafe in downtown Nashville beginning at 4:00 PM CT. Fans also have a chance to bid on instruments from Pam Tillis, Peter Frampton, Keb' Mo', John Jorgenson and session guitarist Brent Mason, as well.
For many musicians, the bond they have with their specific instruments is indescribable. So for many of them to be damaged beyond repair in the devastating floods was pretty overwhelming, especially for someone like Keith Urban, whose guitars are nearly an extension of himself.
"It is a funny relationship that we have with instruments, because they articulate a lot of things for us, so they're very important to us," Keith tells The Boot. "And the other side of it, as Vince Gill pointed out, that we're the curators for these things too. We're meant to take care of them. They've been around a long time. I've got a guitar from 1942, and it's been around a long time before me. I want to make sure it's here long after I'm gone. It is a tremendous feeling of being negligent when these things happen. I feel like I let these instruments down. The plus side is some of them have gotten resurrected and they just had a little convalescent baptism and feel and play better for it in some cases. Some of them are completely destroyed and gone, but there's a little silver lining there, as well."
Keith slowly got back into the process of acquiring guitars, because he felt like he was cheating on the ones that he lost.
"It was weird," he says. "It was like I didn't want to start dating immediately. I didn't want to be disrespectful, you know? [laughs] So I borrowed a couple of guitars at first, and then very, very slowly bought very, very cheap ones and sort of eased into it all out of respect for my guitars."
Keith, who is playing his way up the country charts with 'Put You in a Song,' is gearing up to release his new album, 'Get Closer,' on November 9.