Josh Turner Interview: 'Punching Bag' Album Packed With Family, Faith and Fun
Universal Music Group Nashville
Universal Music Group Nashville
Everyone has heard that expression "When life hands you lemons, make lemonade." Well, Josh Turner took that philosophy a step further and turned a bad day into a great song that provided the title for his new album Punching Bag.
"I wasn't having a very good day the day that I came up with that title," Josh tells The Boot. "I was standing in the closet with [my wife] Jennifer and I told her I felt like a punching bag. I felt like life was beating me up. When I said it, it immediately struck me as a song title, so I put it in my phone and waited for the right opportunity."
On this sun-splashed Tennessee afternoon, it's hard to imagine Josh ever having a bad day. The South Carolina born singer/songwriter is all smiles as he welcomes The Boot to his writer's retreat, a beautiful log cabin located on his property just south of Nashville. The 37-and-a-half-acre estate also includes the main house, where Josh lives with Jennifer and their three sons -- Hampton, 5, Colby, 3, and Marion, 18 months.
"Once I got all settled and got everything in here, and the contractors and everybody left, it was definitely what I had envisioned in my mind for it to be," Josh says of the 1,700-square-foot cabin filled with memorabilia from his career and as well as artwork, books and artifacts representing his interest in the Civil War. "It's been great for me to come over here and be able to write and just have the peace and quiet and no distractions."
Josh's collaborators have enjoyed writing with him at the cabin. "They love coming out here ... They said they'd rather come out here than go to the Row," he says of Nashville's famed Music Row, where the majority of Nashville songs are written. "So, who knows, maybe College Grove will be the new Music Row?"
After coming up with the idea for "Punching Bag," Josh invited frequent collaborator Pat McLaughlin to the cabin to work on the idea. "I just felt like he was the right one to write it with, so we got in here and wrestled it to the ground," Josh says in his distinctive deep Southern drawl. "We really captured the emotions that I was feeling on that bad day. I wanted to really convey the fact that even though life throws you a punch, that doesn't mean you have to take it or be knocked down by it. Life is a series of punches. It presents a lot of challenges. It presents a lot of hardship, but the people that are able to take those punches and able to move forward are the ones that really do have a lot of success and have a lot of joy in their life and have a lot of stories to tell, too. I really felt like this was going to be a song of inspiration and motivation for people who might be struggling with things in their life and might be considering giving up, so hopefully this song will inspire them to get past that hump."
Like Josh's previous albums, Punching Bag is an engaging collection of songs that are inspirational, insightful and thoroughly entertaining. "Find Me a Baby" is particularly close to Josh's heart because it features his wife and sons. "We actually wrote it right here," he says of co-writing the song with his producer Frank Rogers. "It was an idea that he had that he brought in here that day. We just really tried to tailor it to my story, my life at the time. We pounded it out that day and when we wrote the bridge, Frank had mentioned the idea of having Jennifer and the boys on it. I was kind of surprised at first when he said it, but the more I got thinking about it I thought, 'You know that might be a pretty cool idea!' It would be a special moment on the record and something we could cherish for years to come, so I went with it."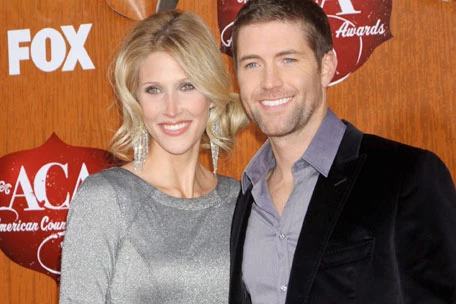 jpistudios.com
When Jennifer and the boys came in to record their parts, Josh decided to play a joke on Frank. "Frank is a die-hard South Carolina Gamecock fan. I'm a Clemson Tiger fan and we are arch-rivals. So the day that Jennifer and the boys came into the studio to sing their parts, all five of us were decked out in our Clemson stuff and he about threw up," Josh says with a laugh. "He couldn't take it anymore! It was classic and I was loving every minute of it. He said, 'You know, it's not too late for me to mess up your record.'"
In addition to his family, Josh welcomed some other special guests on the record. Ricky Skaggs appears on "For the Love of God." "It's a hard-driving bluegrass gospel song and it really came from my traditional country, southern bluegrass roots." Josh says. "After I had written it and went into the studio, I really got to thinking about Ricky and the album that he had done a few years ago called Solo, where it was basically him doing all the singing and all the playing. Everything on the record was him and he used a lot of different kinds of instruments that a lot of people had never heard of. I really wanted him to come in and use one or more of those instruments. So he came in and played a couple different kinds of mandolins. He played a cello banjo ... a lot of people don't even know what that is. It's a really cool-sounding instrument and you get to hear it on this song. I'm excited for people to hear that extra little flare on that song because I didn't want it to be your standard bluegrass song. I wanted it to have some grit and soul to it, and I felt like having Ricky's voice on there singing the harmony vocal and his style of mandolin playing and the cello banjo would really kind of give it that color."
Josh also enlisted Marty Stuart and Iris DeMent to contribute their talents to the song "Pallbearer." "I got him to come in on this and that was a dream come true for me," Josh says of Marty playing mandolin, "and then I got thinking about what female I wanted to sing on this song because I just kept hearing a female voice singing behind me. I got thinking about Iris DeMent and her lonesome backwoods-y kind of twang to her voice. I just really felt like she'd be a great fit for this song and she agreed to do it. I was really surprised how she and I blended. Our voices just blended in a great way, so this song turned out to be really special."
Another of Josh's favorite cuts on the album it titled "Cold Shoulder," which he says he intentionally wrote to sound like a Vern Gosdin song. "He was an amazing artist and he really never got the credit that he deserved. He's one of the best singers that country music has ever known," says Josh as he glances up at the wall where he displays an autographed photo of the late country legend.
Now that the new album is finished, Josh will be busy touring this summer, but not too busy to enjoy some family time with his three sons. "Hampton is playing baseball now and he's doing pretty good," Josh says proudly. "[This fall] he'll start school, so things are about to get busy."
How does he feel about his oldest starting kindergarten? "I'm trying not to think about it. It's hard," he admits. "He's actually gone this week with his grandparents. He left Sunday and here it is Tuesday and it's now hitting me. I don't know how to act with him gone. It's kind of tough, but it's something that has to happen and I'm going to be his cheerleader."
Josh obviously loves spending time with his boys. "We went to the zoo yesterday. We go to sporting events and we play a lot outside," he says. "One of Colby's favorite things here is to go down to the creek and throw rocks. He can sit down there for 24 hours straight and throw rocks in the water. It just fascinates him. Marion is all over the place. He likes anything that's not a toy. That child is one of the most strong-willed children I've ever been around, if not the most. He's very opinionated and very strong-willed, so we'll have our hands full with him when he grows up. We already have our hands full with him!"
Josh and Jennifer have been married nine years. When asked what he feels is the key to their successful union, Josh replies, "Just being friends and communicating. Anytime we have a breakdown in communication, we get in some type of argument; so you just have to keep that line of communication open and just make your marriage a priority. Don't let your children take priority over your marriage and your work and everything else. You have to take time and make time for each other. My current single 'Time Is Love' gives a lot of advice in that area, just spending quantity time with the one you love and the one you care about because that's when you really develop a relationship. For us, we try to spend time together no matter what we're doing. We just work better together. Like anybody else, we have to take a break from each other from time to time, so we can enjoy the times that we are together, but we've always been friends and she's my biggest cheerleader."
Punching Bag is out today (June 12) and he's currently on tour. Keep track of his tour schedule here.