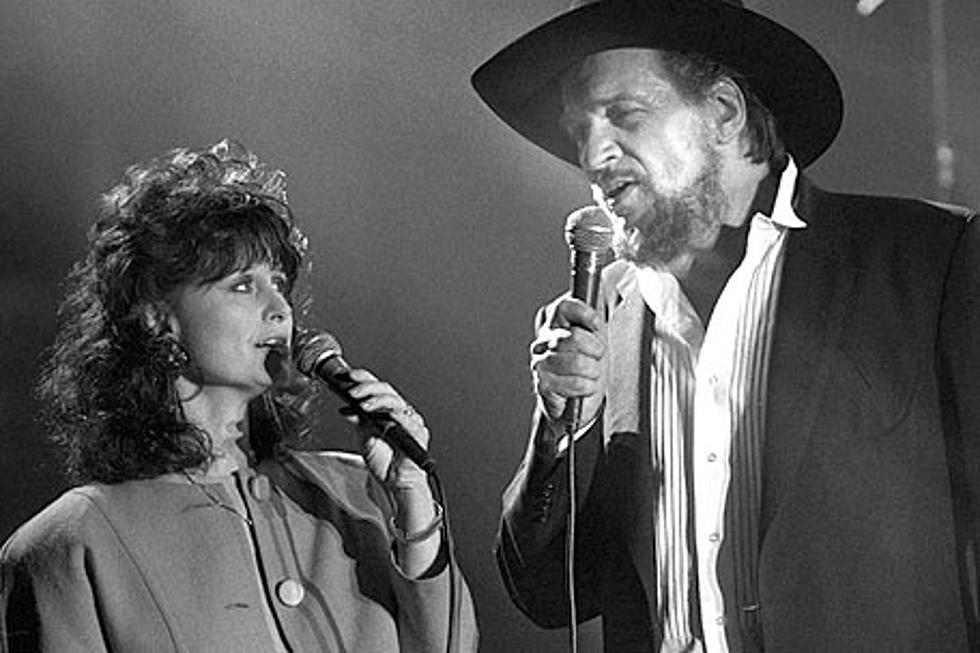 Jessi Colter and Friends Celebrate Waylon Jennings' Legacy
Ebet Roberts, Redferns / Getty Images
Waylon Jennings never considered himself an outlaw when it came to his music. But the singer, who together with his wife Jessi Colter, Willie Nelson and Tompall Glaser, made history in 1976 with 'Wanted! The Outlaws,' country music's first million-selling album, did always have the desire to do his music his way.
Jessi, who married Waylon in 1969, says the final straw for her late husband came in a session when a producer insisted on adding instruments to a song Waylon had written -- and therefore knew the sound he wanted it to have. When the producer persisted, Waylon looked at him and said, "You're fired." Waylon's widow believes that may have been the first time a producer assigned to an artist by a record label had ever been fired from a project by the artist.
Waylon would no doubt have approved of the group of artists honoring him on 'Waylon: The Music Inside Vol. II,' the latest tribute to the legendary singer-songwriter who died in 2002. Most are independent thinkers who have control of their careers, including Jack Ingram, Pat Green, Dierks Bentley, Montgomery Gentry and Hank Williams Jr., all of whom have carved their own niche in country music.
Although she now lives in Phoenix, Jessi still makes regular visits to Nashville, and for this project has spent a great deal of time in the city where she and Waylon once lived. At the end of a long week of interviews and promotional appearances in conjunction with the just-released album, Jessi sat down with The Boot to talk about her husband's legacy and to share personal memories of times the two spent together.
While she sipped on a cola and chatted with her publicist about her thoughts on texting (she'd rather just pick up the phone and call), she also marveled at the unseasonably warm winter weather in Nashville, remembering days of ice and snow when she and Waylon lived on a hill that made it very hard to get in and out when the weather was bad.
"Waylon would park his Cadillac at the bottom of the hill and walk up when it was really bad," Jessi tells The Boot. "I can't ever remember weather this nice in January when we lived here!"
Jessi says the first volume of the Waylon tribute project sold very well, a tribute to those entertainers who took part in it, including Trace Adkins, Alabama, Kris Kristofferson and Patti Griffin, and Jamey Johnson. Shooter, Jessi and Waylon's son, recorded Waylon's favorite song for the first volume, 'Belle of the Ball.' Waylon also makes an appearance on 'Just to Satisfy You' with John Hiatt.
This second CD in the trilogy again brings together a group of artists who loved Waylon's music and were influenced by him in their careers. Jessi contributes her tune, 'Mama,' which was the first song recorded for the project. Written about her mother, Jessi reveals that it was a song Waylon felt had never had proper exposure. Jessi says when producer Witt Stewart approached her and knew about that song and how Waylon felt about it, it was the deciding factor on moving forward with the project. With all of the special guests and songs on the album, Jessi acknowledges it's hard to choose one that stands out.
"I don't know if I can pick a favorite song on this album. Hank Jr. just kills 'Waymore's Blues.' I think that Jewel's version of 'Dreamin' My Dreams With You' is the most soulful rendition of any song I've ever heard her do."
When Dierks' name was first mentioned, Jessi wasn't very familiar with the singer. "Remember, this was several years ago when we were just starting with the project. Then I found out how much Waylon meant to Dierks. He came in the studio after not working for three months to do 'Lonesome, On'ry and Mean.' His voice was hoarse and cracking and I love the sound of it. He just killed it."
Dierks says it is an honor to be on the album. "I am a huge fan of Waylon and incorporate his music into my show almost every night. He played in my home state of Arizona in the early '60s, and my dad saw him. He meant a lot to me as one of my early influences."
Jessi also loves Josh Thompson's interpretation of 'Love of the Common People.' She says even though the song is an older one, it holds a special place in her heart. "That song almost became the Navajo anthem. The Navajo people helped us when we were having trouble with a booking agent here. Then at the end of his life. the casinos made Waylon's life so good and so easy and they treated him very well. I hope the Navajo nation and the American Indians hear this song and that it's been recorded again."
"Waylon was the reason I picked up a guitar in the first place," Josh admits. "Loving that music drove me to play and that's why it was important for me to be on this record."
Shooter Jennings says many of the artists on this project represent a new generation of singers who have been influenced by his father's music. "As much as it is a statement from friends who loved him, like Kris [Kristofferson] and John Hiatt, all of whom are great artists, it's also a testament to the power and impact of his music in the ten years since he's died. We could do another one in ten years and there would be another new crop of people influenced by him, totally different from the artists who are on this one."
Alabama had the first single from the debut CD with 'Are You Sure Hank Done it This Way?' The new album doesn't have a potential single at the moment. "No [record] company will give single rights to an artist on another label," Jessi explains. "That's the way it has been."
Jessi revealed another frustrating example of an artist wanting to participate but not being able to because someone in his camp has said he can't be on the CD. Jessi says that Waylon and Bob Seger wrote a great song, 'The Numbers Game,' but so far they haven't been able to include it on any of the tribute CDs even though Bob recorded the song for the project.
"It took seven months to get him (Bob) in the studio, then his manager pulled it. What he is doing is five times what a record company would do. Who knows what Bob knows? Some artists don't govern their people that close. Who knows what could happen between now and the last release? I'm gonna tell Witt that we need to go back to Bob and try again to let them get it on the CD. It's such an incredible song."
One of the things Jessi and the team releasing the Waylon tributes plan for this year are several concert events that will bring together some of the folks who have participated in the projects. While she can't say too much about that at this stage, she promises it will be a very special evening for music lovers.
"We have designed the show so that people will leave the concert knowing Waylon," Jessi explains. "We have a recording of Waylon reading a short copy of his book so he will be there in spirit. You will hear his voice reading four or five paragraphs from the book, and there will be a light on his chair and then we'll go into music."
Jessi reveals that when her husband came to the end of his life, it wasn't her place to question it but rather to just cherish their time together and the legacy he left.
"I don't quarrel with God," she explains. "Unless God was going to raise him up and heal him, then it was time for Waylon to go. He was in his right mind and he was Waylon all the way. And God had a purpose in allowing it at that time. So my purpose is to find what I'm to do as I go along and stay in tune with God. It's my desire that all my lifetime anything I can do to help Waylon be remembered, I will do. I don't really need to help folks remember his music, because it stands alone. It delights me to hear these songs on the new album and have other people enjoy these new versions or hear them for the first time."
Although it's been almost ten years since Waylon passed away (the Country Music Hall of Famer died February 13, 2002, from complications of diabetes), Jessi admits that it is sometimes hard to work on the tribute albums. "It has been from the beginning. I have made progress and feel like I'm at the end of something. I can tell by listening to this album that I am much stronger than last year at this time." 'Waylon: The Music Inside Vol. II' is in stores now.
Watch Waylon Perform Live