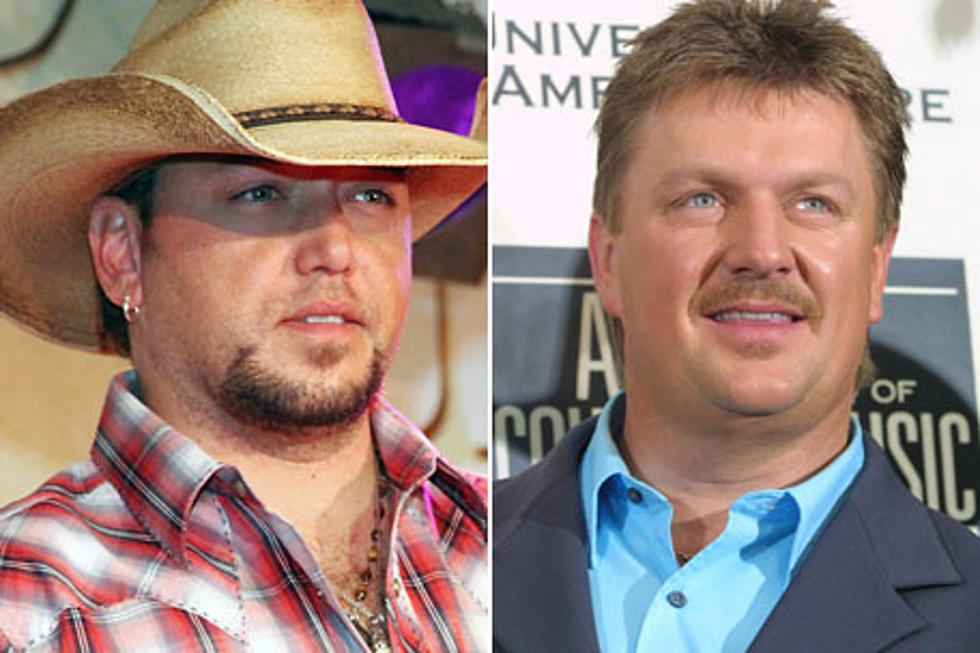 Jason Aldean '1994' Is Musical Shout-Out to Joe Diffie
Getty Images
While many will remember 1994 as the year of O.J. Simpson, Kurt Cobain and "Schindler's List," Jason Aldean, who was in high school at the time, has musical memories that involved one of country's biggest hitmakers that year. On his upcoming new album, Night Train, the Georgia native name-checks traditional country singer Joe Diffie, who scored back-to-back No. 1's in '94 with "Third Rock From the Sun" and "Pickup Man."
Written by Thomas Rhett, Luke Laird and Barry Dean, "1994" is punctuated by what is becoming a trademark for Jason -- blending country with hip-hop -- and the chant of "Hey, Joe, Joe, Joe Diffie!"
"I was a junior in high school in '94," Jason tells Billboard. "Joe Diffie was huge. I remember I went to the Cherry Blossom Street Party in Macon [Ga.], with Kenny Chesney on one stage and Joe Diffie on the other stage, and there was 5,000 people watching Joe Diffie and about 500 watching Kenny Chesney."
Night Train producer Michael Knox says that after he and Jason heard the "1994" demo of the song, he told the singer, "'Dude, we have to cut this. This is the funniest, coolest thing I've ever heard.' Jason said, 'I know.'"
"The only thing I was concerned about with that song was having my younger fan base not really get it, because of it being '94 and it making reference to some of his song titles," Jason acknowledges. "There may be some younger fans that have to do some research and figure out who Joe Diffie is, but obviously people in the business know he's a great singer and one of the best vocalists we've had in this town in years."
Billboard reports that they sent Joe the song to find out what he thought. "First of all, wow!" was his response. "Jason's found a really cool niche and he dang sure delivered on '1994' -- big time. I mean, what else can you say but what an honor it is to have the larger part of a song reference songs of mine. To think all of Jason's fans will be chanting my name ... pretty dang cool."
The "Bigger Than the Beatles" singer says every time he hears the song, it puts a huge grin on his face. He also admires how Jason is "pushing the envelope of today's country music. It's a tough thing to do and takes a lot of cojones."
Jason Aldean's Night Train arrives Oct. 16.
Watch Joe Diffie's 'Bigger Than the Beatles' Video
#fivemin-widget-blogsmith-image-566737{display:none;} .cke_show_borders #fivemin-widget-blogsmith-image-566737, #postcontentcontainer #fivemin-widget-blogsmith-image-566737{width:475px;height:351px;display:block;}

try{document.getElementById("fivemin-widget-blogsmith-image-566737").style.display="none";}catch(e){}