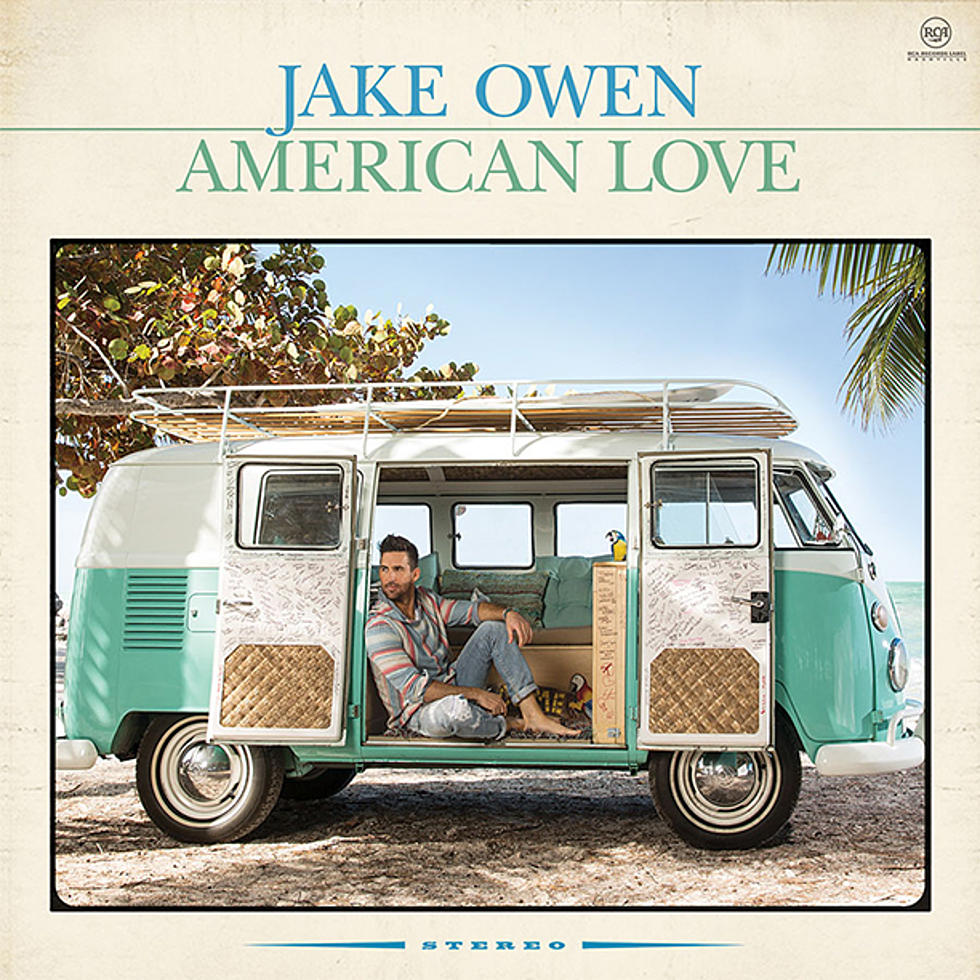 Everything We Know About Jake Owen's New Album, 'American Love'
Sony Nashville
Jake Owen's American Love has undergone some changes since its first single was released in May of 2015 -- a lot of changes, in fact.
At that time, Owen was vocal about his desire to swing away from his "beach bum" image, and he wanted this project to show off a side of himself that fans hadn't seen before.
"I said, 'Look, guys … we have to do something that will change the perception of us a little bit, because otherwise why would we do this?'" Owen recalls. "This isn't gonna change our lives unless we do something great."
But when that first single didn't fare well on the charts -- and following his divorce from wife Lacey -- Owen started over ... and in late July, fans will finally get to hear the results. The following is everything we know so far about Owen's upcoming record.
The Title
Owen's new album will be called American Love, and much like his previous four records, it takes its name from one of its tracks. The title track is the disc's very first song.
The Release Date
American Love is set for release on July 29.
The Album Cover
The American Love album cover features Owen sitting inside his now-famous "love bus" -- a seafoam green 1966 Volkswagen van -- which is parked on a beach.
The Record Label
American Love is set for release via RCA Nashville, Owen's longtime label home.
The Singles
Before Owen scrapped his original new album, he dropped a single, "Real Life," in May of 2015, and although he didn't write it, the song was born from something that he told Ross Copperman and Shane McAnally, who wrote the tune along with Ashley Gorley and Josh Osborne.
"'Everything in my life right now — I'm 33, I'm married, I have a kid, my dad beat cancer,'" Owen recalls saying. "I've gone through a lot of real-life situations over the last couple of years. I wanna get back to things that are real to me, and real-life scenarios."
A couple of weeks later, the tunesmiths sent him "Real Life," complete with a chorus full of "na-na-na-na-na-na"s. "Well, I grew up in a real town / Where the prom queen had a plastic crown / And we really did just drive around / 'Cause there wasn't s–t to do," Owen sings in the first verse. 
"I wanted it to be weird," Owen admits to Rolling Stone Country.
"Real Life" reminisces about life -- real life -- spotlighting RC Cola (instead of Coke), driving around for fun and talking to real girls, not models (which is rather ironic, considering that Owen's now-ex-wife was a model).
"I'm not shying away from my heritage and being from Florida, but I think I played that card a lot on the last couple records, and I didn't want to come out this summer with another beach song," Owen tells RSC. "But I did want to come out with a song with that anthemic chorus."
"Real Life" is available on iTunes. Owen released its music video in late June of 2015 ... but the song didn't fare well on the charts, and in March of 2016, he told The Boot that the song would not be on his new record, shortly after dropping a second single from the album, "American Country Love Song."
"["American Country Love Song"] fit more in line with the kind of songs I've released before. "Real Life" was a bit of an outside-the-box kind of stretch; a lot of people even said that, and it was intentional, but I noticed I didn't get the [same] reception for that song," Owen explains. "… So I kind of wanted to get back to what everybody was kind of expecting from me."
The Songs
Regarding the first iteration of the project now known as American Love, Rolling Stone Country reported that songs titled "We Went to the Beach," "We Call It Music," "Everybody Dies Young," "LAX" and "Put a Song in Your Pocket." None of the songs were written by Owen.
When Owen released American Love's track listing in May of 2016, however, only "Everybody Dies Young" and "LAX" were on the list (which readers can see below). As expected, "American Country Love Song" is on the project -- in fact, it ends it -- but "Real Life" is not.
"I was at a different place when I was making that record," Owen says of ditching the material. "I was still married, and all of the sudden that ended, and I had to find a way to feel good again.
"I started down that path and then I realized that, for me, making music is as about feeling good as the listeners that gets to hear it," he says. "I have to make an album that I enjoy singing every night."
Also included on American Love is a collaboration with Chris Stapleton: He helped write "If He Ain't Gonna Love You," and Stapleton also sings backup -- "and it sounds so good," Owen tells Taste of Country Nights host Sam Alex. "He sounds unbelievable on it, so I'm so excited."
American Love is, as one might expect, about love -- but don't expect every track to be a gushy love song: "I kept noticing this reoccurring theme. The word kept appearing, but it was said in such different ways. I'm really proud that I got to encompass how love can be felt different ways but still remain the same, if that makes sense."
Though he's not entirely walking away from the ultra-cool speak-singing he's known for, Owen wants to really show country fans he can sing.
"Sometimes my voice gets hidden," he admits. "People don't even have the opportunity to know that I love to sing."
Jake Owen, American Love Track Listing:
The Producers
Before he scrapped his original project, Owen said that Copperman and McAnally produced his new record. It is unclear if they are still attached to the final product as producers.
The Advice From Dierks Bentley
Owen's buddy Dierks Bentley encouraged him not to run away from his beach-y image.
"He was like, 'Jake, you have a lifestyle to your music, and that whole beach thing. You own it because you're from there, and it's believable,'" Owen recalls to Rolling Stone Country. "He's like, 'Don't ever worry about that and get too far away from that, because that's what you do, that's what people love you for.' And he's got a really good point about that."
Country Music's Sexiest Men
You Think You Know Jake Owen?