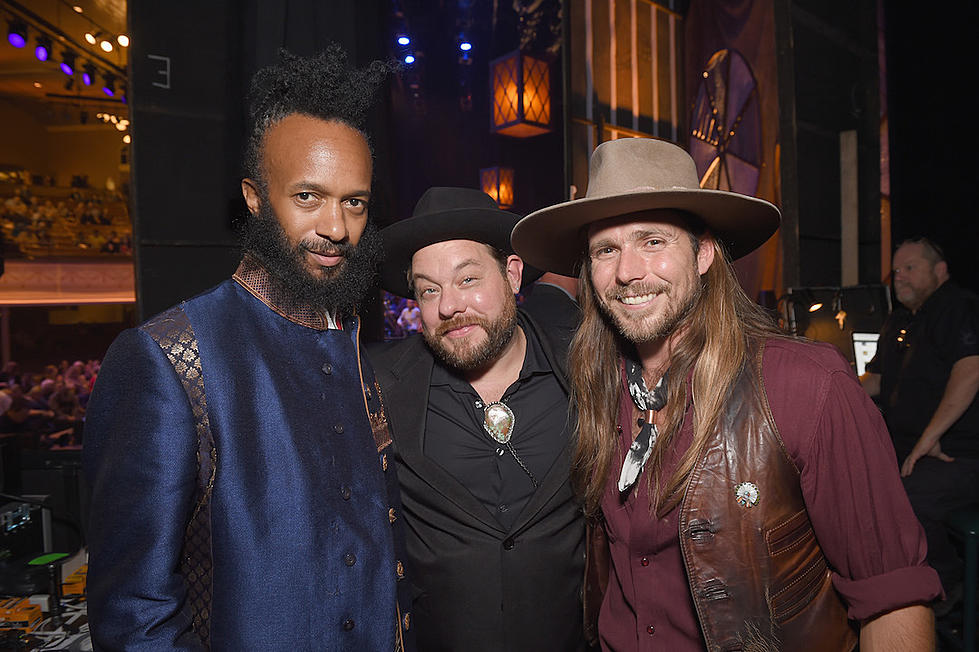 Is Americana a Genre? Not Necessarily, Say the Artists
Jason Kempin, Getty Images
In 2018, the annual Americana Music Festival, and its accompanying Americana Honors & Awards ceremony, welcomed a wildly eclectic group of honorees and devotees to Nashville, all in the name of exploring and celebrating the musical style.
At the awards show, for example, New Orleans soul legend Irma Thomas performed on the same bill as incisive folk lyricist Mary Gauthier. The ceremony was hosted by indie darlings the Milk Carton Kids, who captured the ambiguity of the format onstage with "What Even Is Americana?" an original, comedic song they'd penned expressly for the occasion.
Some -- including, in years past, Sturgill Simpson and, in 2018, Emerging Artist of the Year Tyler Childers -- disparage the distinction between country and Americana as essentially a line between "mainstream" and "not," "lucrative" and "not" or "played on the radio" and "not."  Many of the artists at the forefront of the format see it as a complex and varied style, the essential quality of which is not a trademark sound but rather a trademark goal: to release innovative, thoughtful new music.
"Americana doesn't encompass every single kind of music, obviously, but it's a pretty big tent," explains the Milk Carton Kids' Joey Ryan. "The fact that it all kind of finds a home under one roof, and that doesn't seem to raise any eyebrows -- it all kind of makes sense, and it all sounds good, and is real and deep and emotionally true and sometimes challenging. It's just a testament about what people like about art broadly."
As a radio format, Americana originated in 1984, on the Los Angeles, Calif., FM station KCSN, which aired the weekly show Honky Tonk Amnesia, hosted by Mark Humphrey. It rose to prominence in the late '80s and early '90s as a catch-all for artists who did not comfortably fit into the pre-defined rock or country molds.
The format is a complex and varied style, the essential quality of which is not a trademark sound but rather a trademark goal: to release innovative, thoughtful new music.
The Americana Music Association, meanwhile, was officially founded in 1999. The organization would later start its Americana Radio Airplay Top 50 Albums chart and Americana Radio Airplay Top 50 Singles chart, although Billboard did not shift its Folk Albums chart to a new name, Americana / Folk Albums, until 2016. The format has, from its outset, championed a broad swath of what could most succinctly be defined as American roots music, but critically, it has never operated as a definition for a specific sound.
Up-and-comer Courtney Marie Andrews, who made her Ryman Auditorium debut during the 2018 Americana Honors & Awards, explains that, from the perspective of a new artist, it is exciting to find a home in a community that "represents such a deep, rich history of music in America, and celebrates that [history]." Iconic gospel quartet the McCrary Sisters add that they see the Americana format "growing and broadening some, to allow for more interpretation and include a lot more things."
From the songwriter's perspective, Beth Nielsen Chapman -- who worked with Gauthier on her Rifles and Rosary Beads project -- posits that the Americana format serves authentic storytelling. "I think that Americana, as a genre, in terms of the songwriting, is probably where there is the most integrity in terms of life stories," she explains. "There's an honesty to the songwriting, not like somebody sat in a room and thought up a story and said, 'Let's write about that.' Which is fine, but it's a different world."
For the week of Jan. 22, 2019, the ATop 10 artists listed in the Americana Singles chart demonstrated an array of singer-songwriters, Southern rock groups, soul-leaning artists and more. Hayes Carll topped the chart with his "None 'Ya," followed by acts such as Nathaniel Rateliff and the Night Sweats, Grace Potter, Rosanne Cash, the Tedeschi Trucks Band and others. A diverse musical melting pot of roots rock, country and soul all found homes within the Top 10.
In comparison to the Billboard Hot Country Songs Top 10 for the week of Jan. 26, the Americana chart sees an uptick in gender diversity, with three of the Top 10 artists being solo female acts or bands that include women. On the Billboard chart, there was only one female artist in the Top 10: Bebe Rexha, with her collaboration with Florida Georgia Line's "Meant to Be." Focusing solely on musical diversity, the Americana chart has a clear edge, with a wider variety of genre influences and eras of music. By contrast, the Billboard Hot Country Songs chart's No. 1 and No. 2 slots were filled by the same band: Dan + Shay.
"I think it's better to think of Americana as less of a genre and more of a place where all these different kinds of musicians can live." — I'm With Her
Folk trio I'm With Her point out that the Americana label doesn't need to refer to a musical sound, but could simply be the name for a place where artists of diverse backgrounds and interests can all belong.
"I think it's better to think of Americana as less of a genre and more of a place where all these different kinds of musicians can live," the group points out. "It's really exciting to look around and see that, yes, people aren't going to sound the same, but, ideally, no two musicians should sound the same. Ideally, people can come to a show, and there'll be something for everybody."
Some artists went a step further: Blues and roots singer-songwriter Fantastic Negrito adds that not only does Americana not denote a particular style, but the fact that it doesn't actually holds its artists to a higher musical standard overall.
"I go on record as saying I don't like genres. I feel like a genre is a good place to hide," Fantastic Negrito explains. "I'm a fan of artists. I love artists, and I feel like artists always emerge [no matter what genre they're classified as]."
However, while the Americana Music Association's chart was more diverse in terms of gender during the weeks examined, the mainstream country chart did have the edge in terms of racial diversity. In the Billboard' country Top 10 songs, there were two black artists: Kane Brown appeared at No. 7, with "Lose It," and Jimmie Allen came in at No. 10, with "Best Shot." The number of black artists within the Top 10 on the Americana chart? Zero.
To their credit, some of the genre's most prominent artists have themselves tried to lay the groundwork for a conversation about expanding Americana's boundaries. In the days that followed the 2018 Americana Honors & Awards, Jason Isbell -- a perennial favorite at the ceremony, who took home wins in three of event's six categories -- stated that he was "conflicted" about his wins. Although he was grateful for the recognition, such homogeneous results, he posited, might do a disservice to the diversity that is an integral component of the genre.
"I think everybody's sort of united under the banner of making honest roots-based music, and that's a pretty broad thing, you know," he says. "That can include a whole lot of different kinds of music, and I think it should. I don't listen to just one type of music. I don't really know anybody who does anymore. So it makes sense that we would have a lot in common with people, even if they sound a lot different than us on records."
"I feel like a genre is a good place to hide." — Fantastic Negrito
Despite the areas in which Americana falls flat or fails to attach itself to minority artists, many of the genre's incoming members stress the feeling of camaraderie that comes with walking into an event like the Americana Honors & Awards. Nathaniel Rateliff and the Night Sweats say that just a couple of years ago, during their first time at the ceremony, they felt like outsiders looking in to the Americana canon. "It was a real shock for us [to learn that we were being included] the first time around," the group explains. "Over these two years, we've developed so many relationships with so many people here. Now, it feels kind of like coming home."
The band stresses that being at an awards show for the sake of the awards themselves was secondary. "We feel like we're a part of this community that's pretty open and has a pretty broad spectrum of styles, and a lot of different characters.
"I don't see it as really a competition," they add. "We're all here because we care about what we're doing."
What Is Americana? Its Artists (Try to) Define It