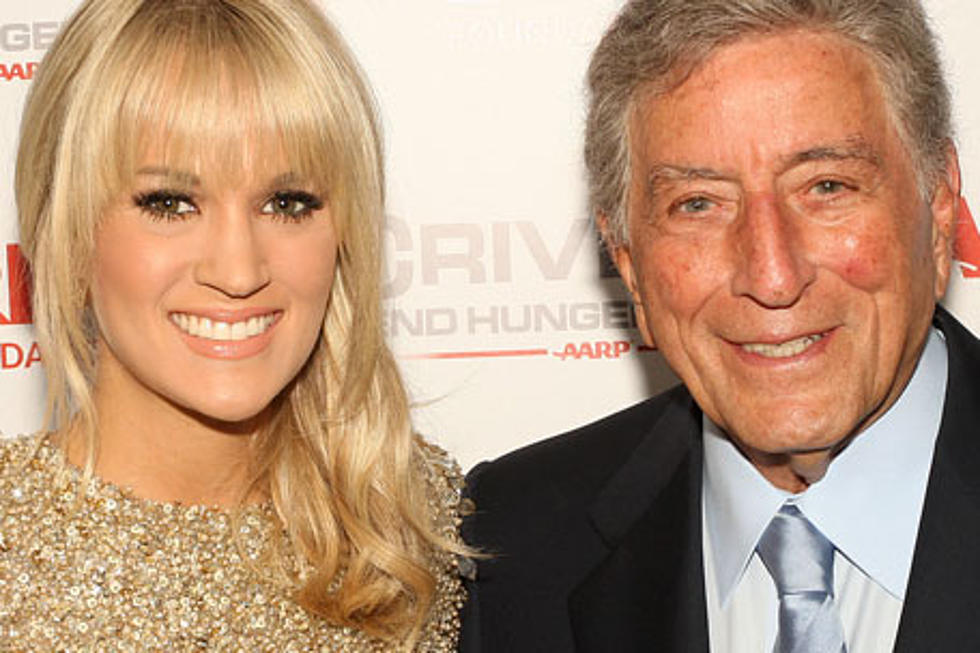 2012 Grammy Awards' Country Performances: Carrie Underwood to Duet With Tony Bennett + More
Frederick M. Brown, Getty Images
Over the weekend, Carrie Underwood teamed with Aerosmith frontman and 'American Idol' host Steven Tyler for an episode of 'CMT Crossroads.' On this Sunday's Grammy telecast, the country star will pull a musical 180 and duet with an altogether different sort of music legend: Tony Bennett.
Carrie and Tony first teamed up last year, when they cut a version of 'It Had to Be You' for the crooner's 'Duets II' album.
"I would have sang anything with Tony! Whatever he wanted, I was there," Carrie tells PBS, explaining how psyched she was to partner with the 'I Left My Heart in San Francisco' singer. "He wants to do duets with people as themselves and have them bring their thing and him bring his thing, and I respect that so much, his way of recording."
Carrie is the latest in a string of country artists who have signed on for the 54th Grammy Awards, which will broadcast live from the Staples Center in Los Angeles.
The 54th Annual Grammy Awards air live from the Staples Center at 8PM EST on Feb. 12, 2012.
Watch Top 10 Carrie Fun Facts

#fivemin-widget-blogsmith-image-692056{display:none;} .cke_show_borders #fivemin-widget-blogsmith-image-692056, #postcontentcontainer #fivemin-widget-blogsmith-image-692056{width:570px;height:411px;display:block;}