Glen Campbell Final L.A. Concert: 'Rhinestone Cowboy' Given Star-Studded Send-Off
Tim Mosenfelder, Getty Images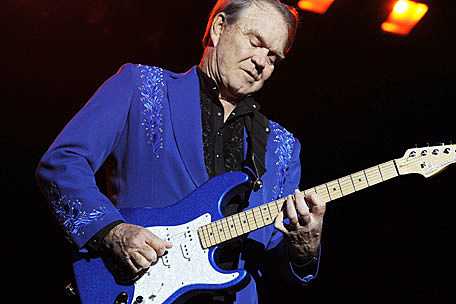 Tim Mosenfelder, Getty Images
Glen Campbell's Los Angeles swan song came with a high-wattage send-off Sunday night (June 24). Two hours before the legend took the stage at the Hollywood Bowl, a cavalcade of musicians -- some contemporaries, some acolytes -- paid homage to the Grammy winner, providing the audience with a broad expanse of his 50+ year career.
The show opened with local favorites Dawes playing a few of their own hits, which feature the same pop-country hybrid that made Campbell so successful, before launching into one of his earliest hits, 1968's "Dreams of the Everyday Housewife." Even if the lyrics are a little antiquated, the lilt of the melody remains enchanting.
Though best known for his plethora of hits, before Campbell launched his solo career he was a member of the Wrecking Crew, a now historic collective of '60s session musicians who backed everyone from The Monkees to the Righteous Brothers, and he joined the Beach Boys for a short stint. Dandy Warhols' lead singer Courtney Taylor-Taylor sang sonorous versions of The Monkees' "Daydream Believer" and "Last Train to Clarksville," both of which Campbell played on. However, his deep voice made it sound like The Addams Family's manservant Lurch was saluting Campbell. It was an interesting interpretation to say the least. Lucinda Williams, Jenny Lewis, Jackson Browne and Kris Kristofferson all weighed in as well, before everyone joined together for a rousing version of Elvis Presley's "Viva Las Vegas," which, yes, Campbell also played on.
The crowd was appreciative, but it saved the bulk of its joy for Campbell himself. Last year, the legendary entertainer announced that he had Alzheimer's Disease and that 2011's excellent "Ghost on the Canvas" would be his last album, followed by his farewell tour. When he came on stage in a sparkly blue jacket for opener "Gentle on My Mind," the crowd jumped to its feet, its collective appreciation and support for Campbell palpable.
Though he still looked and sounded robust, Campbell displayed a general fuzziness and sweet goofiness brought on by the disease in his patter, often repeating, "Oh, we're going to do another one?," between songs. His six-piece band, which includes three of his children, wisely let only seconds lapse between tunes in the hour-long show to keep Campbell's chatter to a minimum.
The disease may be slowly robbing the singer, but, thankfully, his voice remains intact. It may not have the pure clarity it had during Campbell's heyday, but at 76, he still has a great tone. Plus, on this evening he was clearly in a traditional country frame of mind. On "Lovesick Blues," popularized by Hank Williams, he let loose with some pliant yodeling that neither time nor illness has diminished.
Of course, Campbell's greatest hits came from Jimmy Webb. Lines like "I am so afraid of dying" from "Galveston" took on a new poignancy Sunday night, while the bittersweet wistfulness of "By the Time I Get to Phoenix" and the impossibly romanticism of "Wichita Lineman" remain as potent now as they were 40 years ago.
While his voice continues to be strong, Campbell's guitar-playing prowess is nothing short of miraculous. Whether it's muscle memory or just some slight benevolence the disease has bestowed, his fingers are still agile and lightning fast with each note ringing clearly and resonantly.
Campbell closed the show with his latter day hits, "Rhinestone Cowboy" and "Southern Nights," before ending with "A Better Place," from "Ghost on the Canvas." The exquisite song, which addresses his illness and troubled past, ends on a high note with the recognition that a "better place" awaits. Still, given the love and tenderness bestowed upon Campbell and the clear enjoyment that he still gets from performing, it's hard to imagine any better place than Sunday night at the Hollywood Bowl.