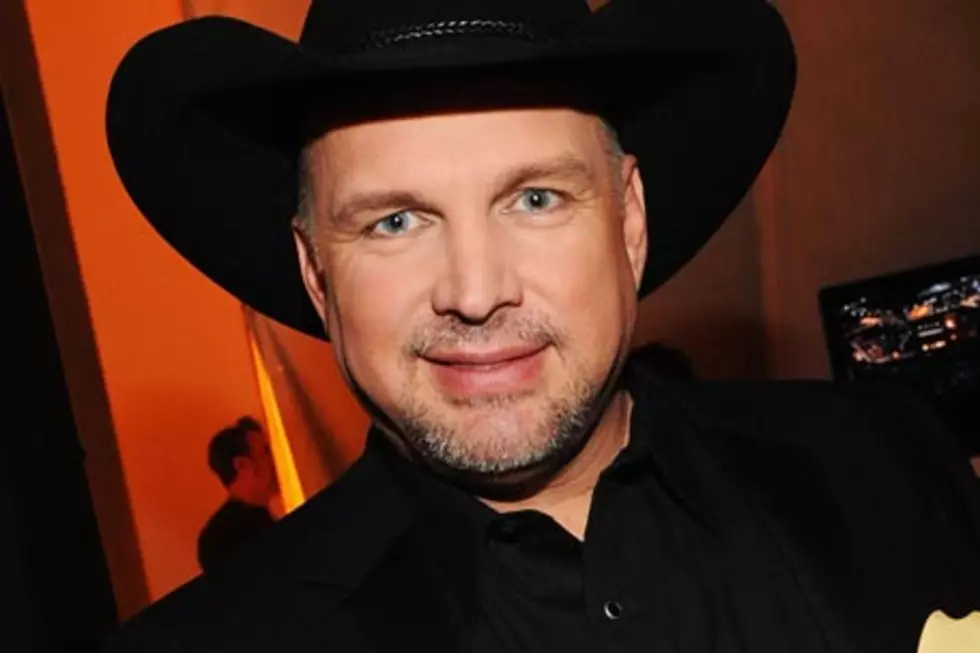 Rick Diamond, Getty Images
"Retirement" is a tricky word for Garth Brooks. The best-selling solo artist of all time parked his tour bus in 2001, vowing not to return to the road or the recording studio until his three daughters were all in college. But his phone never stopped ringing.
In addition to numerous charity shows he has not only performed but organized himself, Garth has released three compilation projects through Walmart since his retirement, including 2007's 'Garth Brooks: The Ultimate Hits,' which spawned the record-breaking, chart-topping single, 'More Than a Memory.' He performed nine sold-out shows in Kansas City in support of the album, and followed that in 2008 with a series of sold-out shows in Los Angeles to benefit victims of the devastating California wildfires. But it was Garth's October 2009 announcement that truly took him out of "retirement": he was starting a five-year gig performing at the Wynn Encore Las Vegas hotel.
Another big announcement came just last month, when Garth and wife Trisha Yearwood organized their first arena concert in Nashville in more than a decade, to benefit those affected by the disastrous floods that hit middle Tennessee back in May. Tickets sold so fast, Garth kept adding shows until finally stopping at nine, which will take place this December 16 - 22.
That's on top of yet another project close to the country superstar's heart -- a movie based on his classic tune, 'Unanswered Prayers,' which will air on the Lifetime Television Network on November 29, December 5 and 9 at 9 PM ET/PT and January 2, 2011 at 5 PM ET/PT. The film, co-produced by Garth, explores the issues of infidelity in marriage, conflicts between children and parents, and second chances with love.
Garth called The Boot from the backstage dressing room of 'The Tonight Show With Jay Leno.' He shared with us many facets of life both on and off the stage, including new insight about why he decided to go into retirement in the first place, why his Vegas gig was somewhat of a surprise even to him, and how his own unanswered prayer was a true career blessing.
You put a smile on a lot of fans' faces when you announced the Vegas shows last year, eight years after announcing your retirement. How did that decision manifest?
I'm going to tell you exactly what happened. I was looking for somebody to help me with charity. I was thinking of Steve Wynn because I had read some stuff about him, and there came a note across my desk that he was looking for me. I thought, "This has to be divine intervention!" So I called him up, and he was looking for somebody to come out and play. So I said, "I'll go out and talk to him, but I'm not going to come out of retirement, I'm going to use him for charity." So I just kept going out, talking to him and building the relationship knowing that I was going to break the news to him that of course I'm not coming out of retirement, and I need help on the foundation. What ended up happening was he ended up not giving me a dime for charity, and I ended up working for him. [laughs] So that's how that all really came about. He's a really sweet man, and he's very smooth. I told Oprah [Winfrey] that this guy could talk you into anything. He's the nicest man.
Are you having fun in Vegas?



I'm having a great time. It's the easiest gig on the planet. It's like getting away with murder! [laughs] It's just me and a guitar and the people, so you never know where the show is going to go. Sometimes I'm along for the ride. Sometimes I tell them, "Oh, I forgot you were here, sorry." I'm just in my own world. They are so sweet. They laugh so much. It's almost unreal. I keep looking around for somebody to say, "OK, this is a joke." It's that good.
You co-wrote the song, 'Unanswered Prayers,' which is now being made into a movie. What was your inspiration for the lyrics? Did you run into an old high school flame whom you realized wasn't right for you after all?
That's what happened to me, word for word, except it wasn't at a hometown football game, it was at a Kraft's fair bazaar that was a fundraiser for rehabilitated 18-year-old boys that had been out of prison but back to get their GED, and that's what this little ranch was. It was hard to make that fit in the song. [laughs]
Were you married at the time?
Yeah, that was me and (first wife) Sandy. We were at that bazaar together. We had probably been married less than a year ... It took about five minutes for me to say, "Wow, this girl's not the same as I remember," and it took her about five seconds to go, "Oh, I'm glad I left!" [laughs]
Unlike in the song, the movie's leading man considers giving in to temptation. This could scare a lot of wives out there!



I don't think it only holds for wives. It holds for spouses in general. I can tell you being married to an entertainer, this whole world right now is about beautiful people. If you're basing your worth on your talent, there's 8,000 people out there more talented than you are. I hear the whole thing about the fear in the heart of wives, but I just think it works both ways.
Have you ever prayed for something and then later realized it wasn't meant to be?
[Laughs] About 30 times a day. I remember I had a chance to be with Jimmy Bowen and Tony Brown at MCA, and that was the label that [George] Strait was on. That was the label [Reba] McEntire was on, and I was so excited. I thought it was a done deal. When they passed on me, I was brokenhearted. It was like the worst thing that could happen to me. And I ended up going to a label (Capitol Records) that was my mom's label in the '50s, and they didn't have a roster that was 14 deep of No. 1 after No. 1 after No. 1 artists. They had a spot open for a guy, and they gave me a chance. That was in 1988.
Fast forward, and your career took off like a lightning bolt. You were the ACM Artist of the Decade in the '90s. How did you feel about that incredible recognition?
If you're familiar with Nashville, the Lee Greenwood Building had this sign [that said] "Garth Goes Gold." It was off the original Garth Brooks record and 'No Fences' was just coming out. By the time they hung it up, they had crossed it out and put 'platinum.' And by the time they got through putting it up there, they had to put an 's' on the platinum. It was moving that fast. I think we were selling something stupid at a point of something like 50 or 60 thousand records a day. All you could do is try and keep up and do your best. So it was fun. But I got to tell you, I promise this is the truth: I don't know which was better, when it was all going a hundred miles an hour or when you were starting out and only a few people were showing up. Those people were family. Everything was really sincere.

But being named 'Artist of the Decade' is huge!
Yeah, because an award is only as good as the other names on it. When you look at that, Loretta Lynn's got that award and Alabama, and then I got to hand it to George Strait! That's who should have won it -- no offense to the guys in Alabama. George Strait should have won it in the '80s, the '90s and 2000. I love him to death. He has been a mainstay in this format.
That's a nice compliment for George, but you deserved it, too.
I tell you what. They're not getting it back. [laughs]
What other recording artists do you see going the distance like you and George have done?



I don't know. They're all so young ... I can tell you the guys that are just as sweet as they can be. Keith Urban is one of the nicest, sweetest kids. I was a pallbearer with Brad Paisley at Johnny Russell's funeral. That kid is a sweet kid. That little 'American Idol' winner, just around the corner from us in Oklahoma, Carrie Underwood, is a sweet little girl. She's so quiet. When you're around her, she doesn't say two words and she gets out on stage and this big old voice comes out ... like Martina McBride! In other forms of music, I've got to tell you, I know this guy is real controversial, but as far as his talent, there's something about Eminem's whole approach to rhythm and everything is infectious. I find myself, when the girls are listening to that kind of stuff, actually not tuning it out ... really being entertained by it. Lady Gaga has something special, but in that world, how do you know how long people are going to be around? That's always been a characteristic of that world of fads coming in and coming out.
Your decision in 2001 to retire from touring to stay home and raise your daughters was undoubtedly a tough one. Did you pray about it?



You happened to say the word 'pray.' I try not to pray for things; I just mostly say, "Hey, this is the role I'm going, and if it's not it then I'm really asking for the wisdom to see the signs to go the right way." That's all I can do. I've got to tell you, that first soccer game that you go to as a dad, is the greatest moment of my life. And to think of a chance of missing that would just break my heart. The truth is, you know entertainment industries. They were ready to throw me out anyway, so I thought I'd leave before they tossed me out. [laughs] It was a good time to take a real good look at life, because my former 10 years had not been a real life event. That decade of the '90s was crazy. And being the life of a guy out on the road is not a real life, so this was good to get back to as close to real life as you could get being an artist.
During those retirement years, were there ever moments when you wished you could still perform and record?
No, I was really enjoying myself. Now, the Wynn deal allows me to do both. But even this first year, we were adding it up the other night and by the end of the year we'll have been gone 130 dates of this year. I might as well be on tour, so we've got to scale it back. When we came out of retirement, you kind of took your reason to say no to everything else away, so I say yes to a lot of stuff away from the Wynn gig, just because people had been asking through the years when I had to say no. So we got out way too much. We've got to trim it back again. I have two children still in high school, and they deserve my attention. I have to do a better job of that. We've talked to Wynn already about scaling the number of weekends back from 15 to 12, moving the shows from one on Friday, two on Saturday and one on Sunday to two on Friday and two on Saturday so I can bring the children with me, and we can still get back on Sunday so they can rest before they go to school ... [Steve Wynn] is very sweet. He puts the children first, and he says "no problem." After a year of looking at it, we probably need to cut it back, and just make sure we finish the job that we started ... and that includes Sandy, Trisha and myself.
You mention Sandy, your ex-wife, and it seems like you and Trisha have such a friendly, tight relationship with her. Not many divorced parents can say that!



You've got to tip your hat to the two women. That's the whole key, how they get along. I grew up in a blended family. My mother's first husband and my dad's first wife, I never saw them ever. We had a home where everybody stayed. But if you're trying to work a family where the children are going to have their original mom and dad and then this bonus mom, it's going to take the strength of the two women ... I'm a very, very lucky individual as a dad and as a partner. They do really well. The girls treat each of them wonderfully.
Sandy's farm is right across the county road from ours. It's very easy. Whoever doesn't have the children one day has them at 6 o'clock. So every night at 6 o'clock, if I didn't have the kids, I get them at six in the evening, and then whoever doesn't have them in the evening comes by and gets them for school in the mornings, so they see both their parents in the morning and both their parents in the evening. It works really well. With sports and everything, they see us more than they really want to see us. [laughs]
You are severely outnumbered at home! How do you handle those raging hormones?



[Laughs] I have a lot of chain saws, and sometimes you just have to leave the house and go out and work yourself to where you fall asleep. You're so wound up. This is totally different for me. We had all boys. We had one girl and five boys [growing up], and there's 44 boys out on the tour. So God giving me all girls just shows me that God has a tremendous sense of humor.
It seems like everyone who's ever met you talks about how humble and friendly you are. With your larger-than-life success, how do you stay so grounded?
That's very sweet. I'm not agreeing with you by answering this question. You see how quick everything changes. Do you really want to change yourself too? Why not just like it, love it, enjoy it while it happens, and then when it's gone and you're still living, then there's something else you're supposed to be doing. It's funny, when you hang on to something is when it disappears. There's a song called 'Why Ain't I Running' off of 'Scarecrow'; it's got a line in it that says, "How does she hold me, without holding on?" That's music.
Your upcoming flood benefit shows in Nashville sold more than 140,000 tickets in one day for a series of shows that quickly grew to nine. How many shows did you authorize to add after the first one sold out?



We made the running joke -- what if more than one show sells out? -- never dreaming it would happen. And then as it started going, they said, "Hey Garth, the phones aren't dropping, the lines are getting bigger." I was like, "You've got to be kidding me!" They started scrambling, and they started pulling these shows out of their butt. [laughs] I was very impressed. The building helped tremendously, Ticketmaster was fabulous, and the next thing you know we're sitting at nine shows. They said, "Garth, can we call it at this?" I said, "You could have called it at one for me because I'm too old to do nine." [laughs]
The day's ticket sales set a record for Tennessee, breaking a concert sales record previously held by Michael Jackson at Knoxville's Neyland Stadium with 72,000 tickets. I think that shows people are hungry for a tour! Are you still holding strong on waiting a few more years for that?



[Laughs] Our youngest daughter is still a freshman. So the reason why we retired was to take care of those children. The whole thing is to get those kids off to college, and then if everyone feels good about it, then we'll fire the tour up and make new records and go try to do the second half of the career. We'll see. That's up to God and the people. We'll ride along. God help everybody if we get the green flag, because we've got a lot of pent up frustration to go out on the road and have some fun. [laughs]
Are your Nashville shows going to be high energy like in the old days?
Yes, this is the old band, this is staged, it's going to get loud! It's going to be fun.
Can you reveal any other performers who might show up, or is that a secret?
You know what? We called for anybody that wanted to come, and we got such a wonderful outpouring ... I don't know what to do with them all. They're so different from each other. There's comedians, there's older rock bands, there's young country bands ... How in the hell do you pick? I think we're just going to say thank you to everyone and just keep it to ourselves. I thought maybe we'd get one or two people, I was stunned. And the crews, all the people that are donating everything. The Marines' Toys for Tots are going to be there for these kids who are flood victims. It's going to be good. It's just a love fest right now.
But Trisha will perform at these shows with you, right?



Yeah, this is our show. We did a show together the last time we played Nashville in '98.
Trisha has been on somewhat of a musical hiatus, as well.
Well, she's a doll. I'll be the first one to remind you she didn't retire. [But] we said, "Did we get married to be apart?" So she cut her dates from about 200 down to 40 the first year, and she still wasn't happy. She loves playing music, but she's found something that she really loves to do, and that's just be together, being part of a family. I don't know many women or men who can take a break from what they were a success at and become a millionaire and a success in something else right away. With two books already on the New York Times best seller list, she's getting ready to embark on her new book deal. Just watching her and being around her is a gift. She's a talented little gal.
What's your favorite dish that Trisha makes?



I got to tell you, I'm the last guy that is a veggie guy. She does her vegetable night, and it's all just vegetables. It kills me because I didn't know I liked vegetables, but, wow, she does everything from asparagus to mashed potatoes. She'll do these carrots that almost taste like candy, they're cooked down so much. She'll take her green beans and she'll cook them till they're black. None of the kids want them because they're black, and I didn't either. And you taste one, it's almost caramelized, and it tastes fantastic!
When you do get back to the studio, will you record a duets album with your lovely wife?



I truthfully think that will be the first thing that we do.