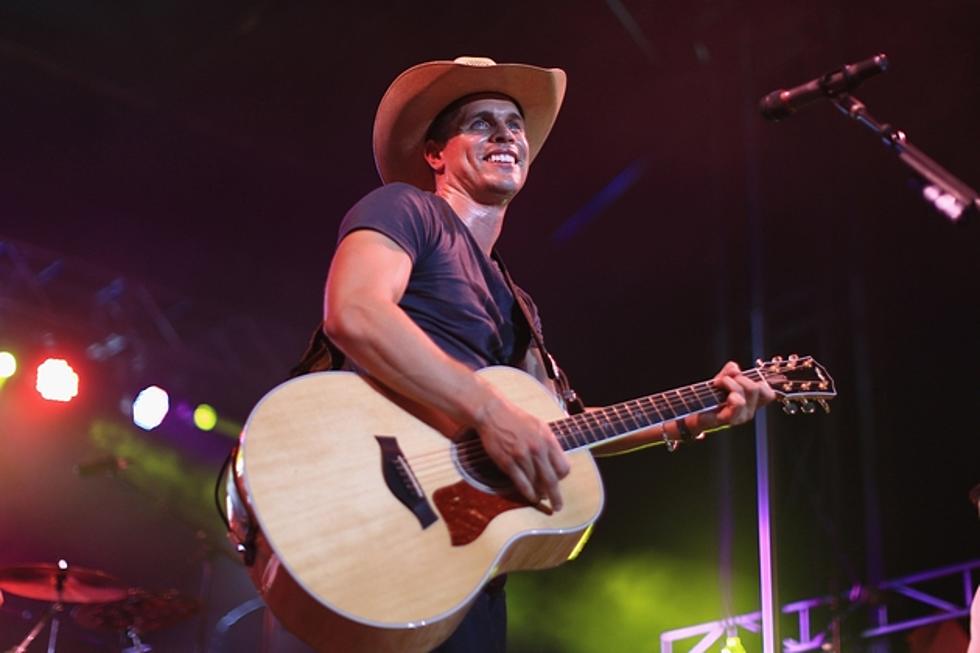 Dustin Lynch Previews New Album With Nashville Performance
Christopher Polk, Getty Images
The 29-year-old rising country star previewed his sophomore album, 'Where It's At,' with a blockbuster live performance at Nashville's 3rd & Lindsley on Thursday night (Sept. 4). Lynch and his extremely tight, expert band turned in a performance to rival any of the genre's top acts, essentially transforming the intimate club venue into an arena for the duration of their highly entertaining set.
"Nashville's an interesting town to play because you have a lot of folks that come to see us that are in the industry and are there to watch and judge," Lynch told The Boot after the show. "We had some fans up front, and they were singing back to us. But we took the stage knowing that's the crowd we're playing to, and we expect to have listeners, versus singers, here in town. So it's a little different on stage. We're used to people screaming and yelling and throwing beer bottles."
Lynch's set highlighted a number of very strong songs from 'Where It's At,' including 'Hell of a Night,' 'Halo,' 'To the Sky,' 'After Party,' 'Sing It to Me' and the title song, which has already been certified gold. Those new tracks are indicative of a somewhat different approach that characterizes part of the new album, leaning more toward up-tempo, more rock-influenced songs that are geared toward the live environment.
"I think I learned that from the first album, and I learned that from playing so many shows when it's 4 PM, and the sun's hot, and you've got 10,000 or 20,000 people in a field, partying," Lynch says with a laugh. "You've got to have the up-tempo, feel-good songs. And being on tour with Keith Urban and Little Big Town, it was the same way. Keith's crowd, it's up-tempo pretty much every song, except a couple. That's what they expect, and so out on that tour, I learned that. We slammed them with all up-tempos, and then 'Cowboys and Angels.'"
The new project is balanced out by a wider range of material, including 'She Wants a Cowboy,' which Lynch introduced as a "tip of the hat" to some of his more traditional influences like George Strait and Garth Brooks. Another big standout Thursday night was 'Your Daddy's Boots,' an emotional ballad that Lynch says was the keystone track that got the album moving in the right direction after his label was unsure about some of the songs early in the writing process.
"'Your Daddy's Boots' is that song that had impact, and we said, 'OK, this is gonna turn some heads,'" he shares.
That doesn't necessarily mean that some of those earlier songs won't eventually see the light of day.
"It's always interesting about songs," Lynch reflects. "Maybe it's the subject matter, or something musically that's not really jiving with where country's headed, or maybe somebody had a bad day when they listened and missed something. And then it'll pop up, and another artist might record it, or we might record it on the following album."
In fact, he says, "We've got a song that we've held on purpose for the past two albums because it's a little bit more mature of a song that I'd written a long time ago -- four years ago -- and we're not ready to record it yet. We're gonna wait and let my character as an artist develop before we record that song."
Despite the breakout success of his self-titled debut -- which gave Lynch the only No. 1 debut album by a male country artist in 2012 -- the singer says he didn't feel pushed in the process of his new album.
"I didn't ever feel the pressure of, 'Can we top album one?'" he insists. "I don't know why that was. I think it was because early on, I had a couple of songs that I really was a fan of, and I guess the opportunity to play songs live and test them out. You play a song once, and then suddenly the YouTube video's up, and it gets a ton of views, and you go, 'Wow, we must have something.'
"So I do test my songs live, and I was really confident, because I was so inspired by traveling around and playing my songs to so many humongous crowds, and all that energy," Lynch admits. "It's very inspiring. I had a lot to write about, and I think that's comforting for me. If I was solely listening for songs during the album process, I think I would go kinda crazy.
"But the fact that I do write, and I write a lot -- it helps me calm those nerves and really focus in on, 'Okay, we've got something that's really good here, everybody's liking it,'" he adds. "As you go, you get more confidence, and then it becomes about, 'What flavors do we need to make this the best record we can?'"
Lynch and his band will have plenty of opportunities to present the new songs to fans in concert coming up.
"We're touring non-stop for the rest of this year. I'm a believer in taking the music to the people," he says. "I know we win people over with our live show. A lot of people know us from 'Cowboys and Angels,' and now 'Where It's At' is getting up there. But I don't think they expect the energy that our band has when we take the stage. So I love going out and playing as many shows as I can and really introducing them to that side of my music. And next year, we'll jump on a big headline tour with somebody and be a support for them, and I'm looking forward to that, too."
'Where It's At' is set for release on Sept. 9 via Broken Bow Records. It is available for pre-order at iTunes. Fans who pre-order the album will receive instant downloads of three tracks: 'Where It's At,' 'Mind Reader' and 'Your Daddy's Boots.'