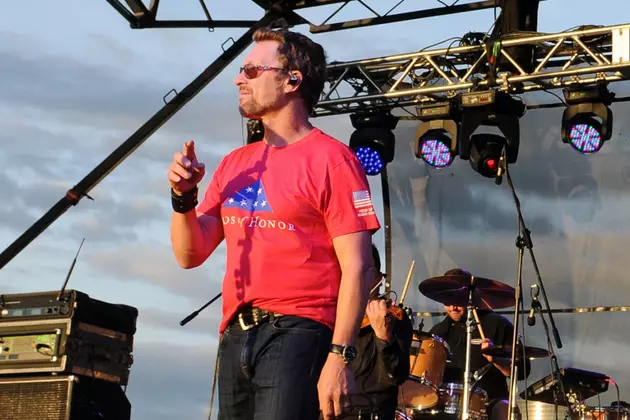 Craig Morgan's Most Important Achievement: Fatherhood
Noam Galai, Getty Images
Craig Morgan is a well-known country artist, but that's not his most important job. Rather, the married father says that he relishes his role as husband and dad more than his career accolades or achievements.
"I couldn't do it without them," Morgan tells The Boot of his family. "The four children that Karen and I have, they get it. The two oldest ones were with me, they remember [my days in] the Army, but they also have a great deal of appreciation of what I've been able to do for our family because of my occupation. The two young ones are a little spoiled; they're 17 and 18, so they don't know anything but this."
While Morgan is a seasoned dad, he says that he is still learning how to be a good parent.
"These last two were so much harder than the first two. And it's tougher every day," Morgan says. "I find myself being more lenient, because the 18-year-old, he tests me; he pushes me to my limits. And the more he does that, the more I reflect on my relationship with God, because I can't help but think about all of the times that I must have disappointed God, and yet He is still right there for me. So I think about that with my son and go, 'Man, I can't not love him. I can't give up on him, because that's what parents do. That's what fathers do.'
"But you still have to discipline them and deal with that," Morgan continues. "It's a struggle, but we're at a point now, we're just so excited. Quite honestly, I can't wait to get them out of the house. I want to get them in college, because once they're in college, I feel like I've done as much as I can do."
As Morgan prepares to release his seventh studio album, the singer-songwriter continues to make certain that his children are far away from the spotlight. He and his family live on a large piece of land in Dickson, Tenn., about an hour outside of Nashville.
"They're each very much family oriented, and they appreciate the lifestyle that we have," Morgan boasts. "... We live the homestead lifestyle. We have chickens, we have bees, we have woods to take care of. We do a lot of our own stuff."
Country Stars Who Have Served in the Military