Top 10 Country Songs That Aren't Singles … Yet
When a recording artist finishes making an album, it isn't necessarily up to him or her as to which songs on the project will be released to radio. With the average album containing 12 songs and only three or four given the radio single treatment, sometimes potential hits go unheard. We present The Boot's picks for the top 10 tracks (from current albums) that haven't been radio singles ... yet. Listen below, and then let us know your own picks for songs you'd like to hear on the airwaves!
After a decade as a country radio staple, Rascal Flatts returned in 2010 with the refreshing 'Nothing Like This,' proving the superstar trio still possess the creative drive to contend with the new crop of country talent. 'Play,' a stripped-down, uptempo empowerment anthem that recalls the group's earliest work, contains more than enough country elements to appease traditionalists and just enough gloss to keep country radio interested.
Amazon
'Until You'
Billy Currington
Billy has the natural charisma to successfully tackle tunes like the party anthem 'Pretty Good at Drinkin' Beer,' but the Georgia native's husky baritone is tailor-made for love songs like 'Until You,' which appears on his latest album, 'Enjoy Yourself.' The song, written and originally recorded by pop artist Dave Barnes, is our choice to succeed 'Let Me Down Easy' after it makes its run to the top of the charts.
Amazon
'What That Drink Cost Me'
Sara Evans
A woman's desperate plea to save her husband from his spiraling alcohol addiction creates a standout track on Sara's new album, 'Stronger,' and made our six year wait for new music from the powerhouse vocalist well worth it. If it weren't for her blissful marriage, it would be difficult to imagine she did not write this stunning tune based on personal experience.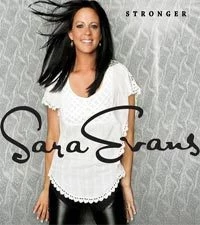 Amazon
'Bakersfield'
Jerrod Niemann
Jerrod literally struck gold with his breakout single, 'Lover, Lover,' driving his album 'Judge Jerrod and the Hung Jury' to No. 1 in 2010. The eclectic set drew critical praise, especially with the clever love song, 'Bakersfield.' Co-written by Jerrod, this track calls to mind a young Brad Paisley, establishing the singer as one of the finest new storytellers in country music.
Amazon
'All Your Life'
The Band Perry
'If I Die Young' was their first No. 1 and a Grammy contender. 'You Lie' is their fastest-rising single to date. So any other tracks from the Band Perry's debut CD have a tough act to follow. 'All Your Life' is a worthy contender, as it places Kimberly Perry's angelic voice front-and-center, backed by a sparse, organic arrangement. Kimberly confesses "I don't want the whole world/The sun and moon and all their light," but if the trio decide to release this track to radio, the world will be theirs for the taking.
Amazon
'Dirt Road Anthem'
Jason Aldean
Jason proved with his latest project, 'My Kinda Party,' that taking big risks often leads to bigger rewards. In the hands of a less capable artist, 'Dirt Road Anthem' could have come off unauthentic, but Jason's confident southern swagger lends credibility on the country-rap tune. The unlikely pairing with Kelly Clarkson on 'Don't You Wanna Stay' became Jason's fourth No. 1, and the release of 'Anthem' would likely keep the streak alive.
Amazon
'Love This Pain'
Lady Antebellum
Five Grammys, three No. 1s, and more than three million copies later, Lady Antebellum are still flying high on the success of their smash album, 'Need You Now.' Once the gorgeous 'Hello World' makes its run to the top of the chart, our choice as fifth single contender would be 'Love This Pain,' an uptempo rocker almost as addictive as the flawed love interest in the lyrics.
Amazon
'Draggin' the River'
Blake Shelton & Miranda Lambert
Blake and Miranda solidified their superstar couple status with simultaneous honors as the 2010 CMA Top Male and Female Vocalist, a feat only accomplished by Tim McGraw and Faith Hill in 2000. While Tim and Faith celebrated their affection with big romantic ballads, Blake and Miranda offered 'Draggin' the River,' a down-home comedic love story about scorned lovers and staged suicides.
Amazon
'Bad Angel'
Dierks Bentley, featuring Miranda Lambert & Jamey Johnson
Dierks took a trip 'Up on The Ridge,' veering away from mainstream country in favor of a bluegrass-inspired sound. 'Bad Angel' with Miranda and Jamey is arguably the most intriguing track on the Grammy-nominated project. The featured voices give the song a modern-day Buddy & Julie Miller feel, and offers more than enough star power to catch radio's attention.
Amazon
'Someday When I Stop Loving You'
Carrie Underwood
Few vocalists are able to convey pure emotion quite as effectively as Carrie. Her latest album produced the in-your-face smashes 'Cowboy Casanova' and 'Undo It,' but the album's true strength lies in its quieter moments. 'Someday When I Stop Loving You,' which rivals as Carrie's best vocal performance, is an exquisite country ballad that confirms she is one of the most gifted singers of her generation.
Amazon