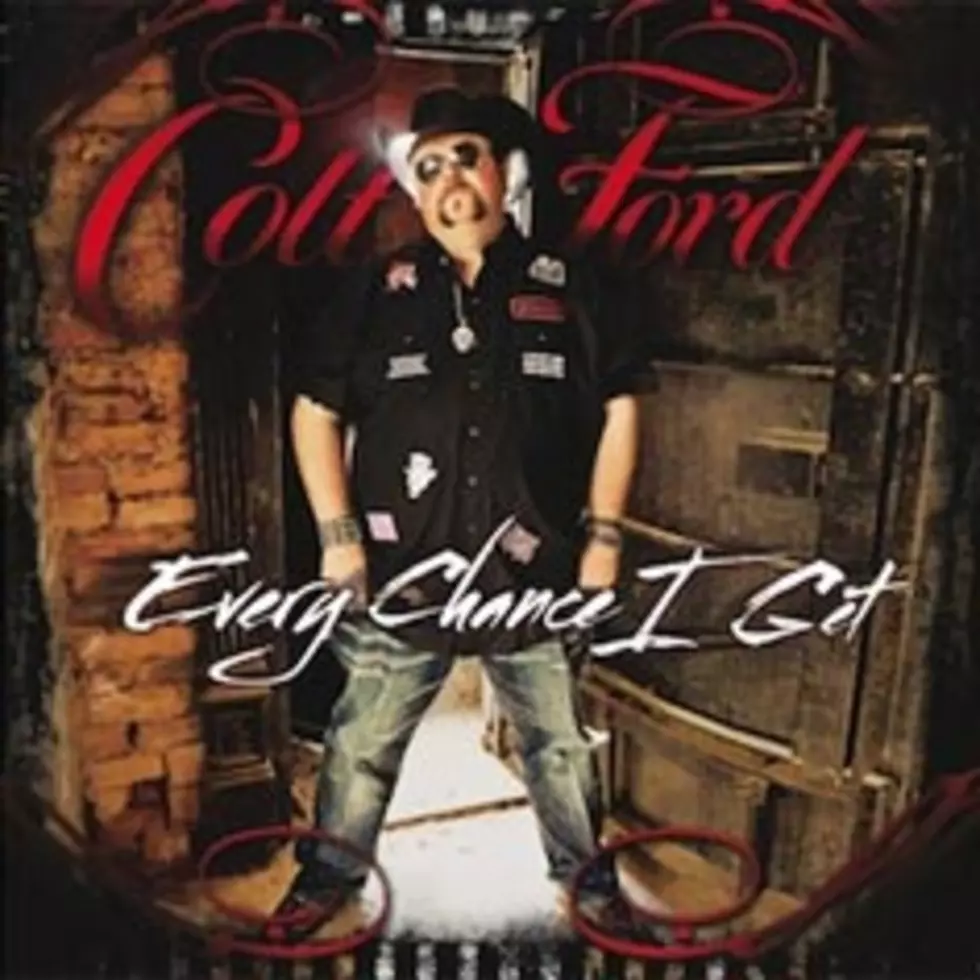 Colt Ford Is Taking a 'Chance' With His Latest Album
Amazon
Colt Ford arrived in stores this week with his third studio album, 'Every Chance I Get,' and taking chances is certainly what this man is all about, not only in the studio, but in life, as well. Giving up a lucrative professional golf career, his beloved wife urged him to pursue music, his other passion. It has not been an easy road, especially when it has meant being away from his family for more than 200 days a year, but the music he makes and cares about is something the whole family supports 100 percent.
Even though his music is a blend of country and hip-hop, Colt has shown himself as a definitive country artist. The Georgia native, who counts Luke, Jason Aldean and Kid Rock among his admirers, uses a "rap-style" to convey his music, while the lyrics are all about the country way of life. Take for example, the lyrics of one of his previous tunes, 'Chicken and Biscuits': "She's pretty as a field of daisies / She's sweeter than watermelon wine / Way hotter than the Alabama asphalt / And when I get her in these arms of mine / Lord have mercy / I love her kisses / Man I can't get enough / Kinda like chicken and biscuits." Now, that's country!
The father of two, who also co-wrote Jason Aldean's latest single, 'Dirt Road Anthem,' recently sat down with The Boot to talk about his new project and current single, 'Country Thang.' He also explained why country music is the best format in the world and gave us his definition of of the genre.
'Country Thang' features Eric Church, but the voice on the single is definitely not his. Who is that singing?
The radio version has Dallas Davidson on it, and the album version is Eric Church. [Dallas] is a huge songwriter, and everyone in town is trying to give him a record deal because he's a great singer, but he just doesn't want to do it because he makes so much money writing songs. Why should he do what we do, when he can stay at home and do what he wants to do.
I wrote the song with Dallas, Rhett [Akins] and Ben Hayslip -- those guys have had such huge success lately writing songs. Just the politics of it, Eric was having a single around the same time, so we couldn't put it out at the same time, but he's on the record version. That version sounds awesome too. I'm a huge Eric Church fan, so it's cool to do a song with him.
What's different about this third album from your previous catalog of music?
'Chicken and Biscuits' was a little softer, a little easier, and i just wanted to make sure my fans knew Colt Ford is still who Colt Ford is, and this song is pretty emphatic -- it's either in your blood or it's not. It says some things that we really believe in: we pray before meals, and it feels good giving back to the needy because greedy is not us. We thank God for it even it ain't much. That's how country people think, and that's what we believe. I'm proud to take my hat off and pray before I eat, and I don't care if it makes somebody mad or not. It's my thing.
You have been making music and putting out albums for quite a few years. What have you learned about the business side of music?
I've learned much about the business, and I'm still fighting the radio battle, and they're still afraid to give me a chance to be heard. However, there are more people playing this record than I've ever had, and that's good. I'll try to win them over one at a time, for as long as I can, but at the end of the day, I can't be any different than what I am. I can't deliver a record where I sound like George Strait or Luke Bryan or Jason Aldean. I just can't do that. Those guys have been incredible to me, but I can't give you that. I've just got to give you the best songs I can, and I feel I've grown every time as a songwriter, as an artist and a performer. I will make sure that people know that I am not changing. I'm going to be who I am, and fans appreciate that about me. I've learned that I can't be anything other than this, and those that like it will like it and those that don't, won't. There's nothing I can do about that. I'm going to keep being myself. I'm honest, I'm real, and if you ask me a question, I'll give you an answer. I won't make anything up, and I won't lie to you. I think that's my responsibility as an artist, not to lie to the fans, to be honest and real and to give everything I got every time I hit the stage.
I'm not playing a character up there. I'm not in a movie. That's me being me. What they see on stage is the same thing I am at home, just a big old country redneck guy that believes in God, family, friends and America, loves his family and doesn't mind going to Walmart.
You stepped out of your comfort zone on this new album with the title track, 'Every Chance I Get,' showcasing your singing voice.
I wanted to show people I could do more. I know some of the things I'm really good at. I know who I am, but I also know I'm getting more comfortable [in the studio]. Now, do you want to hear a really great song sung really badly? No! You've got to do what you're good at ... but I'm starting to branch out and find songs and go, "OK, I can do a little bit more, and here's me singing." There's nobody to say, "Well, he's doing this thing that we're afraid of."
That's me singing -- no auto tune. That's just how I sound. I don't know if you'll like that, but it's just me doing what I do. In fact, it's one of my favorite things on the record, not because I'm singing it. I just like the song. It's something that I felt like when I heard it, I could do it. Everybody was asking me, "Who are you going to get on that?" And I said, "I think I could probably do that myself. What don't I try to do it?" You've got to keep growing.
In addition to all those fellow country stars, you've got a lot of famous songwriters on this record -- Craig Wiseman, Tim Nichols, David Lee Murphy, Kim Tribble and the "Peach Pickers" (Rhett Akins, Dallas Davidson, Ben Hayslip), to name a few.
They're all a part of it because they believe in what I'm doing, and they believe in me personally. Those guys don't just give songs away. I mean, David Lee Murphy, Kim Tribble and Ira Dean don't just give a song to somebody they think won't sell records. Their job is to make a living writing songs, so they can't afford to give it away to just anybody ... Having songs from guys like that means, "We believe in Colt Ford. Colt Ford sells records. Colt Ford has a chance to be successful." That's what they're saying to do that. Craig Wiseman called me, and it's like, "Dude, Craig Wiseman called me? Seriously?" That dude's one of my songwriting heroes. He's as big as it gets when it comes to songwriting. I'm always honored and humbled when that happens.
The last track on the album, 'Twisted,' features a pretty big country star, who goes by the name Tim McGraw. What was that like having someone of his stature on one of your songs?
That's about as big as it gets, when you talk about country music. You have about climbed to the top of the ladder when you start talking about Tim McGraw. I've loved that dude since 'Don't Take the Girl.' I think back to that song, and my wife was pregnant with our daughter at the time. That song was a part of my life. It tore me up. I could hardly stand it. It was one of those songs that I wanted to hear, but it tore me up, because I'd get to thinking about what he's talking about in that song. So, since I've been married, Tim McGraw has been a part of my life. To have him be on that song is unbelievable to me. I never thought I'd get to make a song with Tim McGraw, and to think he did it because he liked the song.
(Speaking of Colt's wife, read a very touching story about his better half here.)
That's what makes country music special. It doesn't happen in rock or hip-hop, or a lot of those other genres. You see collaborations, but they're paid to do that, even if they're friends with each other. It's like, "Yeah, you can put Ludacris on a song, but it'll cost you $250,000." I cut 40 songs for $50,000. I don't have $250,000! [laughs] That's what makes country music great is people helping one another.
There seems to be a real movement in country music toward some amazing collaborations between artists, either through songwriting or recording. One collaboration that is on this album features your buddy, Luke Bryan, who is poised to go to that next level of country superstar. Can you explain your friendship with him, and his appearance on the song 'Work It Out?'
Luke is one of my better friends in the music business. We grew up the same way, and we're both from Georgia. He's a good guy. It excites me as much as it excites him when he gets a No. 1. Nobody's more excited than I am, and I didn't write it or have anything to do with it, but I'm damn proud of him. He deserves it, and he's a great country singer, a great performer, a great person. He's not somebody that will ever big-time me or have an ego or an attitude ... I'm tickled to death for all of the success he's had, and I'm thrilled to have him on the record.
That song is straight-ahead pop country, and he sounds phenomenal on there. We cut the song, and he gave it to the label, and they said it was bad-ass. They liked it! That dude can sing his ass off.
There is a bunch of great musicians and artists from Georgia, including yourself, having a lot of success right now. What's in the water down there?
With Zac [Brown Band], Jason Aldean, Luke and Lady Antebellum -- there's just a ton of stuff going on there right now. You also have other artists like Brantley Gilbert, who's having a lot of success, and Corey Smith who is about to come to radio, and he already sells thousands of tickets, and he's never been on radio, ever. There's a lot of cool stuff going on, and I'm just happy to be in there amongst them. But I'm probably the least talented of all of them we just named. [laughs]