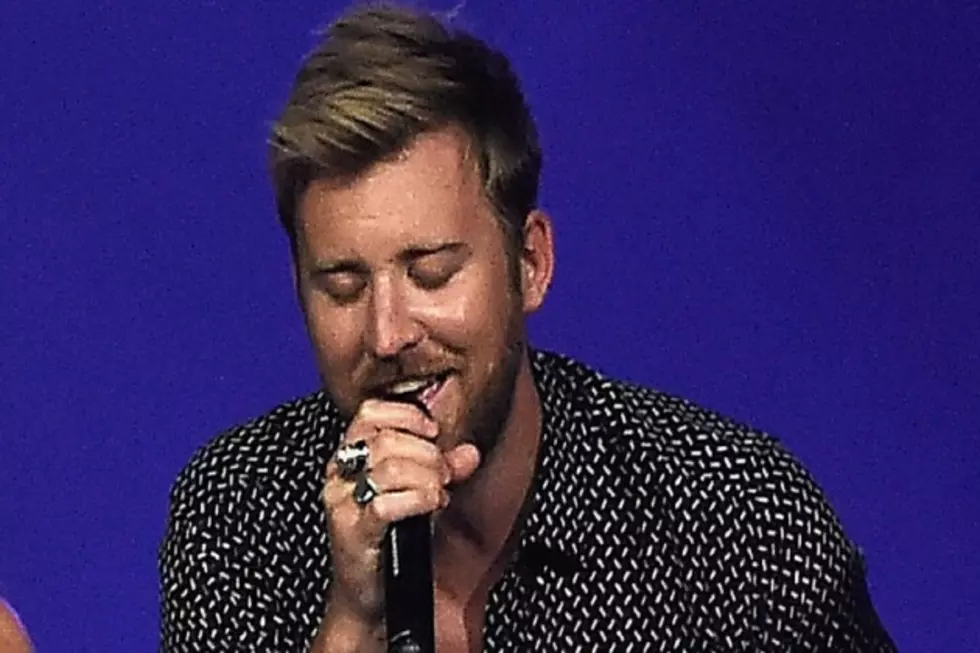 Charles Kelley Releases Dates, Details for Solo Club Tour
Rick Diamond, Getty Images
Charles Kelley told The Boot recently that he was exited to fulfill his dream of a club tour while touring to support his solo project -- and now, he's revealed all of the details about the trek.
Kelley's The Driver Tour is set to begin at the end of November in Cleveland, Ohio, and run until the end of January, when the Lady Antebellum member will wrap the 22-date tour up in Las Vegas, Nev. A complete list of dates is available below.
"Lady Antebellum kind of skipped this whole spot in our career because it happened so fast. We got on the Martina [McBride] tour … we were playing arenas pretty quick, "Kelley explains. "We never got to do the full club tour, which is always a dream of mine. I know that sounds silly. Of course my dream was always arenas and amphitheaters, but there's something about playing in a dirty club: people grabbing on your legs, you can smell the beer in the air, you can see everybody's faces. That was my goal.
"I told them, 'I'm gonna go out, no setlist, not a big production, and just fly by the seat of my pants a little bit, for a few months," he adds.
Kelley has released "The Driver" as his first solo single, but because his solo project won't be out until early in 2016, he says that he's excited to play brand-new, unreleased material for the crowds that come out to his shows.
"It's gonna be fun to watch the fans hear a song they haven't heard before ... So I go out there almost like we did with Lady Antebellum, with just one single on the radio, and have to prove myself," he notes to Rolling Stone Country. "I miss that. You get so used to screaming and everybody knowing all the songs, and there's something really fun about getting out of your comfort zone."
Rolling Stone Country reports that Jason "Slim" Gambill, Lady A's longtime guitarist, will be joining Kelley on the road.
"I wouldn't have done this without [bandmates] Hillary [Scott] and Dave [Haywood] giving me their blessing," Kelley maintains. "Lady Antebellum will always be my focus … Lady Antebellum will never break up. Mark my words."
Tickets for Kelley's solo shows are scheduled to go on sale on Oct. 16. More information is available on his website.
Charles Kelley, 2015-2016 The Driver Tour Dates:
Nov. 28 -- Cleveland, Ohio @ House of Blues
Nov. 29 -- Asbury Park, N.J. @ Stone Pony
Dec. 1 -- New York, N.Y. @ Gramercy Theatre
Dec. 3 -- Charlotte, N.C. @ Fillmore Charlotte
Dec. 4 -- Tallahassee, Fla. @ Moon
Dec. 5 -- Atlanta, Ga. @ Tabernacle
Dec. 10 - Kansas City, Mo. @ Uptown Theatre
Dec. 11 - Oklahoma City, Okla. @ Diamond Ballroom
Dec. 12 - St. Louis, Mo. @ The Pageant
Dec. 17 - Dallas, Texas @ House of Blues
Dec. 18 - Houston, Texas @ House of Blues
Dec. 19 - New Orleans, La. @ House of Blues
Jan. 7 - Milwaukee, Wis. @ The Rave
Jan. 8 - Chicago, Ill. @ House of Blues
Jan. 9 - Cincinnati, Ohio @ Bogart's
Jan. 16 - Washington, D.C. @ Fillmore Silver Springs
Jan. 17 - Boston, Mass. @ House of Blues
Jan. 22 - Louisville, Ky. @ Mercury Ballroom
Jan. 23 - Springfield, Ill. @ Boondocks
Jan. 24 - Sioux City, Iowa @ Hard Rock Hotel and Casino
Jan. 26 - Denver, Colo. @ Gothic Theatre
Jan. 28 - Las Vegas, Nev. @ House of Blues
Country's Greatest Love Stories: Charles Kelley + Cassie McConnell Kelley
How Well Do You REALLY Know Lady Antebellum?