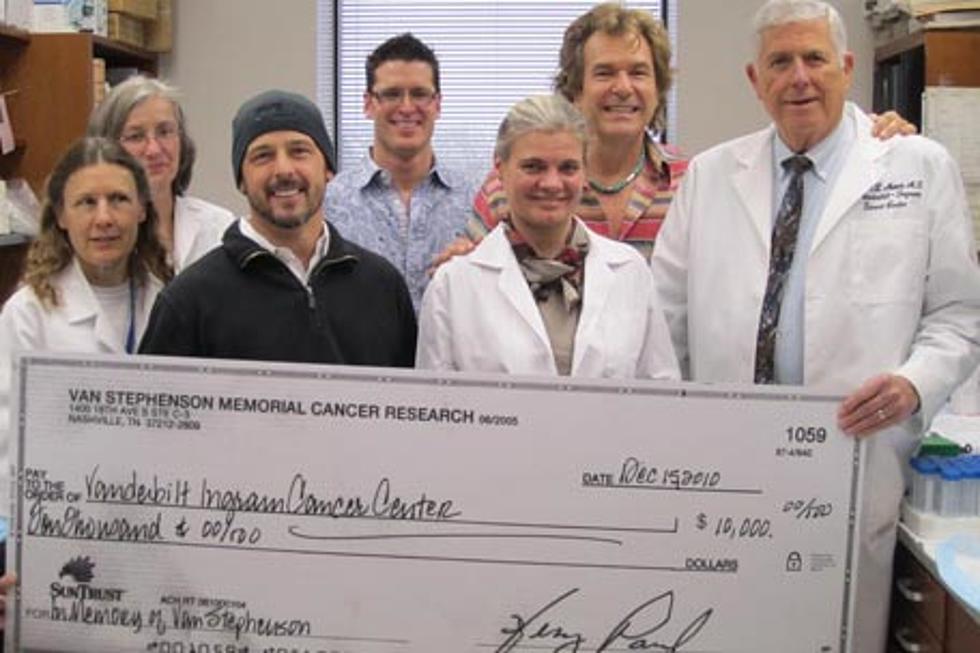 BlackHawk Donate $10,000 to Vanderbilt Cancer Research
Alanna Conaway

Every year, BlackHawk focus on raising funds for cancer research in honor of their late bandmate, Van Stephenson. Van was an original founding member of the band, along with Henry Paul and Dave Robbins, but lost his battle with cancer nearly 10 years ago. In Van's memory, Henry Paul formed the Van Stephenson Cancer Research Fund, and proceeds from various BlackHawk fan dinners with silent auctions, which include items from industry friends and celebrities, are contributed to the organization each year.
Friday afternoon, December 17, Henry visited with the staff at Vanderbilt-Ingram Cancer Center at the University Medical Center and presented a check in the amount of $10,000 on Van's behalf.
"We try to come down here every year and visit with everybody at the lab and bring a donation for cancer research," Henry told The Boot after presenting the check. "We specifically try to target our donations to the research lab.
"Van passed away in 2001," Henry continues. "He died of melanoma, which is an aggressive form of skin cancer. His dying wish was for us to try and do what we could to find a cure, so that's what we're doing."
"Henry is responsible for helping to keep Van's memory alive by starting this charity," Dave Robbins tells The Boot. "He makes sure the money is donated each year to Vanderbilt, and for that I am grateful."
BlackHawk just finished work on their next album, 'Down From the Mountain,' which is slated for release in January.