ASCAP Country Awards 2012 Honor Brad Paisley, Lyle Lovett, Ben Hayslip
Rick Diamond, Getty Images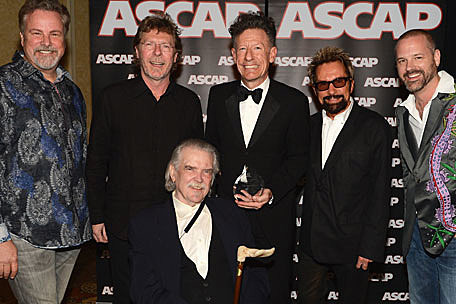 Rick Diamond, Getty Images
Pictured above, left to right, are Robert Earl Keen, Sam Bush, Guy Clark, Lyle Lovett, Tony Brown and John Randall.
Brad Paisley, veteran songwriter Bob McDill, Lyle Lovett and Ben Hayslip were the top honorees Monday night (Oct. 29) at the 50th annual ASCAP Country Awards at Nashville's Opryland Hotel.
There was a tie in the Song of the Year category between Jake Owen's "Barefoot Blue Jean Night," written by Eric Paslay, Dylan Altman and Terry Sawchuk, and Blake Shelton's hit "Honey Bee," penned by Rhett Akins and Ben Hayslip, who was named Songwriter of the Year.
Dierks Bentley enjoyed getting to celebrate with his fellow songwriters. "There's so many singers and songwriters that I look up to, like Robert Earl Keen over there," Dierks told The Boot on the red carpet. "Everywhere you look, there's great songwriters. I'm in awe of the talent, and I think what makes the ASCAP Awards so great are the live performances we'll see later tonight, hearing the songwriters that actually wrote the songs performing them. The tribute to Lyle Lovett is going to be pretty cool. Everything about this is going to be a special night."
Lyle Lovett was the recipient of the Creative Voice Award and was honored with performances by Guy Clark, Robert Earl Keen, Sam Bush and Jon Randall. "I doesn't seem real," Lyle told The Boot of his award. "There are so many wonderful songwriters here, so many people I look up to and admire who inspire me. It's a real honor."
Lyle said ASCAP has always played a key part in his career. "ASCAP was home to me when I first started coming to Nashville," he says. "Connie Bradley ran the office when I first came to Nashville. She and Bob Doyle and Merlin Littlefield would let me camp out in their offices. If I needed to make phone calls, they'd say 'Come on in.' They really made me feel at home and gave me a place to be when I was trying to figure out what I was doing. So it really does mean the world to me that they would single me out this way."
Veteran songwriter Bob McDill was presented the Golden Note Award. His lengthy catalog of hits was celebrated as Ronnie Dunn performed "Everything That Glitters;" Chris Stapleton sang "Amanda," 18 South delivered "Don't Close Your Eyes" and Josh Kelley delivered the Don Williams classic "Good Ole Boys Like Me."
Held at the scenic Opryland Hotel, the 50th Annual ASCAP Awards brought together the top artists, songwriters and publishers in the country music community. Among those in attendance were Lady Antebellum's Charles Kelley and Dave Haywood, Darius Rucker, Gloriana, Eric Paslay, Canaan Smith, Dave Barnes, Love & Theft, Deana Carter, David Nail, Chris DuBois, Jerrod Niemann and Paul Williams.
JD Souther and Jonathan Jackson, who star in the new ABC show "Nashville," were among those walking the red carpet before the awards. Souther, who has had a lengthy career as an artist, hit songwriter and actor, is enjoying his role as producer Watty White. "I can be in a good network television show written by good people and stay home," says JD, who lives in Nashville. "I love those people -- [writer] Callie Khouri and [executive music producer] T Bone [Burnett]. I've known Callie for a long time and T Bone for longer. It's a great show."
In addition to his role on "Nashville," JD has a new album, Midnight in Tokyo. "It's an iTunes exclusive this month and then for the holidays, we'll have a hard release and vinyl. I always put out vinyl."
Jonathan Jackson, who portrays Avery Barkley, is originally from Washington State and lived in Los Angeles for years before moving to Tennessee for his role in Nashville. "It's incredible," Jonathan tells the Boot of life in Tennessee. "I started acting when I was 11 years old so I grew up in LA, but Nashville has been wonderful. I moved my whole family out here with me and we live in Franklin, which is a beautiful area. I have three kids -- (ages) nine, seven and two. It's been amazing. Never in a million years did I think we'd live in Tennessee."
In addition to his Emmy-winning acting career, Jonathan is also a musician. "I've been doing music for a long time in a band called Enation," he says. "I've been writing songs since I was 12-years-old so to be placed here within the music community has been amazing."
Jonathan has been writing and demoing new songs with Enation and hopes to have a new album out next summer. "A couple of the songs I've written are going to be in the show as well," he says of combining his role on Nashville with his songwriting. "Being able to bring the songwriting aspect to the show has been exciting and working with T Bone Burnett has been incredible. He's someone I've always wanted to work with and admired from afar and it's been amazing to work with him."
Another actor/singer gracing the red carpet at the ASCAP Awards was John Corbett, best known for his role as Aidan on "Sex and the City." He has a new album, Leavin' Nothin' Behind, coming out next February, produced by Jon Randall and Gary Paczosa. "It's a little bit more Americana, a little more rock 'n roll," John tells The Boot. "I made an album in '06 that was a little more slick country. This one is in that family, but has a little more rock to it."
John was looking forward to seeing his friend and producer Jon Randall perform as part of the tribute to Lyle Lovett. "I've been an ASCAP member since '05 and it's neat to come here and see a lot of the people I've met over the last seven years," he says. "And Jon is performing tonight and Guy Clark is here. JD Souther just walked by. It's a great night to see some of my heroes."
Much has happened for singer/songwriter Andy Gibson since he walked ASCAP's red carpet last year. He co-wrote the Jason Aldean/Kelly Clarkson duet "Don't You Wanna Stay" with Jason Sellers and Paul Jenkins. "I've gone from an independent label to now being on Curb Records," he tells The Boot. "So many things have changed. It's interesting to see where life can take you in one year and I'm glad to be back here on the red carpet. It's exciting to have all these things happening."
Kip Moore has also had an incredibly busy year, scoring his first No. 1 hit with "Somethin' 'Bout a Truck." "I don't think I've even had time to digest what's happened," Kip tells The Boot. "It's been a whirlwind where I've been out every day playing. It's just amazing that all these songs I wrote in the dark people are singing back to me now. It's been a wild run. I'm very, very grateful and hopefully I can keep it going."
It was Kip's very first time at the ASCAP Awards and he was excited to be part of the festivities. "Anytime you can get recognized by your peers for what you do as your craft, it's a special thing," he says. "This is my first time being at the ASCAP Awards and it's a cool thing for me. I've been a songwriter first for a long time so it's pretty special."
Like Kip, singer/songwriter Angaleena Presley of the Pistol Annies has had a busy and wonderful year. "So much has happened," she says. "I'm really tired, but really happy. It's a good problem to have. We've been on the road all year."
Angaleena had been looking forward to seeing friends at the ASCAP Awards. "This awards show for me is kind of like a family reunion," she says. "I've been here for 10 years now. I grew up with these people. It's like we've all been in high school together and when you come here, it's like 'Hey, good to see you!' And you get to give everybody a hug and get to catch up with people. For me, tonight is about seeing old friends and giving people hugs I've been missing for a long time."
Jason Sellers has attended the ASCAP Awards for several years, but this time was different. "This year is exciting because I've never had a song nominated for Song of the Year," says Jason, who co-wrote "Don't You Wanna Stay" with Andy Gibson and Paul Jenkins. "Anytime you have a song [nominated] for anything it's exciting."
Watch Jake Owen's 'Barefoot Blue Jean Night' Video