Alan Jackson Interview: 'Thirty Miles West' Album Captures Singer's Heartbreak and Triumph
Terry Wyatt, Getty Images
There's a tune on Alan Jackson's new album, Thirty Miles West, that the father of three wrote for his daughters titled "Her Life's a Song." In a broader sense, the same could be said for Alan himself. Over the last two decades, his life has been one hit song after another as he's both celebrated life's sweetest moments and tried to make sense of tragedy by strapping on a guitar and pouring out his heart in a song.
The Georgia-born entertainer once again sets his life to music on Thirty Miles West, a 13-song set that includes such uptempo tunes as "Dixie Highway," which features his pal Zac Brown, and the poignant "When I Saw You Leaving (For Nisey)," a love song to his wife Denise that shares his feelings about her battle with cancer. For Alan Jackson, the adage "write what you know" remains the key to his songwriting career and, indeed, to his success.
"I don't feel like I've tried to change my style of writing to fit in with anything different," Alan tells The Boot. "I'm still writing about things that [are] going on in life. You just write about things that happen. With this album I wrote a song about Denise going through her cancer."
Wearing a blue t-shirt, baseball cap and tan cargo shorts, Alan settles his 6' 4" frame into a chair at his manager Nancy Russell's office. He's soft-spoken, but friendly and has a gentle sense of humor that surfaces throughout the interview as he talks about his music and his family.
Even when he's writing about something as personal as Denise's battle with cancer, Alan says he tries to make his songs universal enough for everyone to relate to when they listen.
"I've always tried to be careful. If I write something that's that personal, I try to write them so they aren't so obvious," he notes. "That song for Denise, 'When I Saw You Leaving,' if you don't listen to it close, you'd think it was about some guy's wife or girlfriend leaving them. You have to listen to it a little bit to really understand what it's about and that's the way I like to do it.
"Even when I wrote the song when my daddy died years ago, that 'Drive' song, if you listened to it, you wouldn't necessarily think it was a song you wrote for your daddy that died. So I'm trying to camouflage. I've written heartache songs over the years, too, that have been inspired by my own life, but you'd have to really be close to know it."
One of the most autobiographical tunes on Thirty Miles West is also one of the most relatable. Clocking in at nearly seven-and-a-half minutes long, "Dixie Highway" is a joyous celebration of all things Southern that features fellow Georgian Zac Brown.
"We'd have to edit it down because it's pretty long, but that's no problem," Alan replies when asked if the song might become a radio single. "I think people would like it. I've been playing it live some in my shows and it goes over pretty good because its uptempo. It would be a fun single."
"Dixie Highway" is the song that inspired the album's title as Alan's hometown, Newnan, Ga., is 30 miles west of the Dixie Highway. "It comes down through Atlanta and goes straight south. It runs all the way from Canada to Florida," Alan explains. "We have a place down in Florida [near] the Dixie Highway down there. I saw that sign one day last winter and thought it was cool. I said I was going to write a song named 'Dixie Highway' and that's when I researched it. I didn't even know it ran all the way up north like that."
After more than twenty years recording for Arista Nashville, Thirty Miles West marks a change in labels. For several years Alan has had his own imprint, ACR (which stands for Alan's Country Records) and his new album is a joint partnership between ACR and EMI Records Nashville, putting him in the company of labelmates Keith Urban, Lady Antebellum and Dierks Bentley, among others. "It seemed like a comfortable place, a warm environment and everybody is excited about the music," Alan says of his new label home. "It felt like an early Arista. I couldn't imagine going anywhere else."
As he embarks on this latest chapter in his career, Alan has a huge history of success behind him. He's sold 60 million albums. His catalog includes 13 studio albums, three greatest-hits compilations, two holiday CDs and Precious Memories, the recently re-released gospel collection. He's placed 80 songs on Billboard's country singles chart, including 51 Top 10 hits and 35 No. 1 tunes, among them "Chattahoochee," "Drive (For Daddy Gene)" and the poignant post-9/11 ballad "Where Were You (When the World Stopped Turning)." He's won numerous industry awards including 17 ACM Awards and 16 CMA honors. He's also a member of the Nashville Songwriters Hall of Fame.
Alan is grateful for the accolades, but nothing is more important to him than family, and his world was rocked when he got the news that Denise had cancer. He chronicles those emotions in "When I Saw You Leaving (For Nisey)," the closing track on the album.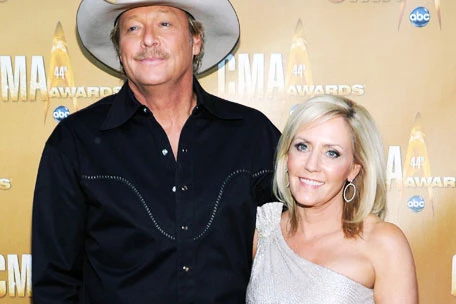 Larry Busacca, Getty Images
"It's a scary word, cancer," Alan says quietly. "That song just came out of all of that. I never mentioned it until I had the cut done and then I played it for her. She cried ... I don't think she likes to listen to it on the album much."
Alan and Denise were at their vacation home in Florida in December 2010, celebrating their 31st wedding anniversary when Denise got a call from her doctor telling her she had colorectal cancer. The doctor said they could see her that afternoon. Alan was out fishing when Denise called to tell him the bad news. He immediately came in to console her. They flew back to Nashville and within five hours of getting the call that she had cancer, she was sitting in the oncologist's office.
Alan admits he was shocked at the diagnosis because Denise had always been the healthiest person he knew, and there's longevity in her family.
"Her mama is 91. One of her sisters lived to be 98, and their daddy lived to be 90. They never had any problems health-wise to ever amount to anything," he says. "Of all the people to come up with cancer, I'd never in a million years bet any money that Denise would. I thought I'd be gone long before her, so it was just a shock for both of us."
They decided to wait until after Christmas to tell their daughters, Mattie, Ali and Dani. "It was a big shock to everybody around the house," Alan acknowledges.
Luckily, Denise had been diagnosed early and the cancer was stage one. It was a small malignancy and doctors treated Denise with two rounds of chemotherapy and 30 days of radiation.
"This took care of it," Alan says, noting that Denise is now cancer-free. "Vanderbilt [Hospital] did a good job."
Seeing Denise going through chemo was hard for Alan but he now is able to offer some words of advice for other men helping their wives battle a life-threatening illness.
"You really just have to buck up and be a man and be sensitive at the same time," Alan says. "Be strong and supportive and make sure that you give her every ounce of attention that you can. At the same time, you've got to be confident for them and not let them see that you're that concerned about where it might end up. I wrote a line in ["When I Saw You Leaving"] about 'trying to be a post to lean on, a part you learn that's hard to play' and that's what I meant. I was trying to be strong for her. It was hard to be that when sometimes you didn't feel that way."
With Denise's cancer battle behind them, the family is looking forward to a busy summer. Eldest daughter, Mattie, 22, just graduated from the University of Tennessee at Knoxville and plans to become a writer. Middle daughter Ali, 19, just graduated from high school and will head to Auburn University this fall. Their youngest, Dani, 15, will be the only one still at home. She'll be a high-school sophomore next year.
"They are all really creative kids," Alan says proudly, adding that Dani seems the most likely to go into the entertainment business. "She's always been a dancer and singer. I feel that's where she's going to head eventually."
As for the couple's impending "empty nest" syndrome, Alan says, "I'm sure it will be something [we'll] have to adjust to, but I think you look forward to your children growing up doing what they want to do. You can't keep them here at the house. We've raised them to go out and take on the world. That's what you want them to do, just be happy and healthy. I think we'll be fine with it. We're just looking forward to them continuing on with their life. That's the next step."
Even before Denise's illness, the couple had already begun downsizing, selling Sweetbriar their 135-acre Nashville estate. The couple have put their house on Tennessee's Center Hill Lake up for sale, as well as their Florida vacation home. Alan loves fishing and spending time at the lake so they purchased a lake home in their native Georgia in the Chattahoochee National Park that they use as a family retreat.
Since selling Sweetbriar, the Jacksons built a new home in a gated Nashville community. "It's actually just a mile or two from where we used to live," Alan notes, "but it's in a subdivision. It seems like God just leads us to things. We were riding around one time in December. We dropped the kids over there to [visit friends]. When Ali was young, she always wanted to move over there because she had a bunch of friends living there. It's a really nice gated place."
Alan and Denise decided to drive around the neighborhood and found the perfect site for their new home.
"We just went down this street and turned around in this cul-de-sac and there was this sign on a lot that was for sale. There was this dirt road that went up this hill and I said, 'Let's ride up there.' We came up to the top and it was leveled off and just beautiful. I didn't think I'd want to live in a subdivision, but this was just like we were just supposed to drive up there and find this place."
The new house sits on four acres on top of a hill. "The only way you can see it is to fly over in a helicopter. It's really safe," Alan says. "It's just a beautiful spot. We're up there in the middle of nowhere and you can't see nobody. We just lucked out."
These days, Alan is as excited as ever about making music and spending time with his loved ones, yet he's reached a time in life where he's learned to prioritize and take time to enjoy the simple things.
"I grew up with nothing, so whenever I got to where I could have something I felt like I needed to have everything I couldn't have when I was young," he says of splurging on boats, cars and other things early in his career. "The older you are, I think you realize what you enjoy and what you don't need, what wears you out and what's important. That's what is happening to us and now Denise's experience has magnified it a little more. So that's what we're doing. We're simplifying and trying to set up our lifestyle where we can be comfortable and happy and not have so much going on."