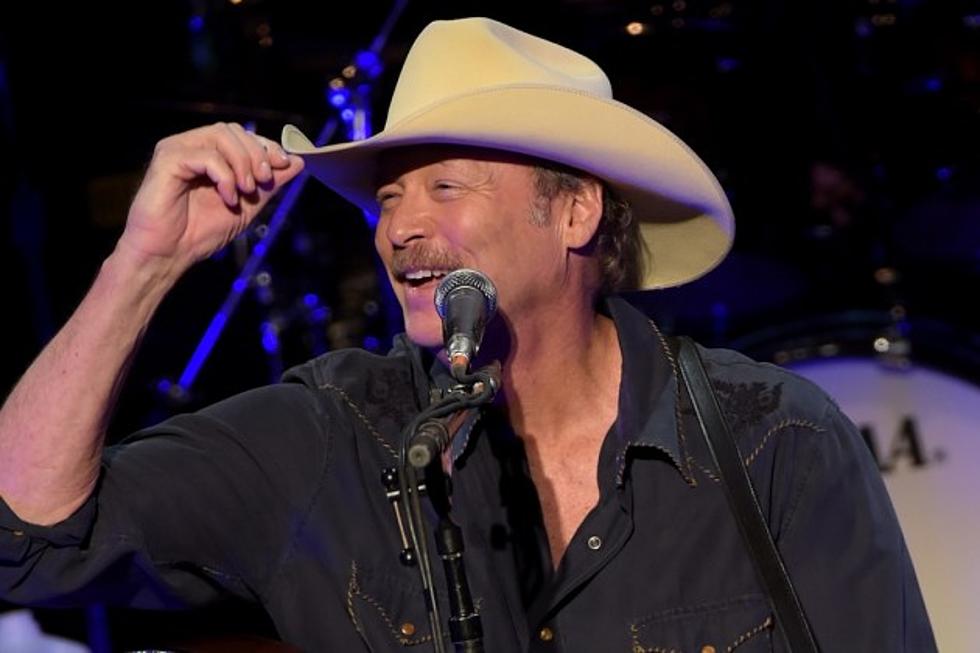 Alan Jackson Embarking on 25th Anniversary Keepin' It Country Tour
Rick Diamond, Getty Images
After 25 years of hits, Alan Jackson is ringing in 2015 in a big way, kicking off his Keepin' It Country Tour to celebrate his silver anniversary in country music.
The superstar's tour launches on Jan. 8 in Fort Myers, Fla. and comes to a close in Denver, Colo. at the Red Rocks Ampitheatre on May 17, 2015. Joining Jackson for the ride are openers Jon Pardi and CMA award-nominated hit singer-songwriter Brandy Clark, and no one may be as excited as Jackson himself.
"Of all the new guys I've heard, I like that Jon is closer to country than most of the others and I thought his songwriting was better than what I've heard in a while," Jackson tells People. "And I love Brandy's songwriting. There's a song on her album ['12 Stories'] 'In Some Corner' that I thought about covering on the new album. I really studied it. It's written from a girl's perspective, and I couldn't figure out a clean way to make it come from a guy. She's really a talented singer. She sounds new and old at the same time."
With two highly-talented openers and Jackson as the headliner, the tour is sure to be a success, but the singer is modest about the venture, admitting, "I've been touring so long, I didn't want people to be thinking, 'Gosh, here comes Alan Jackson again.'"
That hardly seems to be the sentiment of fans. "I have fans who have been coming to my shows for 25 years, I meet them and they'll pull out a picture they took of me 25 years ago!" Jackson shares. "This is a way to make it new -- put together something special that pulls together those 25 years. Some people don't like to talk about how many years they've been around -- it makes them feel old. I'm proud of it and glad to do it."
Jackson's 25 years in the industry have been widely celebrated recently. In August he, his wife Denise and their daughters cut the ribbon on his Country Music Hall of Fame exhibit called 'Alan Jackson: 25 Years of Keepin' It Country,' which will be open to fans through March 15, 2015. He sold-out two shows Artist in Residence shows at the Hall of Fame in less than an hour, making them the fastest-selling events in the history of the CMA Theater.  Plus, the Grammy-winning artist is planning a record set to be released in early 2015. Let the celebrations commence!
Alan Jackson Keepin' It Country Tour Dates

1/8 - Fort Myers, Fla. - Germain Arena
1/9 -Tampa, Fla. - USF Sun Dome
2/20 - San Diego, Calif. - Valley View Casino Center
2/21- Laughlin, Nev. - Laughlin Events Center
2/27 - Los Angeles, Calif. - Nokia Theatre LA Live
2/28 - Phoenix, Ariz. - Ak-Chin Pavilion
3/6 - Dallas, Texas - Verizon Theatre at Grand Prairie
3/27 - Augusta, Ga. - James Brown Arena
3/28 - Greenville, S.C. - Bon Secours Wellness Arena
4/9 - Wilmington, N.C. - Cape Fear Community College
4/17 - Kansas City (Independence), Mo. - Independence Events Center
4/18 - Enid, Okla. - Enid Event Center
4/24 - Roanoke, Va. - Civic Center Auditorium
5/1 - Sioux City, Iowa - Tyson Events Center
5/2 - Brookings, S.D. - Swiftel Center
5/8 - Green Bay, Wisc. - Resch Center
5/9 - Bloomington, Ill. - US Cellular Coliseum
5/16 - Salt Lake City, Utah - USANA Amphitheatre
5/17 - Denver, Colo. - Red Rocks Amphitheatre