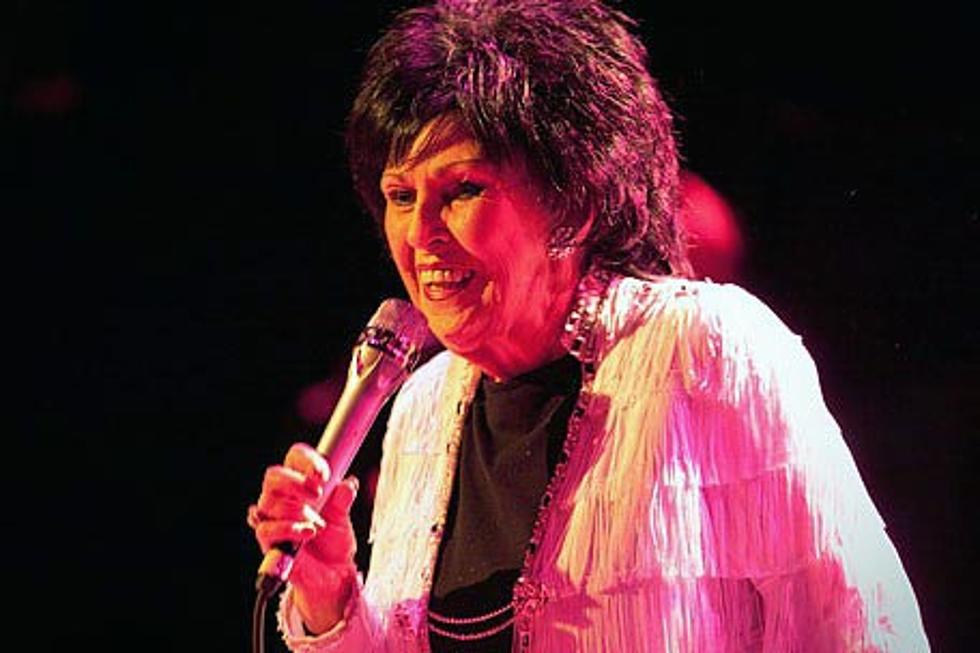 Wanda Jackson Is Still Here for the 'Party'
Gino DePinto, AOL
Wanda Jackson, the First Lady of Rockabilly, gives credit to Elvis Presley as the man who persuaded her to record the new music coming out of Memphis in the 1950s. Before there was rockabilly in her career, however, there was country, and after rockabilly there was Christian and gospel music.
The singer manages to pay homage to all those genres on her new album, 'The Party Ain't Over,' produced by rock legend Jack White of the White Stripes. The project is available on both vinyl and CD this Tuesday, January 25.
From her rockin' version of 'Rum and Coca-Cola' to 'Dust on the Bible' and 'Blue Yodel #6,' Wanda conveys her never-ending love for the music that has kept her on the road and in the recording studio for more than 50 years.
"That's something we don't know about," Wanda tells The Boot of her still-thriving career. "Fate doesn't let us in on these things so you just kind of take it day by day. I knew I always wanted to perform until I couldn't any longer. My husband and I used to talk about retiring, but everybody works until they're in their sixties and then they retire to do what they want to do. Well we're doing exactly what we want to do -- we're traveling, I'm performing -- we have nothing to retire to do. If I retire I might have to learn to cook, and I don't want to do that!"
From the sound of her latest album, Wanda is far from retiring. She's as feisty and sexy as she was when she first recorded 'Let's Have a Party' and 'Right or Wrong.' And even though she admits to toning down the Amy Winehouse tune, 'You Know I'm No Good,' she gets the grit and grime just right as she prowls through the lyrics.
"When I started out to do a new project, I was going to do one with people I'd influenced, and someone told me I should call Jack because he was really into rockabilly music. I called and asked him to be on it and he said no -- and then he said he would be interested in producing an album on me. That was a nice surprise."

Wanda says she trusted Jack enough to let him pick most of the songs she would record. She was surprised when he brought in the aforementioned Winehouse tune, and a Bob Dylan composition, 'Thunder on the Mountain.' (Watch the latter song's video below.) She brought what she calls an obscure Elvis recording of a blues song, 'Like a Baby,' to the table, as well as the gospel song, 'Dust on the Bible.'
"I wasn't sure how he would react to the gospel song but he was very open," she says. "I also wanted to record a Jimmie Rodgers song so we settled on 'Blue Yodel #6.' We worked well together. I told him if I was going to try to reach a younger crowd, then I'd have to trust him because my thinking would be old-school. So it was nice to relax on that front and let him handle it. He picked out some very good songs."
While there were times the singer thought her producer was pushing her a little too hard, the two eventually came to an understanding. "He would tell me to push harder, and I said 'I feel like I am, I'm not understanding what you want.' He said, 'I just want you to push harder, I want more Wanda Jackson.' It finally dawned on me what this kid was doing. By pushing me so much, he was pushing me into the 21st century. I'm delighted with that."
Jack didn't choose all new material for Wanda -- she also recorded 'Drinkin' Rum and Coca-Cola,' a classic Andrews Sisters song, and another one of her choosing, 'Teach Me Tonight' a DeCastro Sisters hit from the early 1950s.
While she might not have imagined as lengthy a singing career as she has enjoyed, Wanda knew at an early age she was born to sing. "I believe some people are just born performers, and that's not to say that you can't learn," she says. "I just never even thought about being anything but onstage singing. My folks would say that when I was six years old, people would ask what I was gonna be and I would say a girl singer."
Her folks certainly encouraged her in those formative years. Her father moved the family from Oklahoma to California and by the age of five Wanda was going to dances where popular swing bands of the time were performing, including Bob Wills and Spade Cooley.
"They would have a girl singer and she would step up onstage in a pretty outfit and sing with the spotlight on her and that is where I wanted to be. But I knew I didn't want to be a girl singer with a band all my career. My goal was to be the star of the show. I have never lost that desire. I love what I do and I'm grateful for being able to do it now."
Wanda has influenced many of today's young singers, including Pam Tillis and Rosie Flores. She was one of the first women to wear fashionable clothes -- she and her mother designed her outfits and her mother sewed them for her. She wore flashy jewelry, and learned to backcomb her hair in 1959, before it was the rage in the U.S.
"My mother and I got me out of those cowboy trappings that so many of the girl singers in country bands wore and went to a more glamorous and more sexy look. No one wore the skin-tight skirts, the low-cut tops, or the rhinestones and silky fringe back when I was starting out. That was all brand-new, like the high heels and long, dangling earrings. Other girls started to copy me, which made me know I was onto something but was also very flattering."
Her first break came after the family moved back to Oklahoma and Hank Thompson saw her perform. He invited her to sing with his band and became her mentor. She was turned down by his label, Decca, because of her age, but Capitol Records snatched the teenager right up. She toured with Hank in the states and throughout Europe and learned about television by making appearances with him from time to time. After graduating from high school, she began working shows with Elvis.
"My daddy was my manager and he just picked a name out of Billboard [magazine] and it happened to be Bob Neal, who also booked Elvis," Wanda explains. "Bob said he'd love to work with me because he had been looking for a female to put on the shows with Elvis. I didn't work every date with him, but I did tour with him off and on for a year-and-a-half. During that time Red Foley asked me to be a regular on the Ozark Jubilee [on ABC-TV], so I signed with them."
Wanda also reveals that she and Elvis dated. "We liked to hang out, and my dad liked Elvis real well. He'd let me go out with him after a show and have a Coke and talk. He told me about rockabilly music and said I ought to record that style of music. He kept after me until finally I promised him I would do it."
The decision was the right one for the young lady who was determined to be more than a girl singer. Soon her tunes were heard all across the airwaves and she was touring in exotic places such Japan, where her tune 'Fujiyama Mama' became a huge success. Along with her rockabilly hits, she stayed in the country genre with 'Right or Wrong' and 'Tears Will Be the Chaser for your Wine.' She received two Grammy nominations, and in 2009 she was inducted into the Rock and Roll Hall of Fame. While many entertainers would be willing to slow down, Wanda just seems to be getting her second wind.
"I think that's what keeps me going, having things I've got to do," says the 73-year-old, who admits she's had to slow down a little in the past few years. "I just get up and follow that schedule, put one foot in front of the other. As far as being onstage, I have found that people come out to hear me sing, not dance all over the stage like I used to do. I get so much energy and love from my fans; it comes in waves from the audience up to me, and I forget all my aches and pains when I'm up there performing."
'The Party's Not Over,' on Jack White's Third Man Records label, will be in stores Tuesday, January 25.%VIRTUAL-globalVideoEmbed-{"videoIds":"517721264","width":"476","height":"357"}%