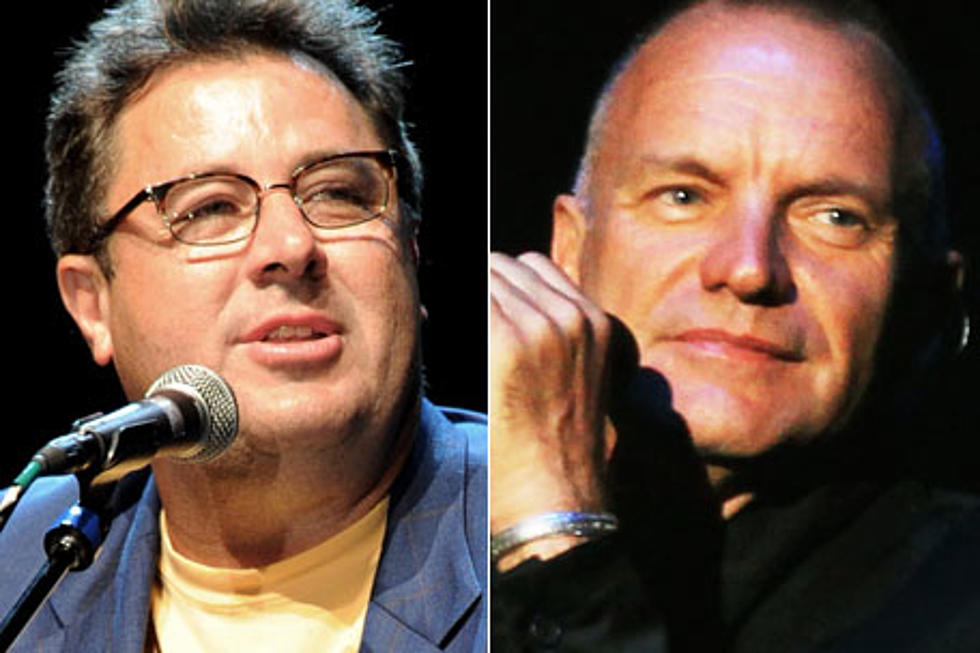 Vince Gill and Sting Unite for 'CMT Crossroads'
Getty Images
A living legend in country music meets a living legend in pop in the next installment of 'CMT Crossroads.' Vince Gill and Sting will perform in front of an invitation-only audience, with an anticipated November televised date.
On October 25, Vince will release his 13th studio album, 'Guitar Slinger.' The project's first single, 'Threaten Me With Heaven,' co-written by wife Amy Grant, Dillon O'Brian and Will Owsley, was inspired by a true story about a devout Christian man who was given some bad news after visiting the doctor but joked, "Well, what are they going to do? Threaten me with heaven?"
The song took on a whole new meaning after one of Vince's co-writers passed away. "Since the song was recorded, my friend Will Owsley took his own life, so the song has a profound impact on me now," says the Country Music Hall of Famer. "In my lifetime, 'Go Rest High on That Mountain' has been the song that helped a lot of people through their grief. I think this one will, in turn, hopefully do the same thing. It's a powerful, powerful song. I feel like it's the crown jewel of the new record."
With regard to the rest of the new collection, Vince, who recently celebrated his 20th anniversary as a Grand Ole Opry member, explains, "The emphasis has been on the songs, and the songs have gotten better. They really run the gamut of what they are about, how they feel, how they sound. It's not an all-traditional record, it's not an all-contemporary record; it's all over the map, like I kind of have always been. But it doesn't feel out of step with anything I've done previously."