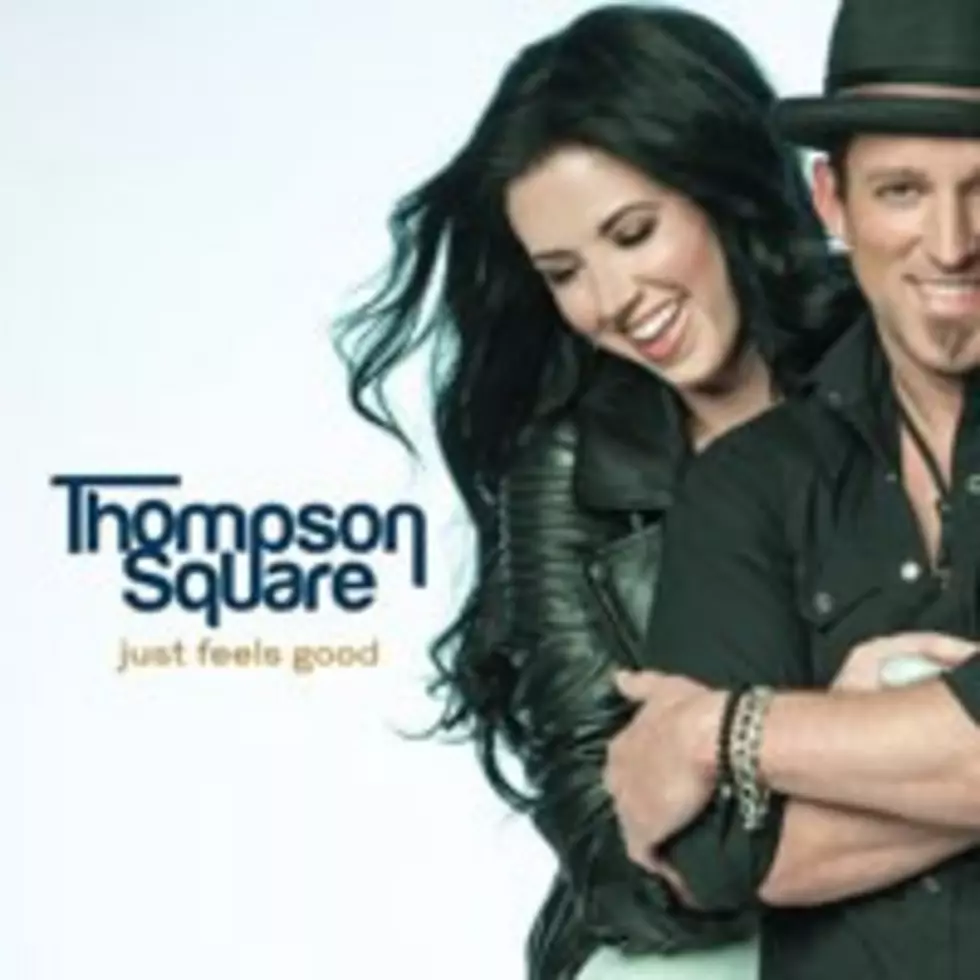 Thompson Square, 'Just Feels Good' Album Track List; Lady A Preview New Music + More: Country Music News Roundup
Anthony Baker, Glenn Sweitzer
The Boot rounds up today's (Jan. 21) headlines from around the web.
Thompson Square will release their sophomore album, Just Feels Good, on March 26. The husband-wife duo reveal the project has "fun, upbeat" tunes that are "all over the map."
"The songs on the album are autobiographical and tell the story of our journey over the last few years – an incredible journey that I am still trying to wrap my head around," Keifer Thompson adds. The pair share co-writing credit on five of the 13 songs, including their current single, "If I Didn't Have You." Keifer also co-penned "That's So Me and You," with Kellie Pickler's husband Kyle Jacobs, and hit songwriter Vicky McGehee. (See the full track list below.)
Fans at Luke Bryan's Southaven, Miss., tour date on Saturday (Jan. 19) have been sending out prayers for the band's fiddler Kevin Arrowsmith after an onstage accident. "He did take a nasty fall tonight but will make a full recovery," Luke wrote on his Facebook page, after thanking them for their concern.
"American Idol" winner Carrie Underwood is thrilled to have Keith Urban serving as a judge on the show. "If anyone can be objective, constructive and tell people what it's going to take it's going to be him," she told Nashville TV station WZTV. "It's so nice to have someone from Nashville be a part of my 'American Idol' family." [WZTV]
Lady Antebellum's first Webisode Wednesday of 2013 found the threesome in the studio working on their next album. The trio teased fans by playing five seconds of their next single. "I can't wait for y'all to hear this first single, I think you are going to dig it ... When it does come out." Charles Kelley said. "We're really proud of the music we're making and our team seems really excited about it, which makes us feel good." On a somber note, Charles announced that his "Aunt B" (aka his alter ego) passed away from eating too many deviled eggs. [YouTube]
George Strait broke another record this week by selling 77,000 tickets in two minutes to his performance at the Houston Livestock Show & Rodeo. The appearance marks the King of Country's 29th at the annual event, which will take place on this year's closing night, March 17.
Jason Aldean sold out his Night Train 2013 stop at New York City's Madison Square Garden in mere minutes, as well. "I am blown away that my show sold out that quickly," Jason says. "It makes me even more excited to hit rehearsals this month and get the Night Train tour on the road. I can't wait to see you, New York!" The show will include Jake Owen and Thomas Rhett and takes place March 2.
Taylor Swift has buried the hatched with Michael J. Fox, following the Golden Globes jab made by host Tina Fey, telling the songstress not to pursue the actor's son, Sam, romantically. After the show, Fox was apparently on Fey's side, telling Vulture he didn't approve. "No. No ... Just back off," he said, before admitting, "I don't keep up with it all, but Taylor Swift writes songs about everybody she goes out with, right?" On Friday (Jan. 18), the 23-year-old told fans it was all water under the bridge, tweeting, "Hey everybody, Michael J. Fox got in touch with me today and we are good. Thank you for having my back." [AOL Music Blog]

Thompson Square's Just Feels Good Track List:
1. "Everything I Shouldn't Be Thinking About"

(Keifer Thompson, Shawna Thompson, David Lee Murphy, Brett James)

2. "Here We Go Again"

(Keifer Thompson, Shawna Thompson, Vicky McGehee, David Fanning)

3. "You Don't Get Lucky"

(David Lee Murphy, Bob DiPiero, Tom Shapiro)

4. "That's So Me and You"

(Keifer Thompson, Vicky McGehee, Kyle Jacobs)

5. "I Can't Outrun You"

(Kyle Jacobs, Joe Leathers, Ben Glover)

6. "Testing the Water"

(Luke Laird, Shane McAnally, Hillary Lindsey)

7. "For the Life of Me"

(Keifer Thompson, Shawna Thompson, David Lee Murphy, Brett James)

8. "If I Didn't Have You"

(Keifer Thompson, Shawna Thompson, Jason Sellers, Paul Jenkins)

9. "Here's to Being Here"

(Keifer Thompson, Shawna Thompson, David Lee Murphy, Brett James)

10. "Just Feels Good"

(Bobby Pinson, Brett Warren, Brad Warren)

11. "Maybe It's You"

(Kyle Jacobs, Vicky McGehee, Kyle Sackley)

12. "Run"

(Ross Copperman, Michael Davey)

13. "Home Is You"

(Jon Nite, Jimmy Robbins)
Watch a Thompson Square Interview