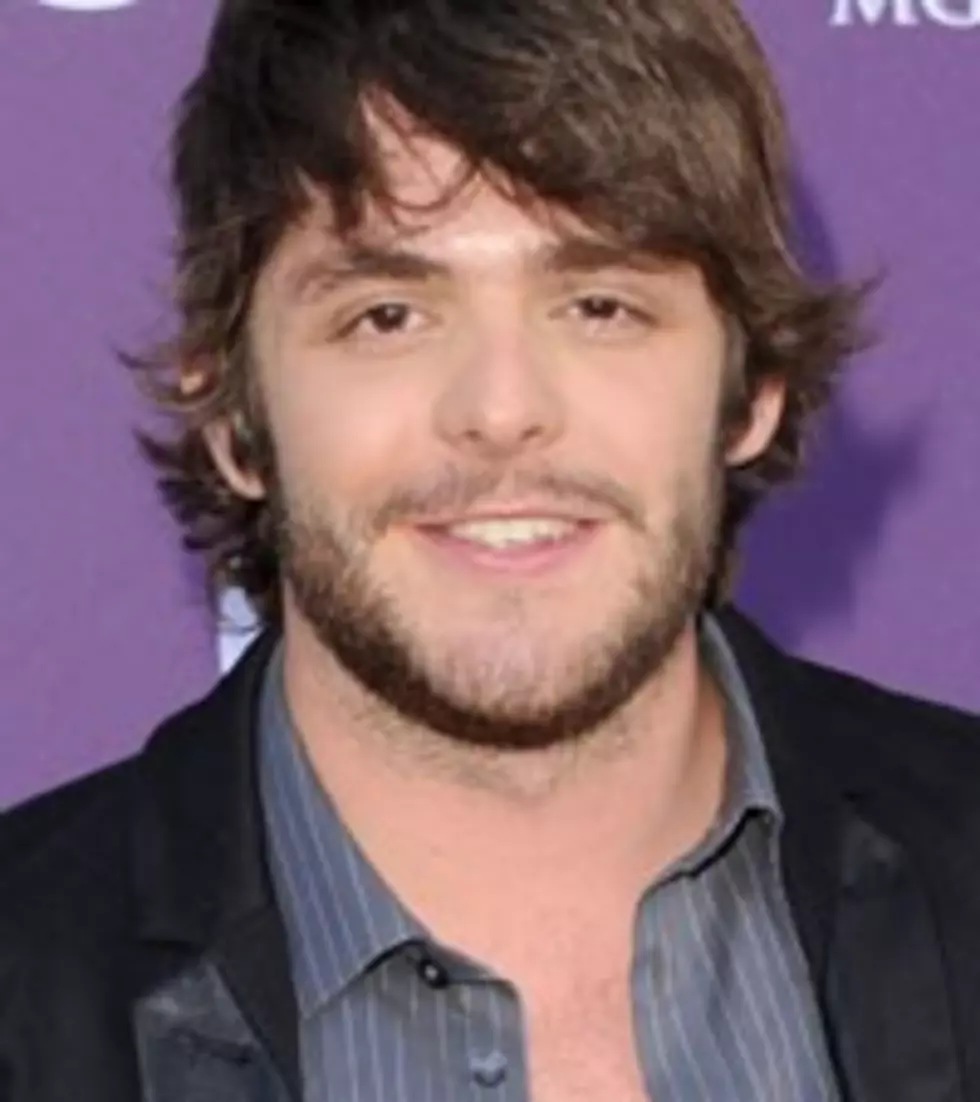 Thomas Rhett, Dad Rhett Akins Share Common Musical Bond
Jason Merritt, Getty Images
Thomas Rhett doesn't have to go further than the family tree to get advice on the music business. His dad, Rhett Akins, had a record deal of his own back in the mid-'90s and charted several singles, including the Top 5 hit, "That Ain't My Truck." Rhett also happens to be the co-writer behind a slew of recent country hits, including "Gimme That Girl" for Joe Nichols, "Take a Back Road" by Rodney Atkins and Blake Shelton's "Honey Bee." So Thomas obviously comes by his songwriting abilities naturally. But he still looks to his dad for plenty of guidance and advice, and has grown much closer to his father now that he's joined the music business ranks with him.
"Me and Dad's relationship has changed a lot over the years," Thomas tells The Boot. "Because when I was in high school, me not being awesome in football and being better at soccer was kind of hard for him to take in, I think, because he was a big football player and really good at it. When I got in this business, our relationship kind of skyrocketed, because I had a lot of questions and he had a lot of answers. So now we probably talk three to four times a day. And he's so proud -- he's a little bit too proud. [laughs] But it's really good having somebody on your team like that that's been through the trenches and on the mountaintops."
Thomas admits that he and his dad actually became much closer after they found their common bond through music, a language they both speak quite fluently these days, thanks to the booming success in their respective careers. Rhett definitely looks to his dad for songwriting advice, since the proud papa has penned so many No. 1 hits over the past several years and is dominating the charts these days.
"I have definitely learned a lot by watching my dad," says Thomas. "I learned some things from him like making sure I put a lot of song titles in my phone when I think of them, and that I show up at a writing appointment being prepared. But I've kind of slacked off a lot on that one lately," he admits with a laugh, "because the people I write with, we kind of just hang for the first hour and hopefully a title falls out of the thin air. But my dad's biggest advice to me was 'you've got to write a hundred good songs to write one great one. There's no telling how many songs dad has written."
As a new artist who only recently started writing songs himself, Thomas may have a long way to go to catch up with his dad, but with his new hit single, "Something to Do With My Hands," he's off to a really good start. He also has a cut on the multi-platinum-selling Jason Aldean album, My Kinda Party, called "I Ain't Ready to Quit." He also penned every song on his upcoming Big Machine debut, which is due to hit store shelves in September. Fans can catch some of those songs live as Thomas hits the road as part of Toby Keith's tour, which kicked off this week in Salt Lake City. Keep track of their tour schedule here.