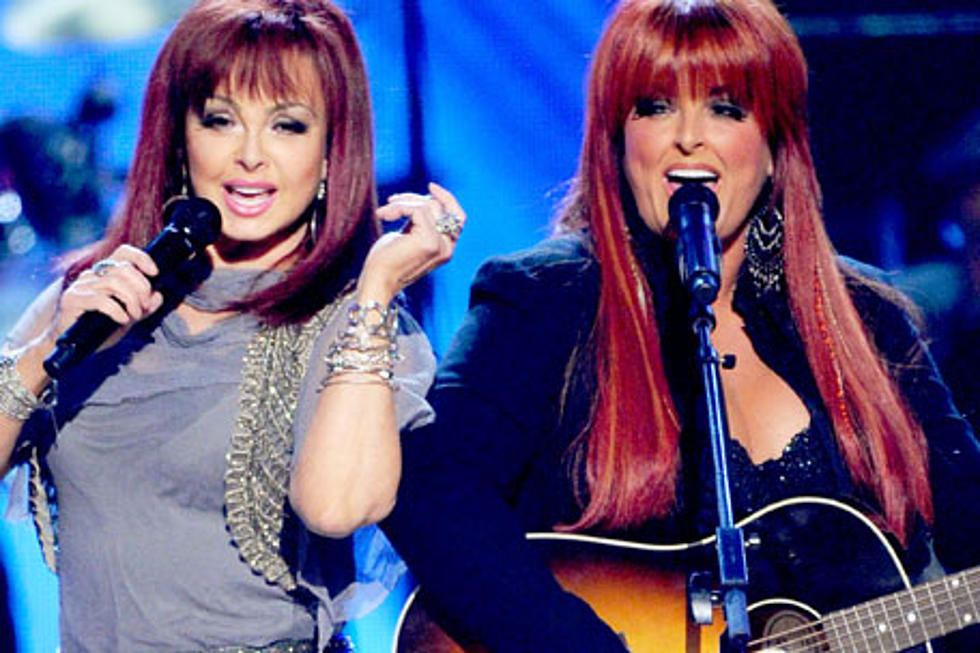 The Judds Play Their Final Hometown Show
Ethan Miller, Getty Images
Most performers playing in their hometown will give shout-outs to friends or family members in attendance. But just in case you haven't been paying attention for the past 28 years, the Judds are not most performers.
"I'm looking for my gynecologist," mom Naomi Judd said, surveying the crowd after she and daughter Wynonna finished their first song during a 90-minute benefit concert at the landmark 300-seat Franklin Theatre, just south of Nashville.
"She brought her gynecologist, I brought my lawyer," Wynonna added. The pair also suggested that their therapist was in attendance to take notes. The back-and-forth banter has become as much a part of the multi-platinum-selling duo's act as their long list of No. 1 singles -- many of which were spotlighted on what was the duo's next to last stop on their final tour together.
Among Naomi's early memories of living in the bedroom community of Franklin was younger daughter, Ashley, now a popular Hollywood actress, always doing her homework, while Wynonna often did not. "I played my guitar instead," Wy explained, adding, "I think it worked out pretty good for me." Earlier in an exclusive interview with The Boot, Wy also revealed that she attended multiple screenings of the 'Rocky Horror Picture Show' at the Franklin Theatre, which was built in 1937 and has undergone extensive renovation.
During the first part of the show, the pair treated fans to such hits as 'Girls Night Out,' 'Rockin' With the Rhythm of the Rain' and 'Love Is Alive.' A solo set by Wynonna followed, including her hits 'She Is His Only Need,' 'No One Else on Earth' and rafter-raising versions of Elvis Presley's 'Burning Love' and Foreigner's 'I Want to Know What Love Is.' After a costume change, Naomi rejoined her daughter onstage. Winding down toward the show's inevitable conclusion, both were briefly moved to tears at different points in the performance, in contrast to their giddy, giggly selves at the beginning of the show.
Forced to retire from touring together in 1991, when Naomi was diagnosed with Hepatitis C, the circumstances this time were different. The twosome had documented the Last Encore tour with a hugely successful documentary series on Oprah Winfrey's OWN network, putting their personal struggles -- and their battles with each other -- center stage. All the good-natured jabs were ultimately outshone by their mutual love for the music that brought them into the spotlight in the first place, taking them full-circle as the award-winning duo's tour came to a close.
"Every night it was sort of surreal," Naomi tells The Boot of the tour. "'What year is this? Is this our first year? Then when you step off the stage that's it's the last time you'll ever perform in Florida, like we did the night before last ... I can't even start to wrap my mind around the fact that that's the last time we'll be on stage in that particular area."
Wynonna admits that spending time with her mom on this final tour helped her learn some valuable lessons, including, she says, "just how hard it is to be a mom and how much I've taken for granted. What Mom put up with all those years, with me trying to find my way. My kids are out with me on the road and I've now got the 'paybacks are hell' thing happening. Trying to be a career woman and a mother and a daughter and to be kind. We did five shows in a row, and you're just so beat. We were going through the airport ... dog-tired, and someone comes up to you and says 'We buried our grandfather to one of your songs.' You have to stop your stuff and go, 'Hey, this is privilege.' To not be entitled was huge for me. I was just grateful to be anywhere, having almost died twice this year, looking at my mother, who's healed. I learned not to take things for granted as much."
"We grew up together, and this year we saw each other as women," adds Naomi. "She's in mid-life. She's got teenage kids herself. And the Oprah show, our therapist was there so he was guiding us. We really saw each other in a very deep, new way. I'm very grateful for that."
The Judds final concert together takes place on Oct. 29, in Marksville, La. Wynonna continues on her solo tour and reveals she will begin recording a new album in December, set for release next year.
The Judds' Interview With The Boot
%VIRTUAL-globalVideoEmbed-{"videoIds":"517720806","width":"476","height":"357"}%