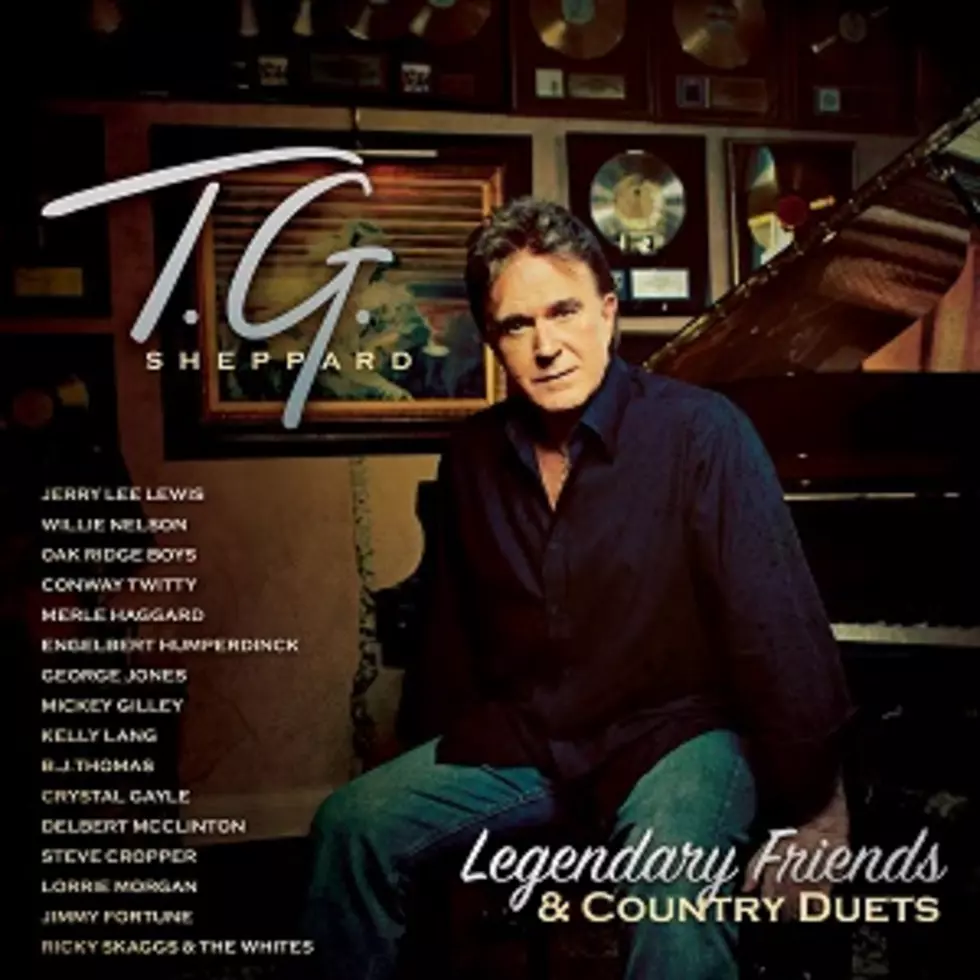 TG Sheppard to Release 'Legendary Friends & Country Duets' Album
Courtesy of Webster & Associates
TG Sheppard is set to release a new duets album featuring a who's who list of country legends.
The 14-song project, Legendary Friends & Country Duets, is set for release on Oct. 30 and features Sheppard's recordings with George Jones, the Oak Ridge Boys, Jerry Lee Lewis, Lorrie Morgan, Ricky Skaggs, Merle Haggard, Engelbert Humperdinck, Willie Nelson, Conway Twitty and more. A full track listing can be seen below.
"In my 40 years of recording music, this album has to be my most favorite I've ever recorded," Sheppard says. "I'm very honored that so many of my personal friends came in to sing, with no questions asked, and gave their all."
Sheppard is releasing the project via the multi-genre Cleopatra Records. The label's general manager, Tim Yasui, says that working with the singer has been a unique experience for the record company.
"As a record company working multiple projects in all genres, it is always special to find an artist and project like what TG Sheppard has brought to Cleopatra Records," Yasui says. "TG is loved within the country music community, and this project proves that his fanbase is much more than just the country music fans -- his fellow artists love him, too. Albums like this come once in a lifetime, and Cleopatra Records is very proud to be involved in this iconic recording."
Legendary Friends & Country Duets is available for pre-order from Amazon.
TG Sheppard, Legendary Friends & Country Duets Track Listing:
1. "Down on My Knees" feat. the Oak Ridge Boys
2. "The Killer" feat. Jerry Lee Lewis
3. "If You Knew" feat. Ricky Skaggs & the Whites
4. "It's a Man Thing" feat. George Jones
5. "100% Chance of Pain" feat. BJ Thomas and Jimmy Fortune
6. "Wine to Remember and Whiskey to Forget" feat. Mickey Gilley
7. "The Next One" feat. Lorrie Morgan
8. "Dead Girl Walking" feat. Kelly Lang
9. "Song Man" feat. Merle Haggard
10. "Why Me Lord" feat. Conway Twitty
11. "In Texas" feat. Willie Nelson
12. "Have You Ever Loved a Woman" feat. Engelbert Humperdinck
13. "I'm Not Going Anywhere" feat. Crystal Gayle
14. "Fifteen Rounds With Jose Cuervo" feat. Delbert McClinton
Top 5 Country Albums of 2015 (So Far)