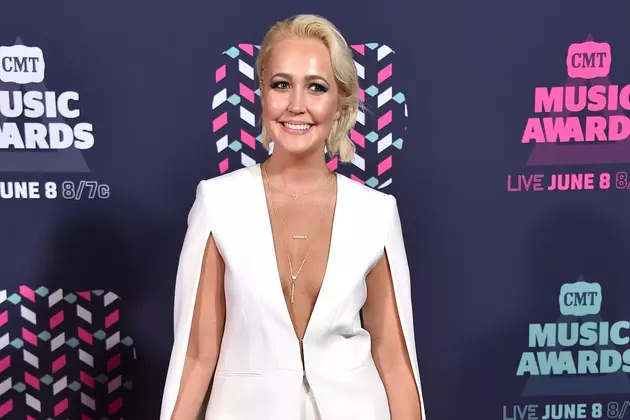 Scott Borchetta, Joshua Scott Jones Speak Out About Meghan Linsey's Sexual Assault Story
Mike Coppola, Getty Images for CMT
On Sunday (Oct. 9), Yahoo reprinted a post from Linsey's private Facebook page, in which the singer says "a very powerful man in the music business" grabbed up her skirt, groped Linsey and tried to pick her up by her behind. After she "told him not to touch me and to put me down," Linsey says, "The next night, he came up behind me and whispered in my ear; he said, 'I have boats bigger than you could ever imagine, and I could put you in the middle of the ocean where no one would ever hear from you again. Just remember that.' He laughed and walked away."
Linsey says that when she called her manager and the head of her label, "They both said if I wanted to have a career in country music then I could never say anything about it out loud, to anyone." She and Steel Magnolia duo partner Joshua Scott Jones were signed to Big Machine Records at the time, and the label's president, Scott Borchetta, says in a statement that Big Machine's Label Group would "never condone, let alone silence an artist on this label who experienced this kind of behavior."
"We have a clear-cut HR protocol for these types of occurrences, and while Meghan never came to me about any such incident, I checked our records and with our staff to see if she'd gone to someone else within the company. There is no record, nor any recollection from me or the staff of the incident she's describing," Borchetta tells Fox News. "Had it come to our attention, we would have certainly acted quickly and decisively on her behalf."
Fox also reached out Jones, who comments, "[Meghan] should really address the FACT that our manager was a woman, who was very instrumental in hushing Meghan about this individual's remarks and talking me out of whipping his a--," and calls the incident "another corrupt power play in a very shady and most often ambiguous business called the music industry."
In her post, Linsey says that she was compelled to finally break her silence after presidential nominee Donald Trump responded to his leaked 2005 lewd comments by dismissing them as "locker room talk."
"THIS is why Donald Trump's comments are so upsetting," the former The Voice runner-up writes. "This is why it's not just 'locker room talk.' Because at the end of the day, it's NOT just talk. This is rape culture, where powerful men sexually assault women and get away with it because of 'who they are.'"
Linsey goes on to admit that she had already planned not to vote for Trump in the 2016 election, but his comments on the audio made her decision much more personal.
Country Stars Sound Off About the 2016 Presidential Election