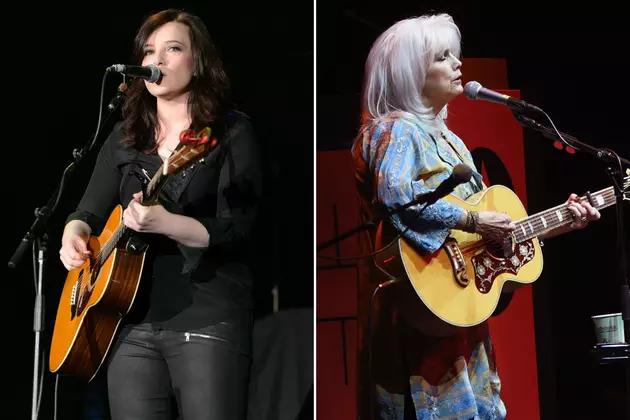 Brandy Clark, Emmylou Harris and More Prep Record Store Day 2016 Releases
Daniel Boczarski / Rick Diamond, Getty Images
The list of special releases coming on Record Store Day 2016 is officially out, and among the plethora of projects are a few that country fans will be interested to get their hands on.
Brandy Clark will be releasing a 7" single, featuring her newest single, "Girl Next Door," on Side A and the song "Homecoming Queen," both performed by Clark and covered by Sheryl Crow, on Side B. The project will be pressed on green vinyl, with a run of 3,000 available.
Additionally, Emmylou Harris will release a deluxe edition of her Wrecking Ball album, pressed on three 180-gram black vinyl discs. In addition to Wrecking Ball's original tracks, which have been remastered, this release will feature several bonus tracks, which were previously unavailable on vinyl. Five thousand copies will be available.
Also set for release are two Johnny Cash LPs -- All Aboard the Blue Train With Johnny Cash and The Best of The Johnny Cash Show -- as well as an Elvis Presley project, I'm Leaving: Elvis Folk-Country. A 7" single from Willie Nelson and Uncle Tupelo, "Truck Drivin' Man," is among the list of special releases as well, and Shawn Colvin and Steve Earle will release a 7" featuring "Wake Up Little Susie" and "Baby's in Black."
Since 2008, music fans have celebrated independently owned record stores on Record Store Day, which takes place in mid-April; the event's official website describes Record Store Day as "a day for the people who make up the world of the record store — the staff, the customers, and the artists — to come together and celebrate the unique culture of a record store and the special role these independently owned stores play in their communities." In addition to the special releases, many participating stores celebrate with performances and other activities.