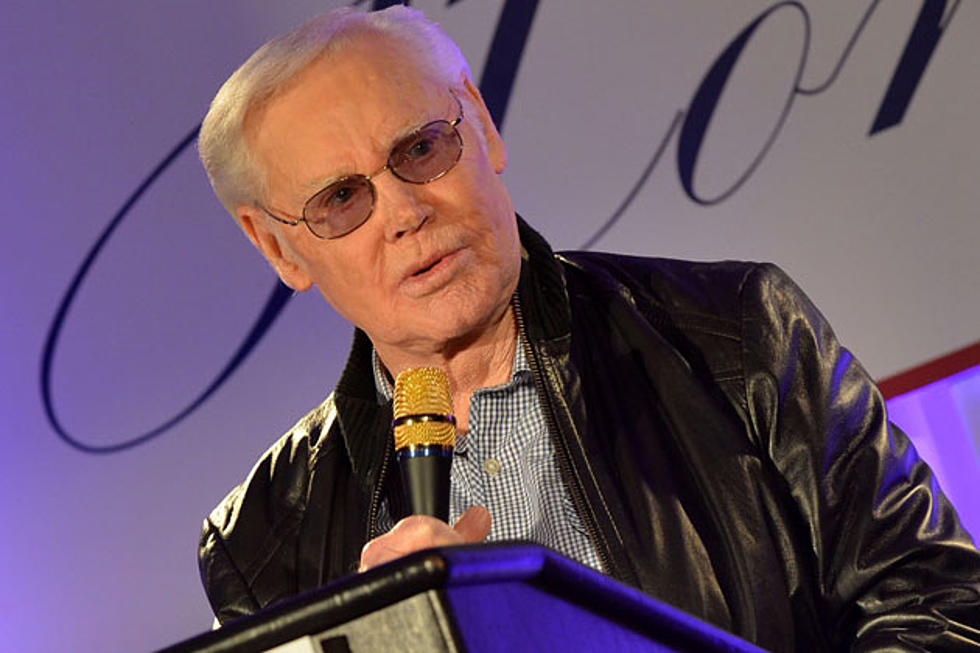 R.I.P. George Jones: Our Look Back at an Unparalleled Career
Rick Diamond, Getty Images
On Friday, April 26, 2013, George Jones passed away at Vanderbilt University Medical Center in Nashville. He was 81 years old. Widely regarded as one of the greatest (if not THE greatest) country singers of all time, no amount of superlatives can properly capture just how influential he has been not just to country music but to American music and popular culture.
Throughout the six decades of his recording career and life in the public eye, there were well-publicized ups and down. His battles with addiction, missed concerts and doomed marriages were among the more headline-grabbing downs but countless awards, honors and the heartfelt tributes that are sure to follow in the days, weeks, months and years to come are proof that the greatness of George Jones the singer cannot be overstated. One listen to his 1980 CMA and Grammy-winning "comeback" hit, "He Stopped Loving Her Today" will silence any and all critics and the tune will forever stand as not only one of the greatest songs of all time, but one of the most impassioned, aching vocals ever committed to record. And as of today, the song will never be heard the same again. As we come to grips with the loss of the man who will forever be known as the Rolls-Royce of country singers, The Boot looks back on the unforgettable life and times of George Jones.
1931: On Sept. 12, George Glenn Jones is born the last of eight children in a log cabin in Saratoga, Texas. At 11, he makes his singing debut, strumming a Gene Autry guitar and playing for tips in front of a Beaumont, Texas penny arcade. He earns $42 -- and spends most of it in the arcade.
1946: George begins performing with Dalton Henderson at radio station KTXJ in Jasper, Texas, 58 miles north of Beaumont.
1950: He is married for the first time, to Dorothy Bonvillion. The couple divorce even before George's first child, Susan, is born. After a five-day stint in jail for failing to pay child support, George joins the Marines.
1953: George returns to Beaumont after leaving the military, and works as a disc jockey at KTRM while continuing to perform at local clubs.
1954: At his first sessions for Starday Records, Jones records two songs he has written: "No Money in This Deal" and "Here in My Heart." Also this year, he marries Princess Drive-In carhop Shirley Corley. They remain married for 14 years and have two sons together. It was wife Shirley who hid all the keys to every car they owned so that Jones couldn't drive himself to the liquor store. She forgot, however, about the lawn mower, which he drove -- at a top speed of five miles per hour -- to accomplish his mission. The incident is later referenced in three country music videos, including Vince Gill's "One More Last Chance."
1956: George Jones becomes "Thumper Jones" (named for the rabbit in Walt Disney's "Bambi") and records rock 'n' roll songs at Gold Star studios in Houston. In spite of his brief -- and decidedly unsuccessful -- foray outside country music, he becomes a Grand Ole Opry member in August of this year.
1957: Following several Top 10 hits, including "Why Baby Why" and "Just One More," George is signed to Mercury Records. He records with his first duet parter, Jeanette Hicks. Duets with Margie Singleton will also be released on the label.
1958: After playing a prison show, George pens "Life to Go." The following year it becomes a huge hit for Stonewall Jackson and is also recorded by Webb Pierce.
1959: In March, "White Lightning," recorded at Owen Bradley's Quonset Hut studio in Nashville is released. It spends five weeks at No. 1. Highly intoxicated during the session, George says later that 83 takes were required to complete the recording.
1962: "She Thinks I Still Care" becomes his third No. 1 single. At a Gary, Ind., motel, tour mates Johnny Cash and Merle Kilgore watch as George destroys nearly everything in the room.
1963: Now signed to United Artists, George records the No. 3 hit, "We Must Have Been Out of Our Minds," with Melba Montgomery. The pair will go on to record several songs together.
1964: The only country act at a rock show in Austin, George's amp is borrowed -- and destoyed -- by a "scraggly group ... in need of baths" on the bill. The band's lead singer, Rolling Stones' singer Mick Jagger, reluctantly pays for the damage.
1965: Now signed to Musicor, George records duets on the label with pop star Gene Pitney. He also records one of his best-loved hits, "Love Bug," a Top 10 hit in 1994 for George Strait. In November, George is the primary suspect in the strangulation death of a 25-year-old Texas secretary. He and 11 members of his band and crew are cleared after polygraph tests.
1967: "Walk Through This World With Me" spends two weeks at No. 1, his last solo chart-topper until 1974. George opens a 500-set nightclub, Possum Holler, on Nashville's lower Broadway.
1969: On Feb. 19, George marries Tammy Wynette. They would record several duets together, becoming known as Mr. & Mrs. Country Music and the President and the First Lady. The couple would own commercial and residential real estate together, including a mobile home park called Tammy's Courts.
1970: Tamala Georgette Jones, the only child of George and Tammy is born.
1971: Signed to Epic Records, George scores his first hit for the label, "Take Me," a duet with Tammy Wynette.
1973: George and Tammy record We're Gonna Hold On, " their first of three No. 1 songs together.
1974: "The Grand Tour" reaches No. 1. Later in the year, George releases another No. 1 hit, "The Door." He won't have another No. 1 solo hit until 1980.
1975: On March 21, the tumultuous marriage of George and Tammy comes to an end as their divorce is finalized.
1976: In spite of their split, "Near You," with Tammy Wynette, is released and duplicates the No. 1 success of their previous duet, "Golden Ring."
1977: Ensnared by his out-of-control booze and cocaine use, but still in high demand and earning critical raves, George is booked to play two shows at New York City's Bottom Line, with a who's-who of celebrities in attendance. He blows off both. Hence begins the use of the nickname "No Show Jones."
1978: George records "Bartender's Blues," penned, and featuring harmony vocals, by James Taylor. In 1994, he records the song with Trisha Yearwood. He first meets her in the late '80s when the pair sing the song together at a free concert for visitors to his gift shop near Nashville's Music Row.
1979: The Possum's latest duet partner is outlaw country singer Johnny Paycheck. They score a Top 10 hit with rocker Chuck Berry's "Maybellene." On Dec. 11, he is taken against his will to a hospital in Alabama
1980: George records what will become his signature song, "He Stopped Loving Her Today." In addition to being inducted into the Grammy Hall of Fame, the song will earn CMA Single and Song of the Year honors and places among Rolling Stone's 500 Greatest Songs of All Time. It has often been called the greatest country song of all time.
1981: A made-for-TV movie based on Tammy's autobiography airs, starring Tim McIntire as George, shown shooting up the couple's Florida mansion. He later denies the incident ever happened. In November, he meets Nancy Sepulvado, the future Mrs. Geoge Jones and the woman he widely credits with his eventual sobriety. They marry in 1983.
1982: George records the No. 1 hit, "Yesterday's Wine" with Merle Haggard. A year later, George will record with the legendary Ray Charles.
1983: "I Always Get Lucky With You," becomes George's final No. 1 song during his lifetime.
1988: George records "If I Could Bottle This Up," with 19-year-old Shelby Lynne.
1989: The last solo Top 10 in his lifetime, "I'm a One Woman Man" reaches No. 5.
1990: Randy Travis and George reach the Top 10 with "A Few Old Country Boys."
1991: George signs with MCA Records
1995: George Jones and Tammy Wynette reunite for the album, One, and embark on a tour together.
1997: Patty Loveless is joined by Jones on the Jim Lauderdale-penned "You Don't Seem to Miss Me." It wins the CMA Vocal Event of the Year award.
1999: "Choices" is released and wins a Grammy. Also nominated for a CMA award, Jones was informed he would have to perform a truncated version of the tune. He refused. Watching from home, George cheered as Alan Jackson interrupted his own performance and broke into "Choices," then abruptly walked offstage.
2000: "A Country Boy Can Survive (Y2K Version)" is a Top 30 hit for George with Chad Brock and Hank Williams Jr. Jones will score two more Top 30 hits in his lifetime: "Beer Run" (with Garth Brooks) in 2001 and "4th of July" with Shooter Jennings in 2005.
2011: The last chart of his lifetime, "Country Boy," with Aaron Lewis, reaches No. 50 and is the 168th chart appearance by George Jones.
2012: The legend announces his farewell tour, with plans to finally retire from the road after an unparalleled career.