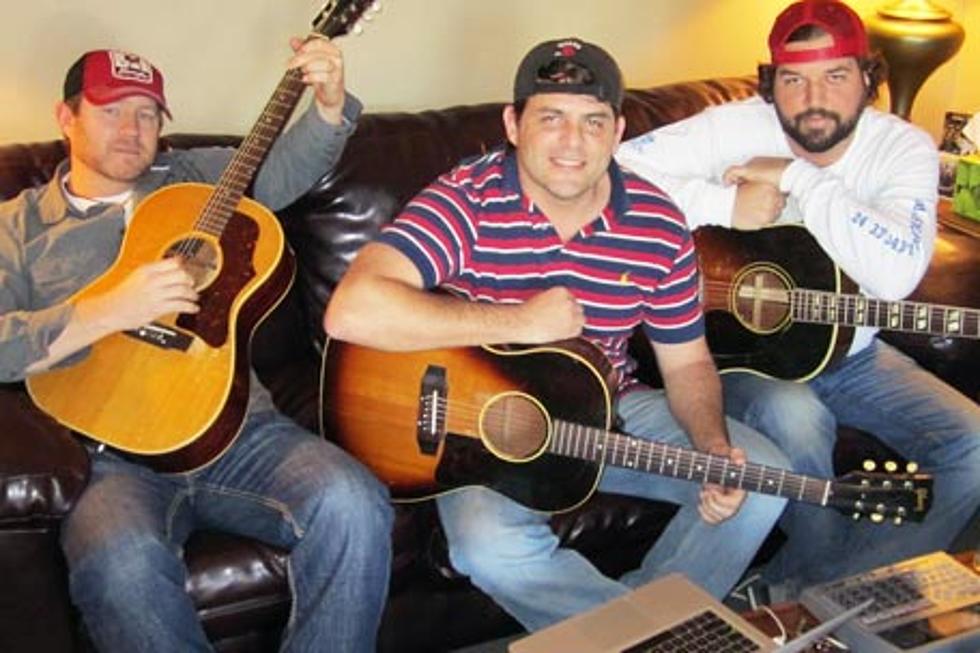 Peach Pickers — Behind the Spotlight
Alanna Conaway
Alanna Conaway
Fifteen years ago, Rhett Akins was a new star on the rise in country music, blazing up the charts with hits like 'That Ain't My Truck,' 'She Said Yes' and 'Don't Get Me Started.' Six albums later, he is now sharing the wealth with other artists -- concentrating more on songwriting than recording. And he's found that songwriting success comes easier with a little help from his friends.
Rhett frequently writes with buddies Ben Hayslip (pictured left) and Dallas Davidson (pictured right), two of the most celebrated tunesmiths in Nashville. In fact, the three write together so often that they've formed their own songwriting "band," the Peach Pickers (aptly named, as they all hail from the state of Georgia).
The Peach Pickers are responsible for some of country's biggest hits over recent years, including Blake Shelton's 'All About Tonight,' Josh Turner's 'All Over Me,' Jack Ingram's 'Barefoot and Crazy,' Brooks & Dunn's 'Put a Girl in It,' as well as Joe Nichols' 'Gimme That Girl' and 'The Shape I'm In.' They also have their fair share of individual writing success. Dallas penned Billy Currington's 'That's How Country Boys Roll,' Brad Paisley's duet with Keith Urban, 'Start a Band,' and Luke Bryan's 'Rain Is a Good Thing', while Ben and Rhett take credit for Rodney Atkins' 'Farmer's Daughter.'
The Peach Pickers' road to success began in Valdosta, Ga., where Rhett and Ben met while playing high school sports. "Ben and I immediately became good friends and would write songs out in the outfield, in the dugout or in the van on the way to the games," Rhett tells The Boot.
"The first real song I ever wrote and put down on tape to hear was with Rhett in ninth grade," Ben recalls with a smile. "It was a half-rap, half-I-don't-know-what-it-was! [laughs]"
The following year, Ben moved to Augusta, Ga., but the two kept in touch and continued to write. "I loved writing songs," Ben says. "I started having thoughts about getting into the music business as a writer, but I didn't know how you went about it. I just knew I'd like to do it."
When Rhett made the move from Valdosta to Nashville to pursue a career in country music, Ben knew that was his chance to do the same. The situation was similair for Dallas, who followed in the footsteps of his roommate -- another Georgia boy wanting a career as a country music singer -- Luke Bryan.
"I used to ride around all the time and make up stuff on a tractor while I was bored out of my mind," Dallas says. "I didn't know what I was doing until I learned how to play guitar. When I started learning these chords -- which I was obsessed with and it was all I did -- I started singing stuff. I was like, 'What in the hell am I doing?'"
After Dallas helped Luke settle in Nashville, he realized it was a town full of endless opportunity. "I called Luke and explained to him what I was up to," Dallas says. "I moved to Nashville just to be in the music business because I love music, and it was then I realized I could actually write some songs."
While Dallas turned to Luke for guidance in the music business, Ben did the same with Rhett, who was touring with the likes of Reba McEntire, John Michael Montgomery, Tracy Byrd, Toby Keith, Tracy Lawrence, Joe Diffie and Neal McCoy, promoting his debut album, 'A Thousand Memories.'
"When Rhett would go out on the road, I'd go with him a lot," Ben recalls. "Rhett introduced me to a lot of people in town. I didn't know what you do once you come to Nashville."
"Ben definitely did it on his own," Rhett adds. "I was maybe one of the sparks that made him think he could move up here, because I was somebody who he knew, but I was too busy to do anything."
It wasn't until 2004 when Rhett met Dallas in a co-writing session with Jon Stone. 'Kiss My Country Ass,' which both Rhett and Blake Shelton went on to record, wasn't the only product of the meeting. "I knew after that day that Dallas was somebody I wanted to continue to write with on a regular basis," Rhett explains.
A few years later, Rhett decided to bring Dallas in on one of his writing sessions with Ben to see how the chemistry was between two of his favorite writers. "We really liked it," Rhett says. "We were like, 'We need to keep doing this!'"
"When we would get together, we had a good feeling that something good was going to happen that day," says Ben, who scored 29 cuts in 2009. "That's big in writing. When you go to work, you want to think that you have a fighting chance. The three of us together increases our odds of being successful."
After Rhett released his fifth studio album in 2007, 'People Like Me,' he decided to shift his creative goals more toward songwriting with Ben and Dallas. "I was at this point where I was just frustrated and tired of being on the road all the time, visiting radio stations and doing everything you have to do," Rhett explains. "I wasn't sure that I wanted to play that whole record label-radio game anymore, but I still loved music and I wanted to create music."
Since he was already a writer for EMI Music publishing company, Rhett talked with song-plugger Ben Vaughn and publisher Gary Overton (who now is the CEO of Sony Music Nashville), and explained his new set of career goals to be a full-time songwriter. "I told both of them that I would write every single day and bust my butt to be the best songwriter they had," he recalls.
With his focus now on writing, Rhett began writing with Dallas and Ben every Wednesday. The trio quickly created a buzz in Nashville, and publishers, labels, managers and artists were anxiously awaiting to hear what song they would crank out next. Their publishing companies decided to compile a demo CD with a handful of their latest tunes and have a Georgia-themed 'Peach Pickers Party' to promote it. The party was a hit, as were the songs on the album. It was then that Rhett, Dallas and Ben became known around town as the Peach Pickers.
The Peach Pickers start their weekly writing appointment by sipping on coffee while looking at the music charts, as well as funny YouTube videos to get their creative juices flowing. "There's very little pressure," Ben says. "We can sit there and B.S. for two hours, but we still feel like we're going to write a song that day. If you do that with somebody else, you're like, 'This day's screwed!'"
Alanna Conaway
"We kind of go in spurts," Rhett interjects. "For 15 to 20 minutes, we'll be flowing hard. Then the phone will ring or somebody's got to do something, but then we get back on it. We're confident that no matter how long we're here writing, we're going to get it. Some people you write with, you feel like you've got to stay on it the whole time; you can't talk, you can't joke, you can't do anything, because if you do, the song's going to fall apart. With us, it's not like that. And even if we don't finish it that day, we know we're going to finish it the next Wednesday."
"Some days we knock out two songs, and some days we ain't feeling it," Dallas says. "Our writing appointments are as laid back as a songwriting appointment can get, but as productive as one can be as well."
While Rhett now considers himself a full-time songwriter, he still manages to play around 50 shows per year. He also just released a new album on Warner Bros. Records with Dallas, titled 'Bone Collector: The Brotherhood Album,' which is filled with tunes based around their other love, hunting.
"Everything has really worked out," Rhett says of his career shift from artist to songwriter. "At first I was nervous about it, because I thought if my name was on a song, somebody wouldn't want to record it because they'd be thinking, 'Why isn't Rhett putting this on his album?' I wanted to change my name to Thomas Kasey, which are my kids' names. [laughs] Now, that we've had all these songs, people consider me both an artist and a songwriter, but they've accepted the fact that I'm a full-time songwriter, too."
2011 is already shaping up to be another solid year for the Peach Pickers, as they collectively have cuts by Martina McBride, Heidi Newfield, Frankie Ballard, Justin Moore, Craig Morgan, Tim McGraw, Blake Shelton, Billy Currington, Chris Young, Ashton Sheppard and Hank Williams Jr., just to name a few. The Peach Pickers' are currently just outside the Top 20 with Joe Nichols' latest single, 'The Shape I'm In.'