Nash Bash: Lady Antebellum, Justin Moore, Brantley Gilbert & Gary Allan Rock New York City
Taylor Hill, FilmMagic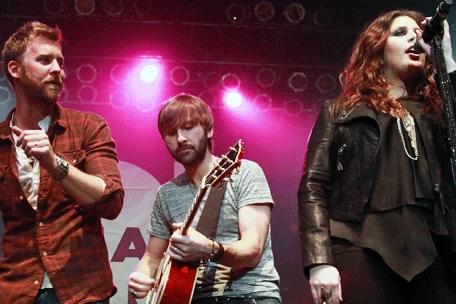 Taylor Hill, FilmMagic
Country was loud and proud Tuesday night (Feb. 19) at New York City's Roseland Ballroom, where a packed crowd came out to celebrate night two of Nash FM 94.7's "Nash Bash" three-day concert event.
Host Kix Brooks started the night by calling the return of country radio to the Big Apple after a 17-year hiatus "long overdue," and instantly got the crowd going with acoustic versions of Brooks & Dunn classics, including "Red Dirt Road," and hits of his own such as the brand-new "Moonshine Road."
Kix then introduced the first performers of the night, using his notoriously dry sense of humor to draw laughter from the crowd. "They're amazingly talented," he said. "One guy is apparently very tall. They're my very special friends. I have no idea what this name means, but it's Lady Antebellum!"
The "very tall" singer, Charles Kelley, shared his excitement to be there as soon as the group stepped on stage. "It's about damn time we had a country radio station here!" he exclaimed, before Lady A appropriately began their set with "We Owned the Night."
The group then sang their very first Grammy winning hit, "I Run to You," followed by new material from their upcoming album, Golden, including their new song, "Downtown." "I don't think there's a more perfect place to sing this song because everyone likes to go downtown in New York City," Lady A's Hillary Scott said.
The track gives a glimpse of what types of songs fans can expect from the superstar trio's next album, due in stores May 7. "This record is a lot more uptempo and fun," Charles revealed.
And also sweet. The group then performed the title track, "Golden," which has swoon-worthy lyrics, like "Even when you're miles away, you're always on my mind. I don't want to miss another perfect moment to tell you how you make me feel ... My heart was stolen."
The group ended with "Looking For a Good Time" and "Need You Now," as Hillary shared her support for the radio station. "Nash FM is an amazing radio station that we hope will be here for a long, long time!"
Taylor Hill, WireImage
Justin Moore, who took the stage next, didn't seem worried that the new station would disappear any time soon.
"I promise you there's rednecks everywhere," he laughed. "This is to all the country girls in New York." He then went into "That's How I Got To Be This Way," "Til My Last Day" and "Hank It" before dedicating his emotional hit, "If Heaven Wasn't So Far Away," to his late grandfather. "He was my hero, he's watching me in heaven," Justin said to the crowd, as bright cellphone lights swayed to the song.
The Arkansas native picked up the momentum with "Bait a Hook" and "Small Town USA," which he set up with the question, "How many people from NYC tonight are proud to be from small town USA?" His answer came via loud screaming and claps.
Kix was excited to introduce the next performer on stage, Brantley Gilbert, who he said "has a motorcycle in his bedroom!"
Brantley seemed amazed by Manhattan's large country audience. "We got any rednecks in here tonight?" he asked, which was answered loudly. "By God, in New York City? I never would have dreamed in a million years."
Calling the night his "kind of party," Brantley performed "Country Must Be Country Wide" and "My Kinda Party" before singing "You Don't Know Her Like I Do," which he said he wrote about a relationship that was falling apart and "an ex-girlfriend of mine, she's a total raging ... sweetheart."
Brantley then sang "Dirt Road Anthem," which he co-wrote for fellow Georgia native Jason Aldean, and finished with "Kick It in the Sticks," complimenting the rowdy crowd and saying he can't wait to perform in New York again.
"Thank god for Nash [FM]," he said. "Y'all needed it!"
Taylor Hill, FilmMagic
Besides rowdiness, love also seemed to be in the air at the Ballroom -- before Gary Allan took the stage, concert-goers witnessed a couple getting engaged, right by the stage.
A few minutes later, the attention went back to the performers, as Allan crooned the crowd with his hits such as "Watching Airplanes," "Nothing On But the Radio" and "Smoke Rings in the Dark."
"''Bout time you got a country station out here, right?" asked the California native, echoing the other singers' excitement.
Gary then closed out the night with a few more songs, including a touching song he wrote, "No Regrets," for his late wife, who committed suicide in 2004.
Although Gary was in Disney World in Orlando, Fla., earlier in the day, performing on "Live With Kelly and Michael," he seemed to show no hint of exhaustion, singing more songs including "She's So California," "Every Storm Runs Out of Rain" and ending with "Right Where I Need to Be."