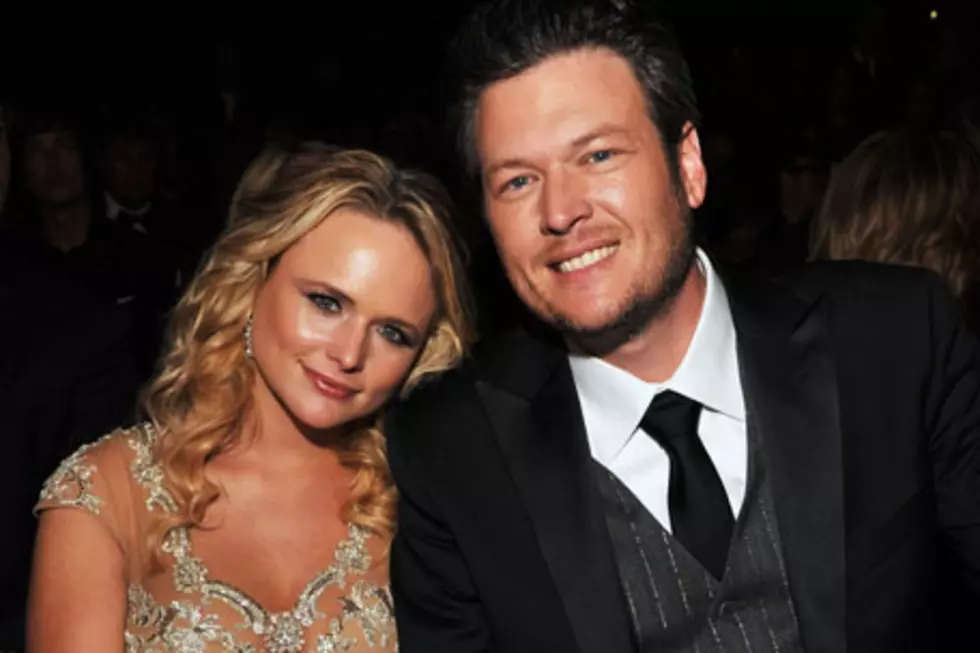 Miranda Lambert, USA Weekend Interview: Songstress Talks Blake, Babies & Tattoos
Lester Cohen, WireImage
Ever since Miranda Lambert walked down the aisle with Blake Shelton last May, they have been getting one question more than most: when are you going to have babies? Well, the songstress has an answer ... kind of. The couple plan to wait for at least two more years before they even talk about the possibility of a little Blake (or Blakette), Jr.
"I'm still selfish and want to be with my husband," Miranda tells USA Weekend. "I don't want to give anything up. When I'm 30, we'll sit down and have a conversation."
In addition to having quality time with her spouse, the Texas native has quite a career bucket list to check off. "I want to win album of the year," she admits. "I'd love to write song of the year and the song in a movie, not just a random song on a soundtrack."
That latter comment could be directed at "The Hunger Games" film. Her song, "Run Daddy Run," which features her trio, the Pistol Annies, appeared on the soundtrack for the blockbuster, but was not heard in the theatrical release.
"I have a little Katniss in me," Miranda says, comparing herself to the story's heroine, who is thrust into a literal fight for her life. "I'm strong-willed, and I don't like the word 'no.' ... I'd do all right in those games. I have survival skills."
Despite her tough-girl demeanor, Miranda admits to being rather "girly" as well. She cries, she likes pink and she was raised in a good "Christian home on a farm." So, while her songs about battered women are based on things she's heard rather than experienced, other lines are born from her life.
For instance, in "Heart Like Mine" when she sings, "Daddy cried when he saw my tattoo / Said he loved me anyway," she could be channeling the experience she had after inking her left forearm with two entwined revolvers and angel wings.
"I got it when I was 22 on tour with George Strait," the singer explains of her tattoo. "It's the first thing I ever did without asking my parents. My dad didn't speak to me for a week."
While Miranda is quite sure of who she is, she does realize that she's changed since becoming Mrs. Blake Shelton. "Marriage has changed me in a good way," she says. "I feel settled. I used to be a crazy girl with this rocking career. Now I'm a wife and have to make sure I take care of a husband. But I would never just stay home."
The pair have technically been married for just over a year, but Miranda says it's been more like "four months," because that's all the time they've really had together. And, she thinks the distance helps.
"We text a lot," Miranda explains. "Our marriage works because we have other stuff going on. I've learned that if you're someone's world or someone's your world, eventually it will explode."
Marriage itself isn't the only thing that has helped the 28-year-old grow, her husband -- whose known for his humorous antics as a coach on NBC's "The Voice" -- has made his mark as well.
"He's taught me to not take myself so seriously," she says. "I would never laugh, and I had no sense of humor. I had to work all the time. He made me have fun. ... I've taught him how to really love. I don't think he ever did before our relationship."
Before tying the knot, the pair dated on and off for nearly six years, and not all of them were good. "Blake was married when I met him," Miranda recalls. "I went through his divorce with him, trying to be a shoulder. Breaking up, getting back together, spending two months apart - that's hard. I hope I don't ever have to have my heart broken bad again."
Read the full USA Weekend article here.
See Miranda Talk About Blake on the ACM Red Carpet
#fivemin-widget-blogsmith-image-859809{display:none;} .cke_show_borders #fivemin-widget-blogsmith-image-859809, #postcontentcontainer #fivemin-widget-blogsmith-image-859809{width:570px;height:411px;display:block;}

try{document.getElementById("fivemin-widget-blogsmith-image-859809").style.display="none";}catch(e){}
Watch Miranda Lambert's 'Over You' Video