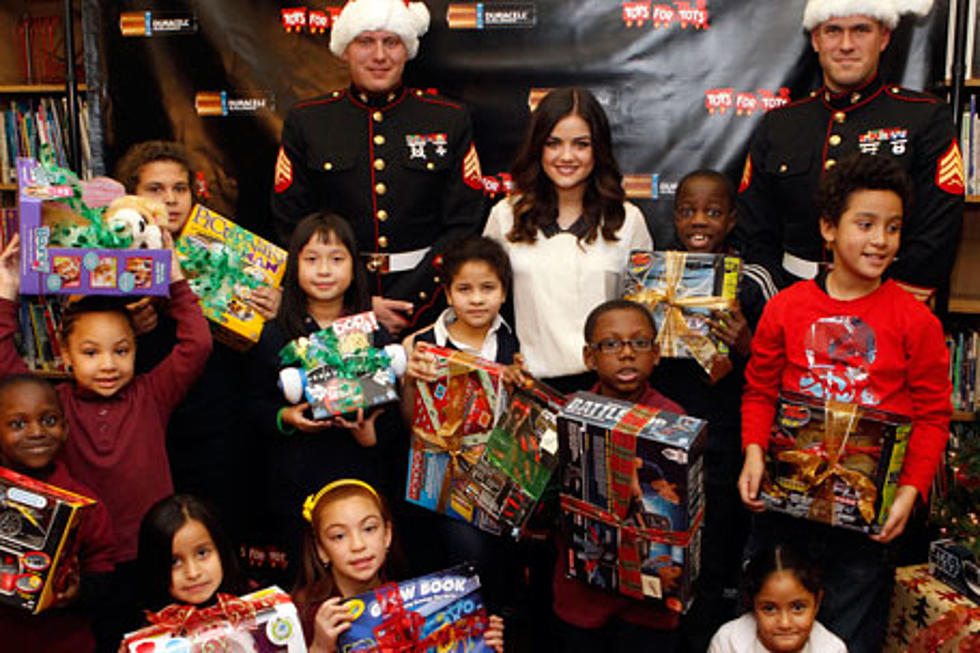 Lucy Hale, Duracell Help Power Up Toys for Tots
Jason DeCrow for Duracell
Looking back on her years growing up in Memphis, Tenn., Lucy Hale is grateful she had presents under the tree every Dec. 25. Her wonderful holiday memories also serve as a reminder of an important lesson she learned from her parents this time of year.
"I was always blessed with toys growing up, but I was surrounded by people who couldn't always afford things," the actress-singer tells The Boot. "My mom and dad would always participate in the Angel Tree program; they'd pick a kid and buy toys to give the kid at Christmas."
The "Pretty Little Liars" star continues her family holiday tradition of giving back by teaming up with Duracell batteries for the Duracell Power Holiday Smiles program. Through a sweepstakes on its Facebook page, the campaign is donating batteries to Toys for Tots.
"It was one of those things that I heard about and was like, 'I absolutely have to be a part of it!'" Lucy says of the charitable program. "It's so wonderful. I love the holiday spirit and having a chance to give back and inspire people."
Fans who help the Power Holiday Smiles campaign may be in for some good karma. When you 'like' this Facebook page, a battery will be donated to Toys for Tots and you'll be entered to win a toy of your own. Duracell is giving away hundreds of the hottest holiday toys, every day through Dec. 20.
Up next for Lucy is her first country music album. The 23-year-old star tells The Boot she is currently narrowing down songs for the project, many of them co-writes with Sugarland's Kristian Bush.
"We have a lot of songs that were driven by influences like Shania Twain, Martina McBride," she reveals. "Those are people I grew up with. In fact, Kristian and I wrote a song that straight up sounds like it should've been on a Shania Twain record."
Lucy will head to Nashville next month to record the album and plans to have her first single hit country radio in the spring.
Watch Lucy Kick Off Power Holiday Smiles
Watch '20 Questions With Lucy Hale