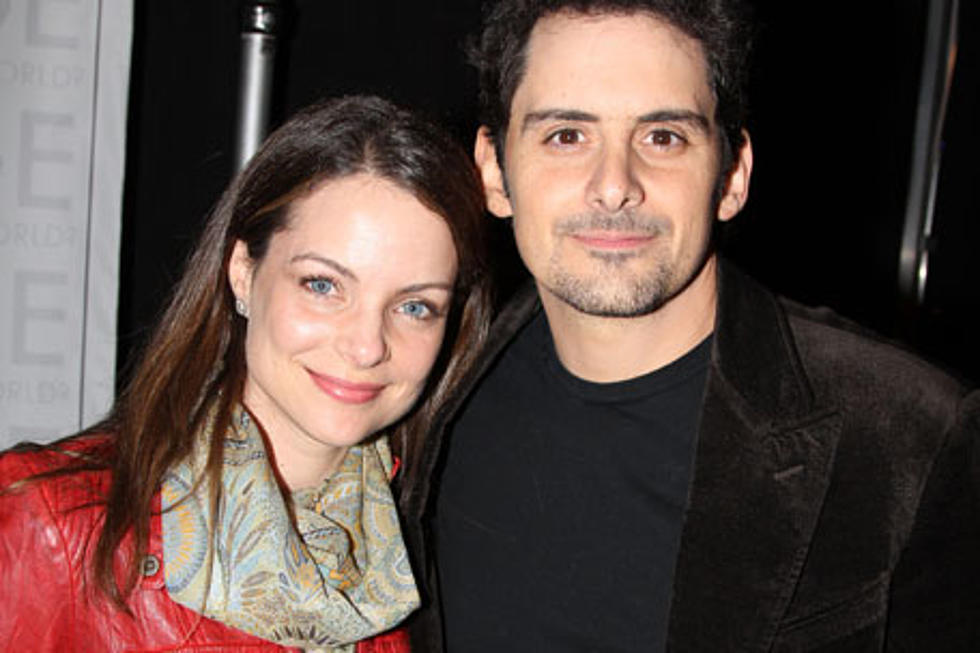 Live Beyond … Thirst Movement Draws Hands-On Support From Paisley Family
Bruce Glikas, FilmMagic
Bruce Glikas, FilmMagic
Brad Paisley and his wife, actress Kimberly Williams-Paisley, are partnering with a relief organization, Live Beyond ... Thirst, to provide clean water to the residents of Haiti. The organization was founded by Dr. David Vanderpool and his wife after the devastating earthquake in 2010. It drew the attention of the "Nashville" actress thanks to the Paisley's good friend, Olympic gold medalist Scott Hamilton, and his wife Tracie, who also support the worthwhile cause. Kimberly visited the impoverished country and quickly realized how desperate so many families were for basic needs that Americans tend to take for granted.
"I didn't want to go and be a tourist," Kimberly explains to Nashville's Tennessean newspaper. "I wanted to go and get my hands dirty. They set up clinics and I was put right into the scabies clinic, so I got a crash course in how to diagnose heat rash, scabies, ringworm. Having these people's feet in my lap, feet that you can tell have never been cared for, I would just wash their feet or apply cream and a Band-Aid. It was such a profoundly life-changing experience, to be able to show love to someone that just couldn't believe that we would be there."
While her husband is now fully supportive of the endeavor, Brad admits he was a bit skeptical of the trip at first. "My original thought was, 'Can't we find a problem in this state to fix?'" admits the country star. "She said, 'Of course, but I think we could really help these people. I want to go. I need this.' My wife, to her credit, is the kind of person that goes and looks for ways to help this world. Everything I know about that, I learned from her. It's amazing to see."
It wasn't long before the mother of two realized how severe the living conditions were in several of Haiti's remote villages, as she watched parents give their children water so tainted with sewage that it resembled cola. "What was so incredible to me was to see the love between a mother and child that I so relate to, and then to see the circumstances that they are living in," she explains. "These parents love their children as much as I love my children. It seems like a simple thing to say, but it just hit really hard. I just didn't know that they don't have other options. They don't have a car. They can't travel but to walk. They don't have an education. It's just a totally different situation that they're in."
The Paisleys made a sizable donation to the organization, and while they refuse to disclose the amount, their generosity was substantial enough to move Dr. Vanderpool to tears. "What Brad did is huge," he notes. "It's an amazing legacy. You look at that. And I know he doesn't have any idea of the impact."
Brad, who plans to visit Haiti with his wife in 2013, hopes their actions inspire others to dig deep into their pockets as well. "This is the time of year when people get back around to thinking about others," Brad says. "It's what happens to me. I'm busy with tours and then here we are -- it's Christmas in Nashville. It's time to do some charity. We ask ourselves, 'Who can we feed?' We have the means in Nashville to fix that entire region as far as water goes and not even feel it. Nashville is a very giving place and these are good people. If [Nashville] just knew about [the dire circumstances] and could just see it, they'd be like, 'We're going to take this and we're going to make it better.'"
To donate to Live Beyond ... Thirst, click here.
Brad recently released "Southern Comfort Zone," the debut single from his upcoming album. The singer traveled the globe to film the unique video. Watch it below.