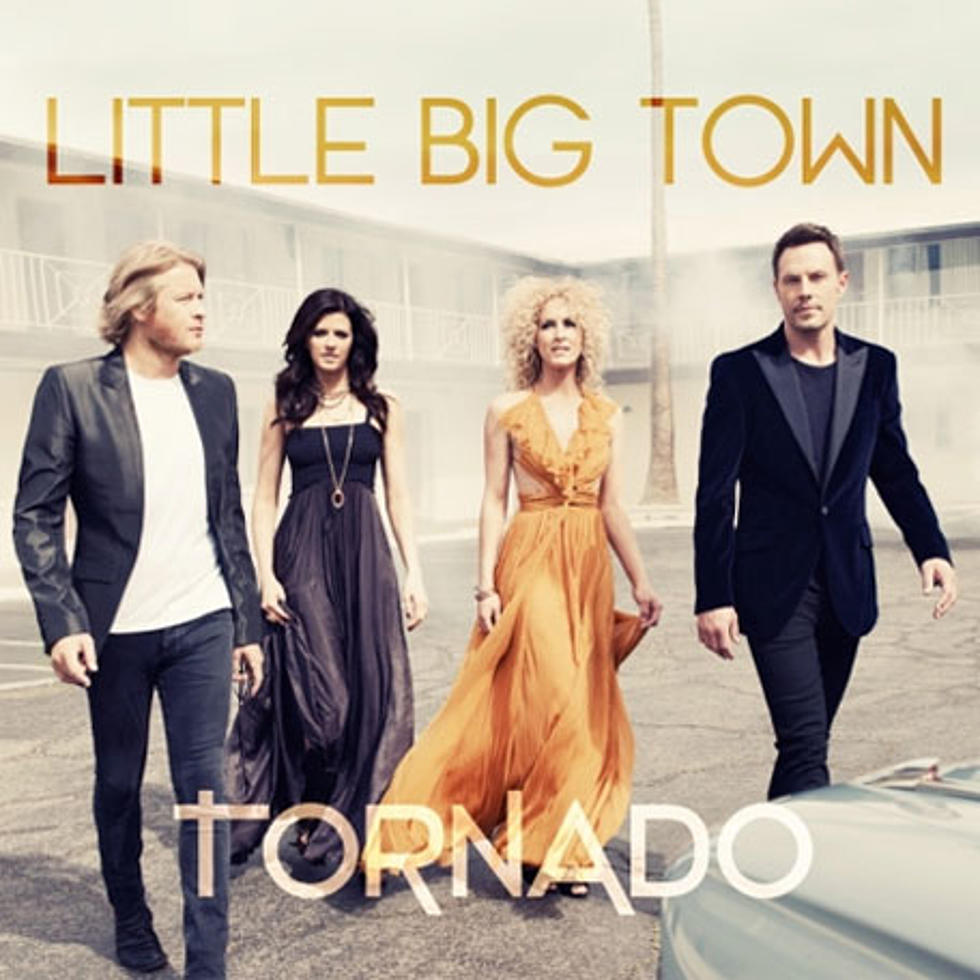 Little Big Town, 'Tornado' Release Date, Cover Art Revealed
Capitol Records
Little Big Town's fifth studio album, Tornado, will hit stores September 11. The project features the country quartet's fastest-rising and fastest-selling single of their career, "Pontoon," which is widely hailed as the song of the summer.
The 11-track album was produced by Jay Joyce, whose long resume includes records by Eric Church and the Wallflowers. "I am so excited for people to hear this new record," says LBT's Jimi Westbrook. "Jay really pushed us to be in the moment. There was such an amazing energy between all of us in the studio and I think you can feel it."
Watch the video for "Pontoon" below, followed by the full Tornado track list.
Watch Little Big Town's 'Pontoon' Video
if(typeof AOLVP_cfg==='undefined')AOLVP_cfg=[];AOLVP_cfg.push({id:'AOLVP_1656913638001','codever':0.1,'autoload':false,'autoplay':false,'displaymnads':true,'playerid':'89761511001','videoid':'1656913638001','width':476,'height':357,'playertype':'inline','stillurl':'dynamic','videolink':'#','videotitle':'dynamic','videodesc':''});
Tornado Track List & Songwriting Credits:
1. "Pavement Ends"

Jason Saenz/Brent Cobb
2. "Pontoon"

Barry Dean/Natalie Hemby/Luke Laird
3. "Sober"

Liz Rose/Hillary Lindsey/Lori McKenna
4. "Front Porch Thing"

Chris Stapleton/Adam Hood
5. "On Your Side of the Bed"

Lori McKenna/Karen Fairchild/Jimi Westbrook/Kimberly Schlapman/Phillip Sweet
6. "Leavin' in Your Eyes"

Brett Warren/Brad Warren/Jay Joyce/J.Westbrook/K.Fairchild/K.Schlapman
7. "Tornado"

Natalie Hemby/Delta Made
8. "On Fire Tonight"

Luke Laird/P.Sweet/J.Westbrook/K.Fairchild/K.Schlapman
9. "Can't Go Back"

Natalie Hemby/Kate York/Rosi Golan
10. "Self Made"

Natalie Hemby/Jedd Hughes/J.Westbrook/K.Fairchild
11. "Night Owl"

Natalie Hemby/J.Westbrook/K.Fairchild/K.Schlapman/P.Sweet