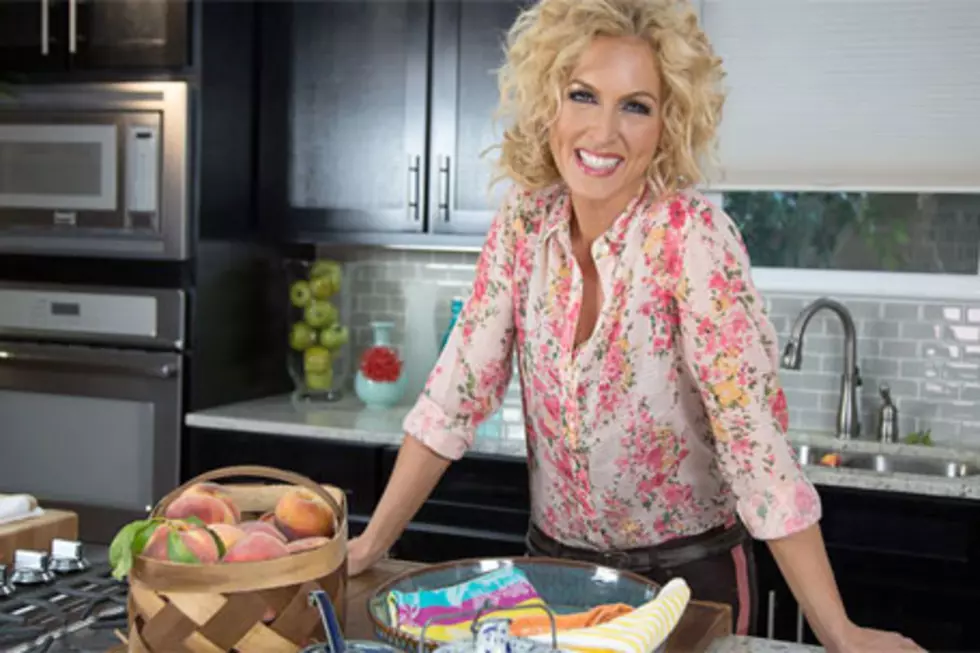 Little Big Town's Kimberly Schlapman Has 'Simply Southern' Treat for GAC Viewers
Becky Fluke
Little Big Town's Kimberly Schlapman steps off the concert stage and into a very different spotlight, trading her microphone for a spatula in the new GAC series, "Kimberly's Simply Southern." The show gives the singer a chance to share her culinary skills and also highlights some of the side trips Kimberly has made around the country while on tour with her Little Big Town band mates to learn more about local cuisine.
In the middle of preparing a Thanksgiving feast for an episode that will air later this fall, Kimberly invited The Boot into the kitchen to watch her prepare some uniquely southern gastronomic delights, including sauteed Brussels sprouts with pistachios along with buttermilk, garlic and chive mashed potatoes. During this episode, Kimberly was joined by fellow Southerner Meghan Linsey of Steel Magnolia, who helped her prepare a delicious, fruity dessert surprise. Other guests who drop by -- and are put right to work -- include Kimberly's bandmates, Karen Fairchild, Jimi Westbrook and Phillip Sweet, along with Lauren Alaina, Laura Bell Bundy, Holly Williams and Kimberly's 5-year-old daughter, Daisy Pearl. Although the prospect of having a TV crew in the kitchen with her naturally made Kimberly a little nervous at first, she's become much more at ease with the dozen or so people hovering around and capturing all the action for TV.
"It's different than being on stage," Kimberly tells The Boot. "I'm used to people looking at me. I'm not used to people watching me as intently as they are to make sure I'm not making a mistake! [At home], there might be a dozen people watching me cook, we're chatting and having a great time and I never notice it. But in here, the cameras are rolling, the food stylist is looking to make sure everything is looking perfect and the culinary producer is making sure I'm following every single ingredient."
In addition to the various offstage adventures featured on the show, Kimberly says she's learning a lot about cooking and taking that knowledge back to her kitchen. "It's like I'm going to culinary school in a way," she notes.
Unique experiences that fans will share with her on the show include hopping aboard a lobster boat in Maine. She's now something of an expert in lobster trapping, knowing which ones are "keepers" and how to easily identify the reproducing females during a catch. She also visits a Wisconsin chicken farm to learn how to "candle" eggs, gets a course in Hatch chiles at a New Mexican restaurant near Nashville and puts a "grown-up" spin on the ever-popular grilled cheese sandwich.
Although, as the show's title suggests, Kimberly concentrates on southern dishes, she often finds ways to reduce fat and calorie content without sacrificing their appeal.
"I do things that I call 'skinny southern,'" she explains. "They're southern foods but I try to make a healthier version ... as healthy as we can get them but they still taste great."
The Georgia native also adapts some of her favorite family recipes by adding ingredients she may never have tried before, noting that she likes to challenge herself at home as well.
"I'll try anything," she says. "I cook mainly southern food because that's what I grew up watching. I asked my husband for a pasta maker last Christmas because I really wanted to make homemade pasta. I've done it a few times and it is quite a chore! I wish I knew how to chop like Bobby Flay."
As much as she enjoys experimentation, there is one dish that visitors to Kimberly's home won't have to worry about being served. "When we visited Afghanistan years ago, we had ox tongue," she recalls. "I didn't cook with that but I know I'll never eat it again."
When the TV cameras are off in her kitchen, Kimberly's 5-year-old daughter can often be found standing right beside Mama.
"Just like I did as a little girl," she says with a smile. "She likes to make up recipes. She loves to bake things. She loads things up with baking powder and they don't taste good. But my husband and I always try them. She never does! She's so into making them and getting them in the oven and seeing how they look when they come out, she never tastes them. Last October, she made Jimi a birthday cake. She cooked it in my toaster oven. She's very creative. She'll put blueberries and marshmallows and chocolate chips, all the fun, kid stuff. She loves to put in maraschino cherries. Usually it comes out looking decent ... resembling some sort of goodie or a cake."
"Kimberly's Simply Southern" is produced by Al Roker Entertainment for GAC and the "Today" weatherman will make a special appearance during the 13-week series. Viewers can find recipes, airdates and more information here. The first episode, which premiered Saturday (Sept. 22), will air again Monday, Sept. 24.
Watch Little Big Town's 'Pontoon' Video