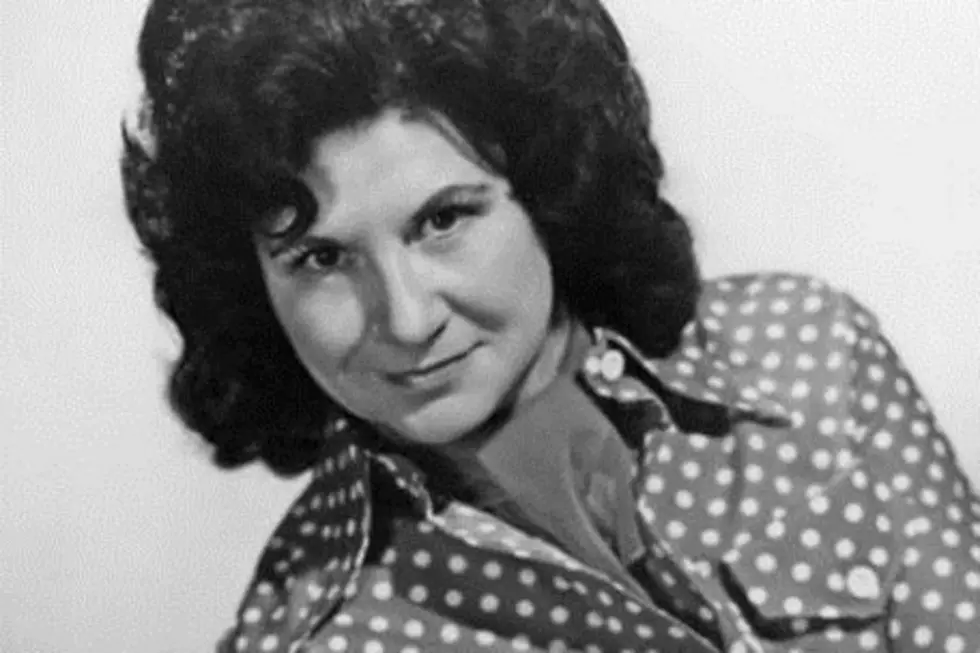 Michael Ochs Archives
The death of Kitty Wells on Monday (July 16), at age 92, marked the passing of the first female star in the history of country music. In a simple statement on her website, Loretta Lynn writes, "Kitty Wells will always be the greatest female country singer of all times. She was my hero. If I had never heard of Kitty Wells, I don't think I would have been a singer myself. I wanted to sound just like her, but as far as I am concerned, no one will ever be as great as Kitty Wells. She truly is the Queen of Country Music."
Although she would ascend to country-music royalty as Kitty Wells, Muriel Ellen Deason was born on August 30, 1919, in Nashville, to parents who were musicians. She quit school during the Depression and took a job at the Washington Manufacturing Company, earning nine dollars a week ironing shirts. She also performed on the radio in a quartet called the Deason Sisters, with her two sisters and their cousin, Bessie Choate. Muriel's stage name, "Kitty Wells," came from a nineteenth-century tune popularized in 1930 by the Pickard Family. In 1937, at 18, she married musician Johnnie Wright, who died in 2011. They were married just short of 74 years.
Although she would record for RCA in the late 1940's and early '50s, it wasn't until 1952, when she signed with Decca Records, that one song would change the course of Kitty's career -- and the history of country music -- forever.
"It Wasn't God Who Made Honky Tonk Angels" was conceived as an answer song to Hank Thompson's 15-week No. 1 hit, "The Wild Side of Life," which contained the line "I didn't know God made honky-tonk angels." Although the theme of Kitty's response record -- that women shouldn't have to take all the blame if a man is unfaithful -- was controversial at the time, the song's plaintive, tear-stained vocals would become a signature of her many follow-up hits. It was an instant smash, topping the country chart and making her the first woman ever to achieve that feat. The tune proved a Top 30 hit on the pop chart as well.
The songs she took to country radio and played on stages all over the world were tinged with high drama and Kitty Wells obviously possessed undeniable star quality, but she was also entirely unpretentious and humble. While stage outfits were becoming awash with rhinestones and country records were beginning to glisten with a new pop sheen, Kitty reminded fans of a bygone era, not just because of the way she dressed but because her humility, her vulnerability and her the roots of her simple, musical upbringing were always at the forefront of every recording she made.
In 1976, Kitty Wells was inducted into the Country Music Hall of Fame. At the time, the late Patsy Cline (elected in 1973) was the only other solo female artist enshrined there. In 1987, a new generation of fans was introduced to Kitty by way of the "Honky Tonk Angels' Medley," recorded with k.d. lang, Loretta Lynn and Brenda Lee, and produced by Owen Bradley. In 1991, she became the first female country artist to receive a Grammy Lifetime Achievement Award. In 2011, singer Laura Cantrell recorded an entire album, Kitty Wells Dresses, as a tribute to the icon.
In considering her phenomenal career, it cannot be overstated that there very likely would be no Patsy Cline, no Loretta Lynn, no Reba McEntire, no Martina McBride, no Miranda Lambert and so on, if it were not for Kitty Wells. But no matter who comes after her, she will forever be remembered as the Queen of Country Music.