Kellie Pickler, 'American Idol': Singer Performs 'Where's Tammy Wynette' (VIDEO)
Getty Images for 'American Idol'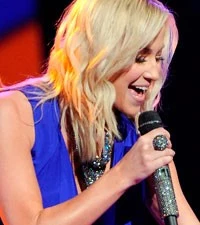 Getty Images for 'American Idol'
Kellie Pickler returned to 'American Idol' last night for a rousing performance of 'Where's Tammy Wynette.' As The Boot previously reported, the country star announced that she would hit the stage that made her famous to perform a cut from her latest record, '100 Proof.'
"The song, 'Where's Tammy Wynette,' almost didn't make it on [my album] because this generation didn't grow up on Tammy Wynette," Kellie tells The Boot. "But after they hear it -- the ones that say, 'Who's Tammy Wynette?' -- I hope they go and look her up. That's my goal with this song: I want this generation to know her and appreciate her style of music like I do."
Thanks to the Season 5 'Idol' alum, fans quickly made the late First Lady of Country Music a trending search term around the world.
Country songstress and 'Idol' finalist Skyler Laine had the chance to meet Kellie, one of her musical heroes. "Skylar is so psyched to meet you," 'Idol' host Ryan Seacrest said to Kellie as she was introduced to the cast.
After giving a few tidbits of advice, Kellie confessed, "This is the hardest part of the show. It's so hard to see anybody go home." Still, the country beauty says she's pretty sure the 'Idol' kids will all receive record deals.
Check out Kellie Pickler's 'American Idol' performance below, followed by her live performance in our AOL Music studios.