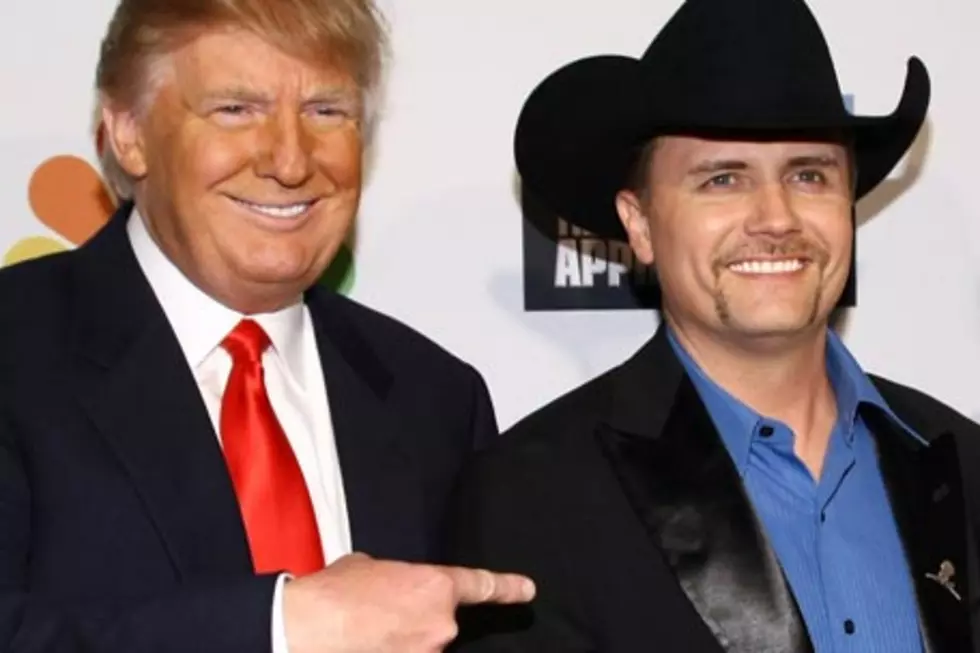 John Rich Wins 'Celebrity Apprentice'
Neilson Barnard, Getty Images
Neilson Barnard, Getty Images
He's hired! Country music singer-songwriter-producer John Rich and Oscar-winning actress Marlee Matlin went head-to-head with each other in the finale of NBC's 'Celebrity Apprentice' Sunday night (May 22). Donald Trump announced John as the winner of this year's show during the live finale at Skirball Theatre in New York City. The country singer took home another $250,000 for his charity, St. Jude Children's Research Hospital.
The Texas native was preceded by both Clint Black and Trace Adkins, who was the runner-up in 2008 before losing to journalist and TV personality Piers Morgan in 2008. John wanted to be the first country artist to take home the title of 'Celebrity Apprentice.'
"When I decided to do the show, I had a personal goal of raising a million dollars. Well, so far on the show, I have raised just a little more $750,000 for St. Jude. So, if I win, as irony would have it, it would put me over a million dollars," John told The Boot last week. "There's some kind of poetic justice for that. It gives me a good feeling to know that. It was a gut feeling I had that I could raise a million, but come to find out."
Right before Trump announced John as the winner, he said, "I'm going to do something a little different tonight." (What that means, we're not quite sure, unless it was naming a country artist as 'Celebrity Apprentice,' as opposed to a Hollywood name.)
"Two of the hardest-working people I've ever had in my boardroom," stated The Donald of both John and Marlee at the beginning of the live finale. He revealed more than $3 million was raised during the season, which is a record-breaker for the show.
In recapping the episode, the two finalists were given the task to launch a new campaign for 7Up Retro to celebrate the soft drink's heritage. Marlee's team took '70s, which would feature the Harlem Globetrotters, while John took the '80s with the rock group Def Leppard. The two were also given a little help with their tasks from some of the previous celebrities who were fired in earlier episodes. John picked Lil Jon, Mark McGrath and Star Jones, while Marlee's helpers included Meat Loaf, LaToya Jackson and Richard Hatch.
The challenge was to design the packaging and in-store display for 7Up Retro; write, create and produce a television commercial and put together a star-studded launch party featuring their special '80s icons. 7Up also gave each team $50,000 to start for their charity. They would be graded on creativity and originality, the commercial and their launch event. John's team came up with the slogan, "Keepin' It Real!," as well as a stand out zebra print can design.
John took the challenge very seriously, overseeing not only the packaging, but the photo shoot for the ad campaign, where he's featured holding his guitar; the commercial, starring Twisted Sister's Dee Snider; and setting up the star-studded launch party featuring entertainment by Def Leppard and making sure it ran smoothly. Near the end of last week's episode, it seemed as though things weren't running as smoothly as the project manager had hoped, especially during his initial phone conversation with the band's road manager.
Team Backbone's leader met with the band at the Hudson hotel to go over some of his ideas, and he said he wanted to "personally connect with the band," which he felt he did. He told the band to be downstairs and ready to go at 7:00 PM.
John's friends from the Melting Pot restaurant chain dropped by to give him a check for $25,000 for St. Jude's, while executives for Dollar General gave him $250,000, sending him way over the one-million mark.
His event began and everyone, including Trump and the 7Up executives, showed up filling the venue to capacity. John went up on stage to thank everyone for coming and created his own kick drum, which is what he wanted Def Leppard to do at the onset. However, when he introduced the band and walked offstage, the band did not show up. He found out in a hurry that he told them to be there at 7:00 PM, and it was only 6:45 PM. Don't you think someone backstage would have let him know the band was not there yet and for him to fill the time?
That was exactly what the innovative and resourceful musician did; he grabbed a guitar, a pick and performed a couple of acoustic songs, including one for Trump, titled 'Don't Fire Me, Mr. Trump,' as well as the Big & Rich hit, 'Save a Horse, Ride a Cowboy.'
John takes the responsibility of the "misstep" entirely on his shoulders. "That's a major hiccup that happened, and it's my fault a hundred percent. I take ownership of it, but it's fine," says John.
His teammates were quite impressed with John for having the fortitude to refocus his energy and save the event. Even the 7Up executives were quite impressed with the country singer, as well as his fierce opponent. They said both "exceeded expectations," and they would "hire both of them right now." They felt John was a marketing genius and loved the slogan, the commercial and the displays, as well as the event, despite the two negatives: they were not greeted when they came in and the false start to the musical performance.
The executives revealed they were rolling out both campaigns after the finale. Even both can designs have been distributed to stores throughout the nation, hitting store shelves as you read this.
In the boardroom, the two teams checked out each other's completed tasks, while extolling the virtues of their own and why they should win. LaToya, who was on Team A.S.A.P., admitted she liked John's can design much better.
John told the board he was "very, very proud of my team. What a huge task to undertake ... with our design, we could sell $1 billion of product for 7Up Retro." Calling upon his own marketing expertise as a person who has marketed music for a very long time, he felt he could sell an immense amount of product for the company.
He also revealed he raised nearly $300,000 in donations, as well, which seemed to shock Marlee. She argued she didn't realize it was also a fundraising task, but that she would have stepped up her game, if only she knew. Trump agreed that it was not a fundraising event, however, it did impress him that John went a step further to get his charity even more recognition and funds, effectively outshining the famous actress.
"It's the toughest decision I've had to make," states Trump. "Both of you are so outstanding. You've both been amazing." To John, he said, "You've been a leader. You've been strong. You've been smart. I couldn't ask for anything more."
Most of the fired cast returned for the live season finale, including David Cassidy, Gary Busey, Lisa Rinna, Nikki Taylor, NeNe Leakes (who actually quit), Mark McGrath, Meat Loaf, Star Jones and Lil Jon.
The two finalists were brought out on the show in front of a live studio audience, the other contestants and the board of directors. Calling John a "creative genius," Trump welcomed him to sit on the opposite side of the table next to Marlee. John handed him a black cowboy hat, which with a little coaxing, actually put on his famous head of hair.
During the finale, John performed the song, 'For the Kids,' while Marlee stood next to him signing the lyrics as he sang it. As John told The Boot earlier this week, the performance is "the most powerful moment," especially with the New York School for the Deaf signing along, as well. The song is available at iTunes for $1.29. (Download it here.) One-hundred percent of the $1.29 goes to St. Jude.
Trace Adkins, sitting next to his lovely wife Rhonda, was acknowledged in the crowd. He was there to support John in his bid for 'Celebrity Apprentice.'
Lil Jon and LaToya Jackson both picked John Rich to win the show, when asked who they thought should be named the winner. Mark McGrath went even one better, by saying, "Marlee had the biggest week of 'Celebrity Apprentice.' John Rich had the best season ever in 'Celebrity Apprentice.'"
John cited his accomplishments over the course of the show, including putting a spotlight on the positive steps St. Jude takes on a daily basis. He also listed his body of work over the past 12 weeks, explaining how it was superior to that of Marlee, and how he wore the title of project manager more than anyone else. He made it simple by exclaiming to Trump, "I want that check!"
This decision for the Chairman of the Board was difficult, and he told the audience it was the closest race between two extraordinary folks. When he announced John as the winner, the folks on the stage and in the audience, as well as on Twitter, went nuts and rushed over to congratulate him.
"Today has been an unbelievable day!" John said in a release following the show. "I got Trump to put on a Stetson hat on national television, and now I get to drive down to Memphis with a $250,000 check for St. Jude Children's Hospital. This entire experience has been for the kids, and I'm so excited to raise money for this cause and help save lives. Everyone, please purchase the song 'For the Kids.' All of the proceeds will go straight to St. Jude Children's Research Hospital!"
In the meantime, you can catch up with John with the release of two 'six-pak' albums: 'Rich Rocks' and 'For the Kids.' John is set to appear on the Ellen DeGeneres Show Thursday (May 26), according to her weekly newsletter.
Fans can also hear the new single from Big & Rich, 'Fake I.D.,' on the airwaves, and when 'Footloose' hits theaters later this year. The duo, who are set to hit the road on the Xtreme Muzik tour with pal Gretchen Wilson next month, have just been announced as the latest performers on the CMT Music Awards, taking place next month.