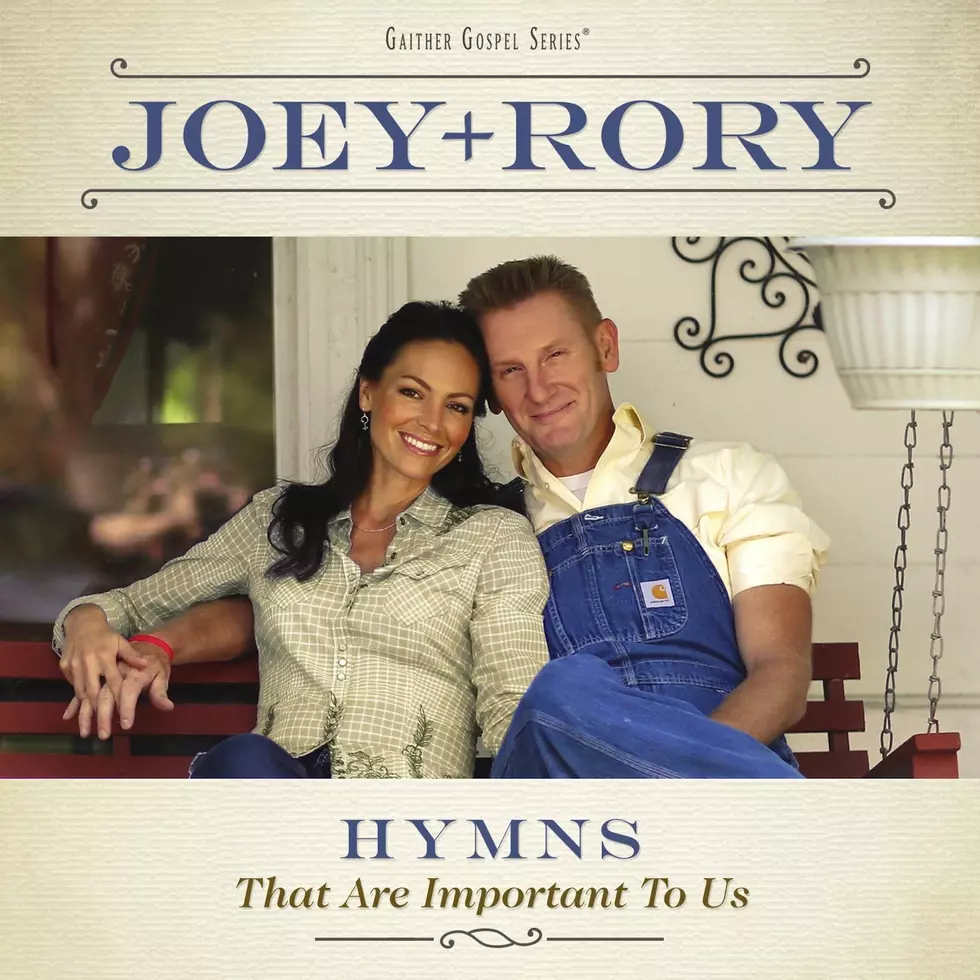 Everything We Know About Joey + Rory's 'Hymns That Are Important to Us'
Gaither Music Group
Joey Feek was diagnosed with Stage IV cervical cancer in June of 2015, and in late October, Rory Feek informed fans that his wife's first round of chemotherapy and radiation treatments did not help, and that there was nothing more to be done. In early November, Rory Feek revealed that his wife had entered home hospice care. However, over the summer -- just after Joey Feek's first surgery -- the Feeks began recording their new disc.
"I think Joey wants to capture the words and music of her childhood. The music that she goes to when she needs comfort. The music that makes this beautiful, tragic, crazy life somehow make sense," Rory Feek says. "I think she wants to capture this music so we can take it home with us. All of us. And have it forever."
The following is everything that's known about Joey + Rory's Hymns That Are Important to Us.
The Title
Hymns That Are Important to Us is a pretty straightforward title for Joey + Rory's new record. The songs on the project are the ones that the Feeks have especially come to love. Rory Feek explains that this album is "the one [Joey]'s always wanted to make — filled with the hymns she grew up with."
The Release Date
Hymns That Are Important to Us is set for release on Feb. 14, 2016. A deluxe edition of the album will be available at all Cracker Barrel Old Country Store locations and through the Cracker Barrel website. It is available for pre-order now and set for release on Feb. 12, 2016.
The Record Label
Hymns That Are Important to Us will be released through Gaither Music Group, which has released the couple's two previous gospel albums.
The Cover
The cover of Hymns That Are Important to Us is reminiscent of a relaxing Sunday: Joey + Rory are cozied up together, smiling, on a porch swing, with Joey Feek dressed in a simple plaid shirt and Rory Feek wearing his signature overalls and a yellow collared shirt.
The Songs
The 13 tracks on Hymns That Are Important to Us are all favorites of the Feeks'. After Joey + Rory began working on the album in a Nashville studio over the summer, Joey Feek completed her vocals "where she could … in hotel rooms, our house, wherever and whenever she felt up to singing."
"Joey was weak, and it was difficult for her, but she was determined," Rory Feek says. "This record means so much to her. It is the songs that are the most important to her."
The record's 13th track, "When I'm Gone," is not a new song, but one that has become especially important -- and personal -- to Joey + Rory during Joey Feek's cancer fight. The tune was originally included on their third album, His + Hers, and is the story of a wife telling her husband that he'll be okay when she's gone.
"I was devastated, absolutely devastated when I heard it and what it meant and coming from the person who is leaving their loved one," Joey Feek says of the song. "That concept was just something that I had never heard or thought of before, and it really struck me."
Joey + Rory, Hymns That Are Important to Us Track Listing:
1. "Take My Hand, Precious Lord"
2. "I Surrender All"
3. "He Touched Me"
4. "Softly and Tenderly"
5. "Jesus Loves Me"
6. "It Is Well With My Soul"
7. "The Old Rugged Cross"
8. "I Need Thee Every Hour"
9. "How Great Thou Art"
10. "I'll Fly Away"
11. "Jesus Paid It All"
12. "Suppertime"
13. "When I'm Gone"
The Vibe
Hymns That Are Important to Us is a special album because it's a dream come true for Joey Feek -- but in light of her cancer, it's taken on an added weight. The disc will be especially important because it will be Joey + Rory's final album.
"This is the last record that Joey and I will ever get to make and the last songs we'll ever get to sing together," Rory Feek says. "I have no desire to go on singing or performing without her."
Country Stars Say "Joey's Prayer" for Joey Feek
Joey Feek + More Country Stars Who Stand Up to Cancer