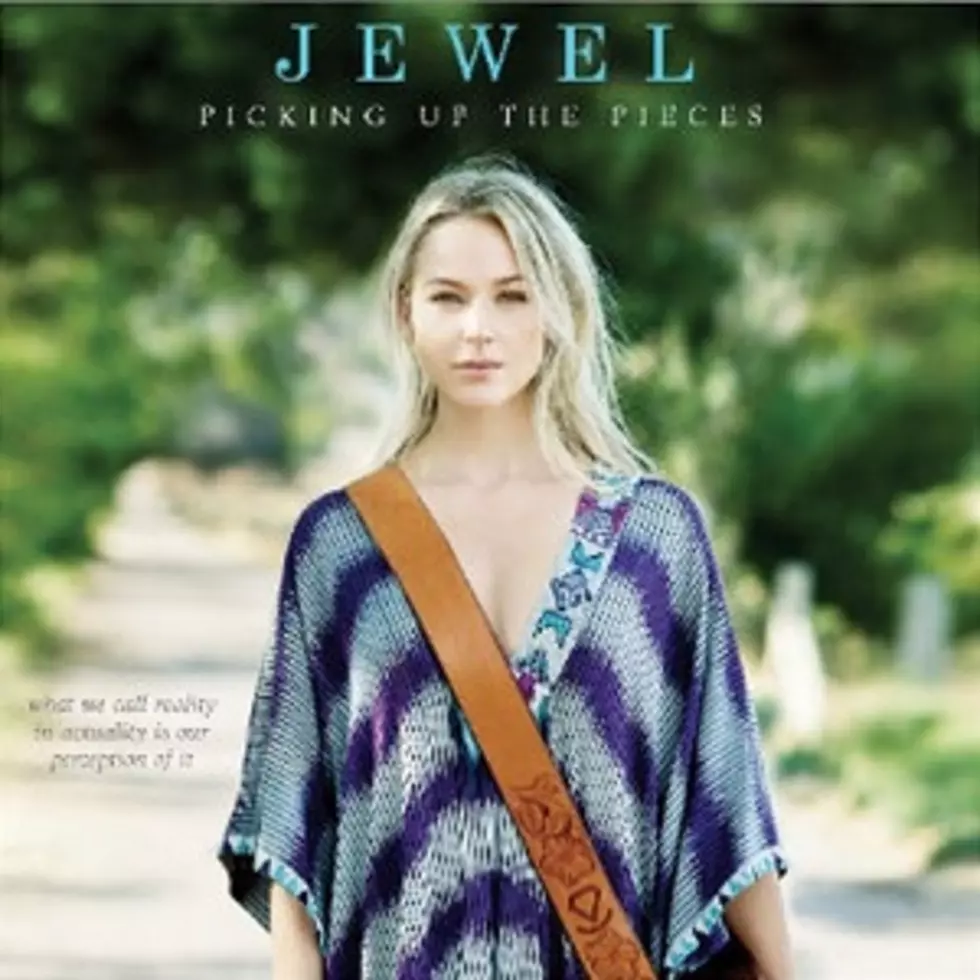 Jewel to Release New Folk Album
Photo by Matthew Rolston, courtesy of EB Media
Jewel has announced the release of a new album, Picking Up the Pieces, her first non-holiday release of new music since 2010's Sweet and Wild.
Over the last five years, the singer has released a number of projects, including a greatest hits album, a children's record and a holiday disc, and she says that creating a project filled with new songs has taken her a while for one very important reason: her son.
"This CD was a fantastic labor of love for me and took a while for me to finish because I was trying to do my real job, which is to be a parent to my son Kase, going through a divorce with love and grace, which takes a tremendous amount of effort and focus," the singer says on her website.
For the new project, Jewel says that she tried to stay away from fitting into any particular genre and focused instead on making the music that she felt brought her back to her roots, which ended up bringing out a folk-heavy sound.
"My focus for this CD was to forget everything I have learned about the music business the last 20 years and get back to what my bones have to say about songs and words and feeling and meaning," she says. "I let go of genre, radio, trend, current events and clever strategies. I let go of it all -- which was no small feet, as those voices are so deeply penetrating after 20 years of doing this professionally. It took real effort to clear my thoughts and have no rules and just create -- going back to my folk/American roots that I began with."
For her debut album, Pieces of You, Jewel decided against recording in a studio, choosing instead to record live at the Inner Change Coffee House in Pacific Beach, Calif. It's been 20 years since that record was released, but the singer still feels that her voice is captured best in front of an audience. So, for her new disc, Jewel recorded a live show at Nashville's the Standard -- but after the show, there were a few things that she still wanted to cut with the band.
"I devised a plan to try and capture the spirit of live performance by cutting live in the studio with friends watching," she explains. "We spent a week in a rehearsal studio, working up arrangements for the song, and then when it came time to record, the band and I all set up in one large room at the famous RCA [Studio] A building ... The idea was to capture one whole live take of a song and be done with it. No overdubs, no layering tracks, no AutoTune or tricks. Just one live take -- and it was a blast! It was emotional and raw and a little messy -- but honest. That's all I wanted.
"This is not a clever record. This record has no genre. It has no single that will be played at radio. It is raw, honest poetry that poured out of my bones and my soul," Jewel continues. "There are several six-minute songs with no chorus. There are folk songs and country songs and songs that are just long poems set to music. I have no idea if it will sell one copy, but I love it and hope you will feel what was in my heart, trying to come out the only way I know how to -- with the intense keening and passion and love life requires."
Picking Up the Pieces is set for release on Sept. 11 and available for pre-order on Jewel's website.
Around the same time as the record's debut, the singer is set to release a memoir titled Never Broken. The book will focus on Jewel's life and struggles, and she hopes that her experiences will help readers who have been through similar times in their lives.
"It took a lot of courage to share these things so honestly, but I felt compelled because I am keenly aware that I am not the only one in life who is struggling," she says. "While my struggle might be unique in some ways to my life, suffering is far from uncommon. My hope is that in sharing how I have come to look at my life -- what has taken me 40 years and a lot of pain to learn -- might benefit and inspire any of you who might be needing encouragement and tools for dealing with your own struggles."
Never Broken is set for release on Sept. 15. The book is available for pre-order on Amazon.
Jewel, Picking Up the Pieces Track Listing:
1. "Love Used to Be"
2. "A Boy Needs a Bike"
3. "Everything Breaks"
4. "Family Tree"
5. "It Doesn't Hurt Right Now"
6. "His Pleasure Is My Pain"
7. "Here When Gone"
8. "The Shape of You"
9. "Plain Jane"
10. "Pretty Face Fool"
11. "Nicotine Love"
12. "Carnivore"
13. "My Father's Daughter"
14. "Mercy"