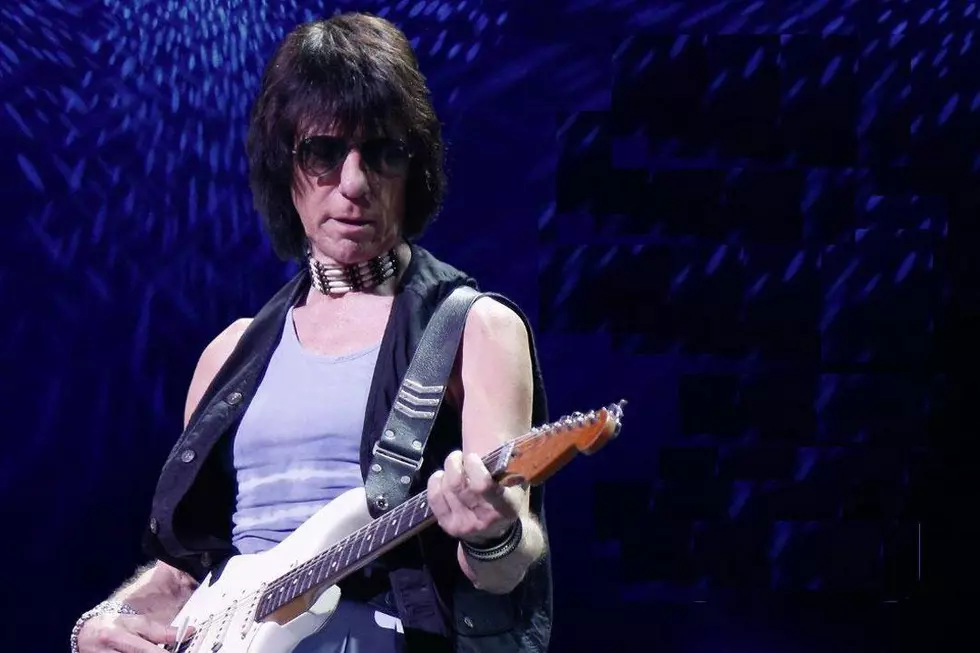 Getty Images
Guitar virtuoso and English rock titan Jeff Beck has died at age 78.
"On behalf of his family, it is with deep and profound sadness that we share the news of Jeff Beck's passing," a statement from the guitarist's publicity firm reads. "After suddenly contracting bacterial meningitis, he peacefully passed away yesterday. His family ask for privacy while they process this tremendous loss.
Beck first rose to prominence as a member of the Yardbirds, where he replaced Eric Clapton. Beck played with the band from 1965-66, and his tenure briefly overlapped with Jimmy Page, who initially played bass in the group and then switched to second guitar. With Beck in the band, the Yardbirds scored several Top 10 hits in their native United Kingdom, including "Heart Full of Soul," "Evil Hearted You" and "Shapes of Things." The Yardbirds' dual-guitar, proto-metal rendition of Tiny Bradshaw's "Train Kept A-Rollin'" also became a standard-bearer and would later be covered in a similar vein by Led Zeppelin and Aerosmith.
Beck's innovative use of feedback, distortion and fuzz helped set the stage for the late-'60s psychedelic revolution, but his short fuse and unpredictability put him at odds with his bandmates.
"Jeff Beck was a great addition to the band after Eric had left, and it was he mainly who was responsible for taking those blues ideas into a different world of crazy sounds, feedback and irreverence," Yardbirds drummer Jim McCarty told Something Else! in 2015. "Jeff was a pretty wild character, very highly strung and unpredictable. When it worked with him it was great, but [he] could be very difficult." When Beck no-showed on a Dick Clark-sponsored U.S. tour, the Yardbirds fired the guitarist after recording just one eponymous album with him in 1966.
After being ousted from the Yardbirds, Beck embarked on a brief solo career and then formed the Jeff Beck Group, which included Rod Stewart on vocals and Ron Wood on bass. He reached the Top 20 of the Billboard 200 with 1968's Truth, 1969's Beck-Ola and 1972's Jeff Beck Group. Beck enjoyed similar success with 1973's Beck, Bogert & Appice, the sole release from his short-lived supergroup with bassist Tim Bogert and drummer Carmine Appice, both previously in Vanilla Fudge and Cactus.
Following the dissolution of Beck, Bogert & Appice, Beck enjoyed his biggest solo success to date with 1975's Blow by Blow. The largely instrumental album found Beck incorporating elements of funk and jazz fusion into his blues-rock foundation to great success, peaking at No. 4 on the Billboard 200 and going platinum. The guitarist followed Blow by Blow with 1976's Wired, another Top 20, platinum-selling success that, along with its predecessor, helped set a new standard for instrumental rock guitar.
Following the release of Wired, Beck's output became more sporadic. He released only three albums throughout the '80s, all of which underperformed commercially. His '90s solo output was similarly sparse, though it was punctuated by several high-profile collaborations. He played lead guitar on several songs off Jon Bon Jovi's debut solo album, Blaze of Glory, including the chart-topping title track. He also contributed to Roger Waters' 1992 solo album Amused to Death and Kate Bush's 1993 album The Red Shoes. Beck was inducted into the Rock & Roll Hall of Fame as a member of the Yardbirds in 1992, quipping during his speech, "Somebody told me I should be proud tonight, but I'm not – because they kicked me out. They did! Fuck them!"
Despite his commercial decline in later years, Beck remained a classic rock fixture and was widely cited by fans, critics and musical peers as one of the greatest guitarists of all time. He won seven Grammy awards — six for Best Rock Instrumental Performance and one for Best Pop Collaboration With Vocals — and was inducted into the Rock Hall as a solo artist in 2009. His most recent release was the Johnny Depp collaborative album 18, released in 2022.
In 2020, Aerosmith's Joe Perry recalled sitting with Jimmy Page at the 2016 Classic Rock Awards in Tokyo and watching Beck sound check. "Somebody took a picture of us from behind, and we look like two fucking kids watching the sound check," Perry enthused. "Every time that Jeff touched his guitar, I would elbow Jimmy and [say], 'Did you hear that?' And then he'd play something else, and he'd elbow me and go, 'Did you hear that? He works on it. He still works on it.'"
In Memoriam: 2022 Deaths
A look at those we've lost.