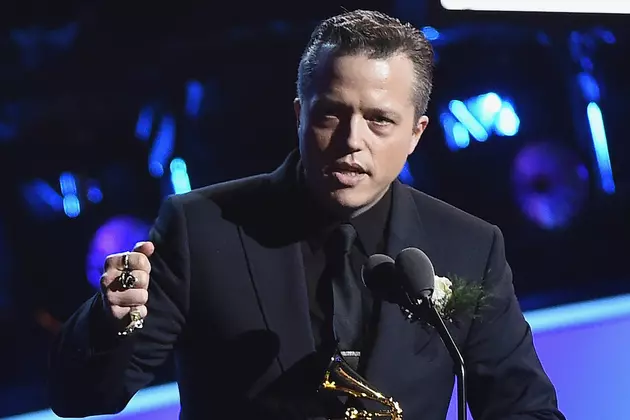 Jason Isbell: 'I Think It's Important for Everybody to Use Their Voice'
Getty Images
On "White Man's World," one of the most political songs Jason Isbell has ever penned, he sings, presumably about his wife and all women in the music industry, "Mama wants to change that Nashville sound / But they're never gonna let her." It's a familiar lyric, if for no other reason than it houses the title of his latest album with the 400 Unit, The Nashville Sound.
But more than that, it's an important lyric because it gets at a pervasive issue in country music and throughout Nashville — so pervasive, in fact, that when Isbell's wife and bandmate Amanda Shires attended the 2017 CMA Awards, she wore a T-shirt with the lyrics proudly displayed.
As Isbell, Shires and the rest of the 400 Unit walked backstage following their wins in two categories at the 2018 Grammy Awards — Best Americana Album and Best American Roots Song, the latter for "If We Were Vampires" — they were asked to introduce themselves to the press. Immediately following saying her name, Shires added, "Mama wants to change that Nashville sound."
If there was ever a need for a slogan for Jason Isbell and the 400 Unit, this might be it. But it's more than a slogan, lyric or T-shirt design. For Isbell, it's something worth fighting for.
"I think it's important for everybody to use their voice," Isbell said backstage at Madison Square Garden. "I think it's important for everybody to try to change things for the better. What we do, it's not just for entertainment."
Isbell spoke directly to Music Row as he continued, "If I had my druthers, I would rather people be consuming the music as an activity rather than having it on in the background while they get ready for a sporting event or riding around in the mud or something like that. I want them to be listening. If that's the kind of music you're trying to make ... I'm not saying it's better or worse, but I think you have a responsibility to be honest about the things that you believe."
For Isbell and the 400 Unit, one of those things is clearly equality in the music business.
"All the art that we are making and all the music that we're creating would be better if everyone had an equal voice," he explains, "no matter their gender or their race. I think it's a really important thing that country music doesn't necessarily talk about as much as the other genres do."
The first step, of many, to actually changing the sound of Nashville? It's exactly what Isbell is doing.
"We just have to keep talking about it, keep on talking about it, just like all the issues that we're dealing with right now on a cultural and societal level," he says. "If we keep having these conversations and quit ignoring things like inequality, then I think they'll find a way to work themselves out. Hopefully it won't take another thousands years, but we'll see."
Isbell and his band all donned white roses at the 2018 Grammy Awards as a sign of solidarity for the very thing he sings about in "White Man's World": "There's no such thing as someone else's war / Your creature comforts aren't the only things worth fighting for / If you're still breathing, it's not too late / We're all carrying one big burden, sharing one fate."
See Country Stars Walk the 2018 Grammy Award Red Carpet