Jason Aldean Tour Rocks Georgia: Luke Bryan, Ludacris Add to Surprises
Chris McKay, Getty Images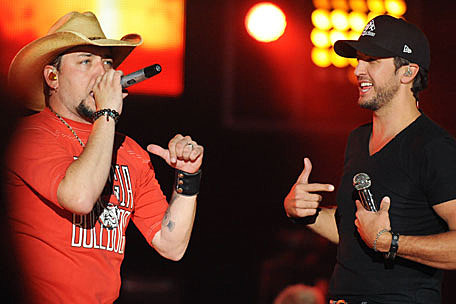 Chris McKay, Getty Images
Jason Aldean headlined the first-ever concert at the University of Georgia's Sanford Stadium in Athens, Ga., with more than 60,000 fans packing the outdoor venue Saturday night (April 13). Early concertgoers tailgating in the parking lot were surprised when Jason himself joined in the party.
The reigning ACM Male Vocalist of the Year turned in a rousing 90-minute set that included the smash hits, "Hicktown," "Big Green Tractor" and "My Kinda Party," as well as the current single "1994." Sanford Stadium, which boasts one of the biggest outdoor stages in the country with high-resolution video screens, was filled will dazzling pyrotechnics and fans were also treated to a helicopter flyover. Fellow Georgia native Luke Bryan joined Jason to perform the song that took ACM Vocal Event of the Year honors, "The Only Way I Know." Another Georgia native, hip-hop superstar Ludacris, joined Jason for their hit duet, "Dirt Road Anthem."
Chris McKay, Getty Images
"Seeing everything come together the way it did tonight and feeling the energy of the crowd is something I will never forget," Jason said after the history-making concert. "When my mom got here last night, we took a walk around the stadium, and it was really emotional for both of us. This place has always meant so much to me, but when I was a kid, we were flat broke and my mom couldn't afford to buy tickets for us to go to a game. So I watched on TV and dreamed about one day seeing it in person. Tonight was beyond my wildest dreams ... the whole thing has honestly shaken me a little bit. It's been a night I will never ever forget."
Luke Bryan made sure Jason would never forget it, either. The ACM Entertainer of the Year presented a special gift to his former tour boss -- a bright red 1976 Ford Bronco! On Saturday, Jason tweeted a photo of the two pals posed in front of his sweet new ride, with a caption reading, "Check out my new toy courtesy of @LukeBryanOnline 76 Bronco!!! Thanx homey."
The Night Train tour, featuring opening acts Thomas Rhett and Jake Owen has sold out every show so far this year. Jason's stadium dates include Boston's Fenway Park (July 12-13) and Chicago's Wrigley Field (July 20). Keep track of Jason's tour dates here.
Watch Jason's 'The Only Way I Know' Lyric Video